Yesterday was a special day for the English Catholic Community. First, it was Gaudete Sunday, the third Sunday of the season of Advent which has traditionally been celebrated joyfully because of the approaching birth of Jesus the Messiah. Because of the theme of joy, the priest uses rose or pink colored vestments. Secondly, Bishop Olivier was with us. His presence serves to unite our community with the church of Phnom Penh and with our Cambodian Catholic brothers and sisters. And thirdly, Bishop Olivier came to administer the Sacrament of Confirmation to 16 of our parishioners, an important step in the life of Catholic Christians as they receive the Holy Spirit as their guide and strength through the struggles of daily life as a follower of Jesus.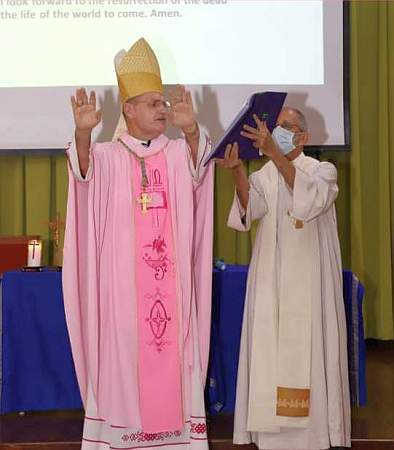 After the scripture readings, Bishop Olivier introduced the actual confirmation ceremony. At one point he extends his hands over those to be confirmed, a symbolic laying of of hands as described in the Christian scriptures.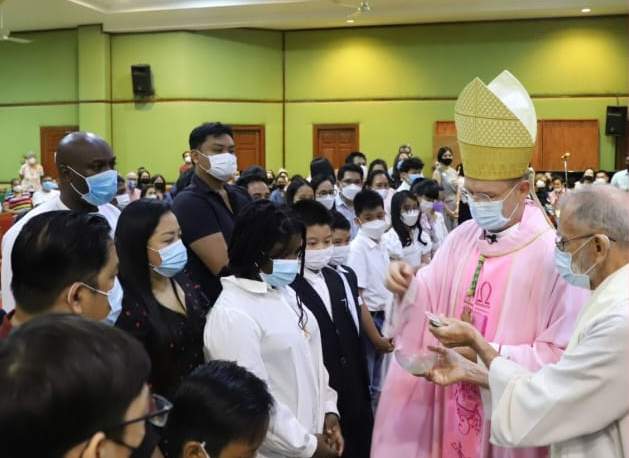 Then the bishop went down the line of those to be confirmed, anointing them with chrism (holy oil). He also gave them a small medal blessed by Pope Francis as a memento of this day.

This is an unusual photo. As Bishop Olivier and I and all the congregation were singing the final hymn before we processed out, the photographer went up behind the altar and took an ultra wide angle shot of the whole community.