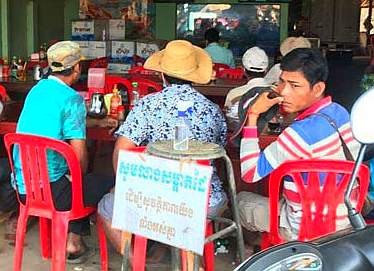 Many, many small vendors and owners of street stalls are in bad shape because of COVID-19. They depend on foot traffic on the streets around markets and schools and other busy places. But there are few people around today.

It was never very good to begin with for those informal business owners. Here are two quotes from an article in Khmer Times:
"Since the February 20 community outbreak [of COVID-19 in Phnom Penh], there have been very few customers," he laments. "I used to earn $10 per day, but now I can make only $5."

Cheang, owner of a small food shop
Navy says before the outbreak of the pandemic she was able to save $3 per day after paying all her daily expenses. "But, now I can hardly feed myself and my small son," she says.

Navy, owner of a coffee and drinks shop next to Cheang's shop
Things are really bad now, but note their average daily income BEFORE the pandemic: $10 a day for the food shop and $3 a day for the drinks shop. That's a good indication of life in Cambodia where the large majority of the economy is in the informal sector.