When Maryknoll first moved to its office on Street 320 in Phnom Penh, down below my second-floor window was a little village of ten one-room units, two strips of five units each facing each other on one house-sized lot.  Access to this little community was through a narrow alley leading out to the street.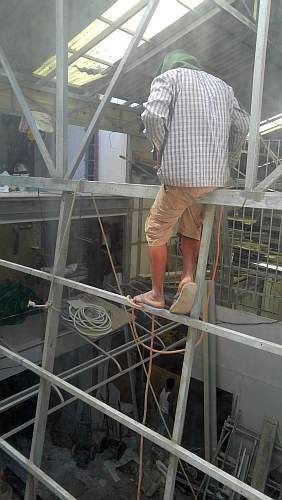 Shortly after we occupied the house, the owner of the little village moved everyone out, tore down the two strips of one-room apartments and put up a three-story metal shed in which he set up a metal fabrication company.  They made steel gates, doors, and railings and such–with a lot of banging and grinding.
Now that little plot of land is being subjected to more change.  The four-story building facing the street (behind which is the lot) is being extended back over the lot to make the building longer.  The sheet metal walls of the fabrication shop have been removed and it seems walls of brick and concrete are being extended from the existing house to make new walls around the lot below my window.  Here is a picture of a young man using a torch to cut away some of the scaffolding that held the metal walls before.