Today was the 23rd graduation for the students of the two Salesian Sisters girls technical schools in Phnom Penh.  One school teaches food service and sewing; the other teaches secretarial and business skills.  Both have two-year programs.  This year only three girls came from the school in Battambang in the north of the country.  Previously they would have 30-40 graduates but now that school has almost closed because it is easier now to get across the border to work in Thailand and the families of the girls pressure their daughters to work in Thailand to make money for the family–instead of going to school.
---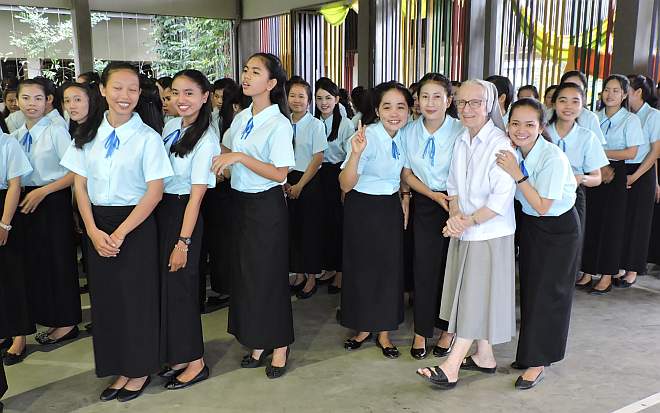 The graduates gather, happy and excited, before the ceremony.  The sister there to congratulate them is one of the fixtures of the Salesian ministry to youth in Cambodia.  She is 96 years old and still active and about everyday.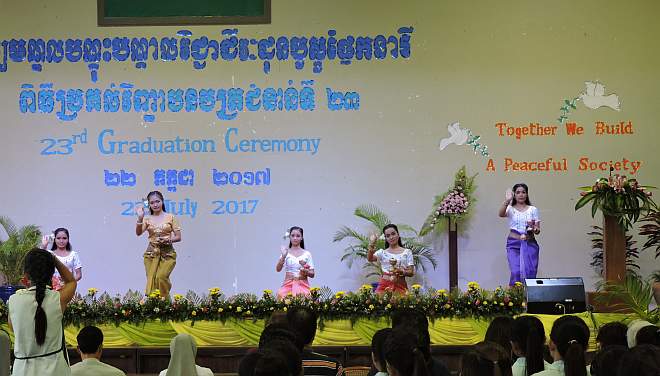 After the national anthem, these students performed the blessing dance that begins every formal function.  Notice the words in red on the wall at the right: Together we Build a Peaceful Society.  They are a sad indicator of the unease and turmoil in Cambodia because of the actions of the government.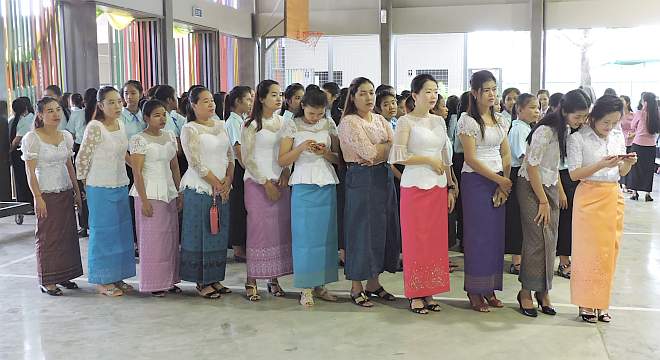 A special part of this graduation day was the recognition of these women–mothers of students at the school–for participating in a wonderful literacy program.  All of them have advanced through Level 1 of the program that enables them to read and write.  Another sad indicator–the lack of literacy–of the failure of the present government that has been in power for thirty years.