Life under Covid-19 is certainly unpredictable but yet there are also elements in society and the culture that are the same.
---
New Developments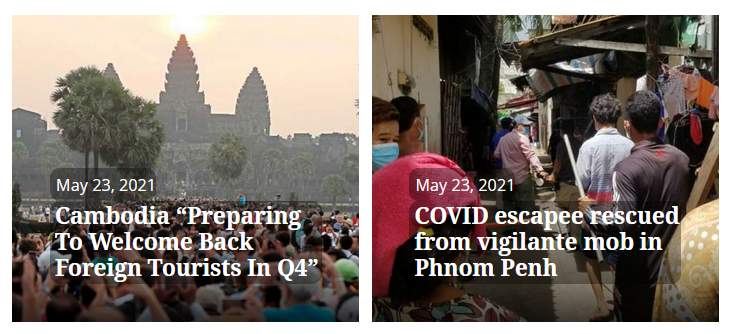 (Left photo) Even as the infections are still quite bad in Cambodia, the government is anticipating that vaccinating everyone will improve the situation (Cambodia has the second highest number of vaccinations given in ASEAN, after Singapore), and so they have prepared a video to welcome back the foreign tourists.

(Right) Probably because there has been so much disruption, loss of income and mobility and opportunity, the populace in some areas is very serious about making things better quickly. One man who tested positive escaped from the treatment center, and when locals found him at his home, the police had to intervene to keep him from being beaten to death.
---
The Old Ways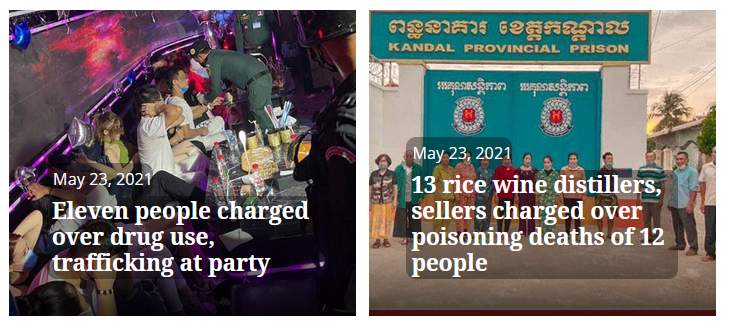 (Left photo) Even as the numbers of infections in the last three months (25,000) increased more than 6,500% over the infections in the entire first year (375) of the pandemic, some foreigners feel the safety regulations and requirements shouldn't interfere with their enjoyment and still keep partying.

(Right) Another old custom persisting in the culture is adulterating rice wine with methanol. In the latest incident 12 people died after drinking the rice wine at a funeral.

[Photos and headlines from the Khmer Times.]