On April 14th, the Cambodia government declared a two-week lockdown for the cities of Phnom Penh and Takhmau, 10 miles to the south. Then certain areas of Phnom Penh with greater concentrations of Covid-19 infections were designated as Red Zones and movement and activity was severely restricted.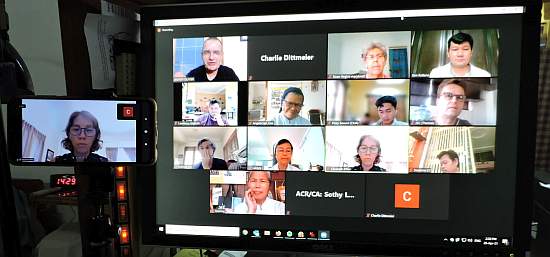 Phnom Penh's Bishop Olivier called an online meeting of Catholic NGOs and agencies to explain the present situation, to present the diocese's response plan, and to encourage the church groups to do more.

A very large part of Cambodia's workforce is in the informal economy (e.g., scrap dealers, tuk-tuk drivers, construction workers, etc.) and in a lockdown they have no income while prices are getting higher and higher. The Catholic Church's response has targeted these people and their families who are suffering from food shortages.
Recent Developments:
The lockdown has been extended another week until 5 May.
Boeung Keng Kong III, the neighborhood where the Maryknoll office is located, has been declared an Orange Zone (an area of moderate infection). We can still leave the house to buy food, get medical attention, etc.
The Diocese of Ho Chi Minh City donated four million face masks to the Diocese of Phnom Penh.
The government has allowed travel between the provinces to resume and has permitted the reopening of resorts and tourist attractions (Maybe not such a great idea when infection numbers are staying quite high.)