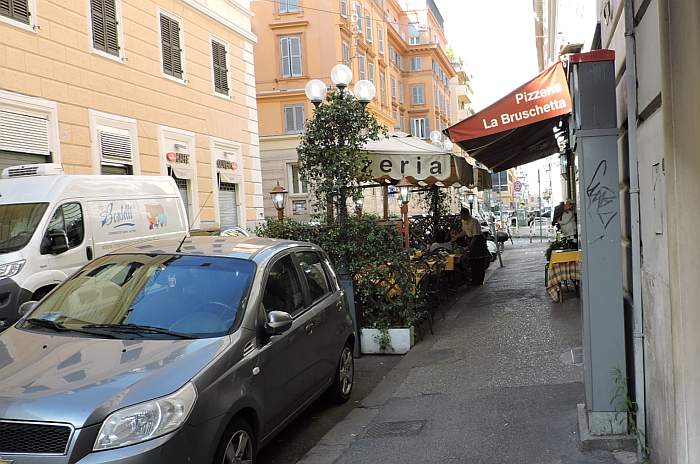 When I left in mid afternoon for the Vatican, this restaurant and others were setting up their sidewalk tables for the evening crowd.  It intrigues me how the Romans allow these restaurants and cafes to take over the sidewalks and especially the parking places when parking is a huge problem for the city.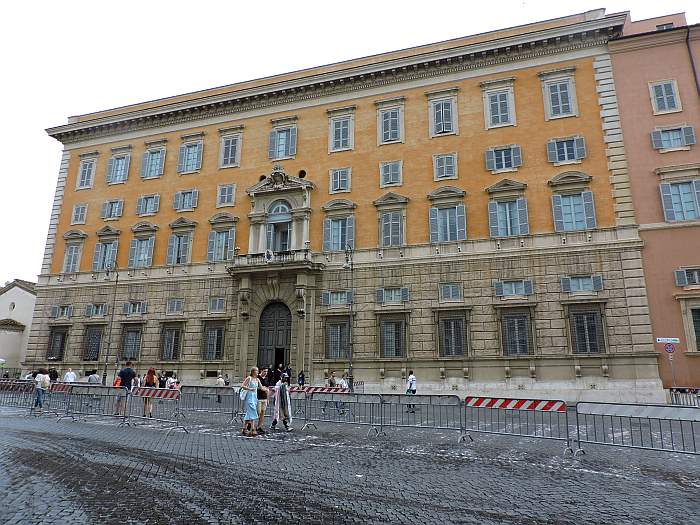 This building is the Congregation of the Faith, one of the most important offices in the Vatican, and the workplace of Pope Benedict XVI when he was Cardinal Joseph Ratzinger and the prefect of this congregation.  It was highly unusual–and indicative that someone in our group had connections–that our deaf group used the CDF offices for registration this evening.
This was the scene in the registration room for the registration of the 150 participants in this pilgrimage of the Deaf Catholic Youth Initiative of the Americas.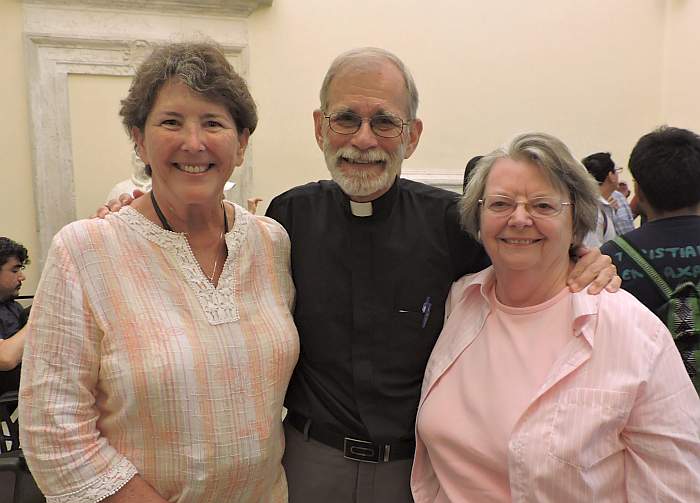 As soon as I walked into the registration area, I ran into two most wonderful friends from the early years of deaf ministry in the US.  On the left is Dominican Sister Pat Francis from Illinois and on the right is Ursuline Sister Rita Wigginton from Kentucky.  Rita and I worked together in the deaf ministry in Louisville.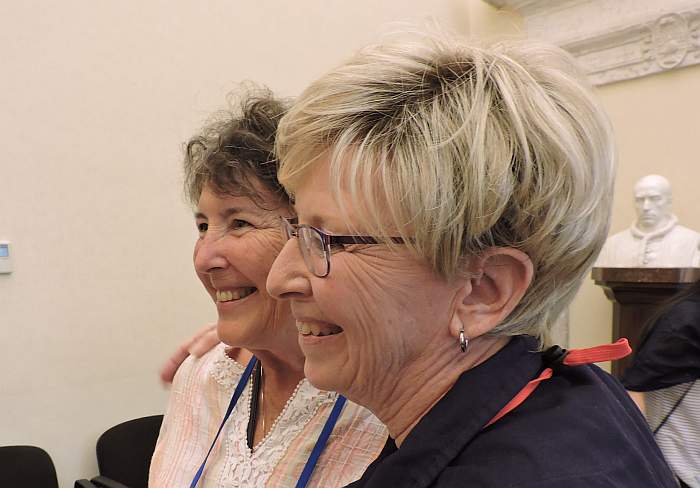 Another dear friend is Maryann Barth from northern Kentucky where she is a professional Deaf educator, administrator, and counselor at St. Rita School for the Deaf.  Here she is with Sr. Pat Francis.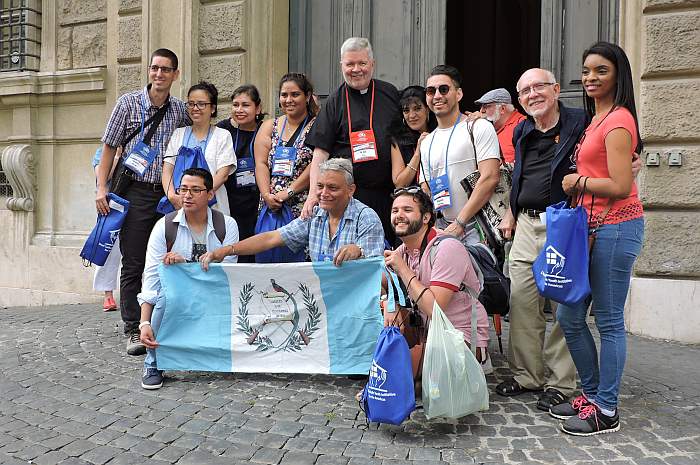 As I left the registration office, I encountered the group from Guatemala posing with Fr. Joe Mulcrone from Chicago for a photo outside the CDF building.
As I was leaving the building it started a light rain and the people who were the last of the day's visitors at St. Peter's Basilica started hurrying home or to their hotels.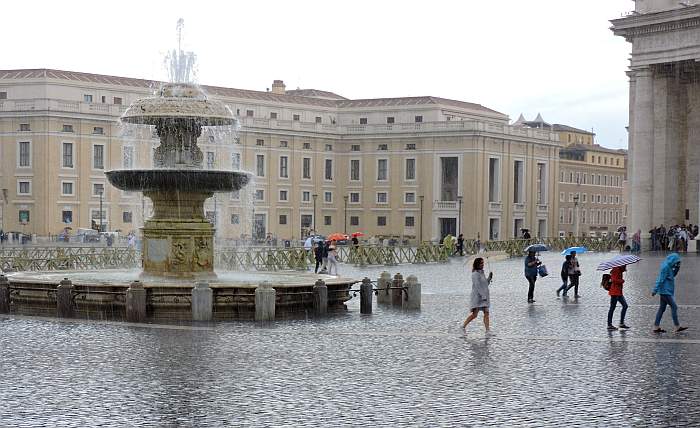 People scattering in the early evening rain in St. Peter's Square.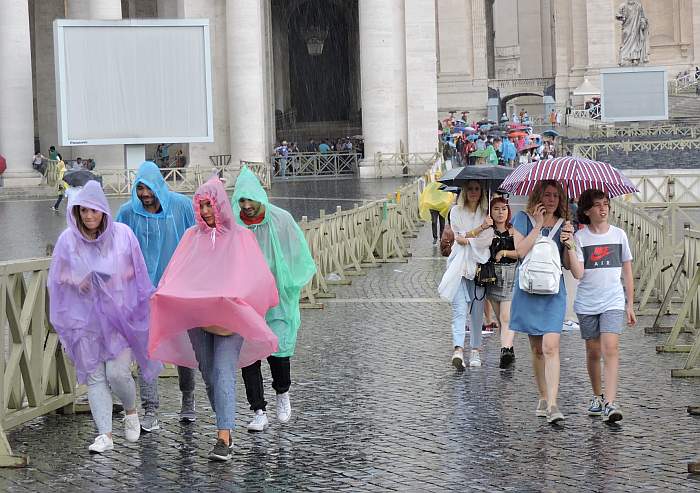 Closing time at St. Peter's coincided with the coming of the rain.  Some people brought their own umbrellas but those without made vendors who happy were right there with plastic rain ponchos and plenty of umbrellas for sale.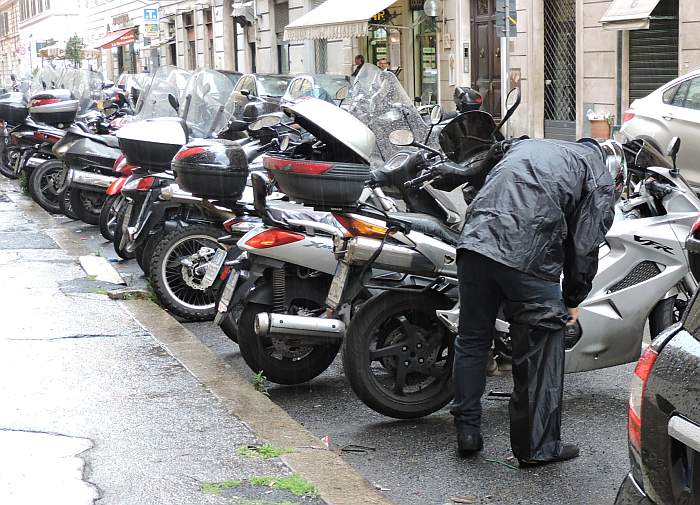 When I got off the bus in the Via Veneto neighborhood, this man was putting on his rain gear for a ride home from work on his motorcycle.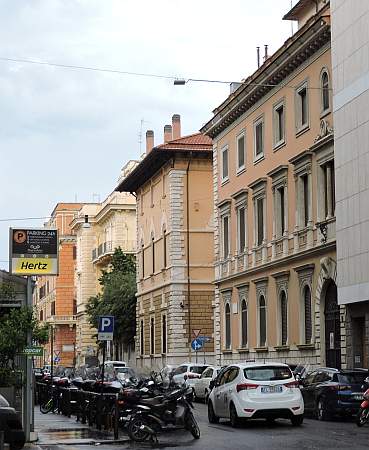 This is another view of the Maryknoll house, called Collegio Maryknoll.  Maryknoll is the rightmost orangish building on the right.