Because the Khmer Rouge targeted all leaders and especially religious leaders, Cambodia had no Cambodian priests from the 1970s until 2001 when five men were ordained.  Then last year three more were ordained.  Today Fr. Sae Sat was ordained as the ninth Cambodia priest in the country.  He joins about 45-50 foreign priests from eight or ten countries.  Maryknoll has three priests working in Cambodia and six sisters and eight lay missioners.
---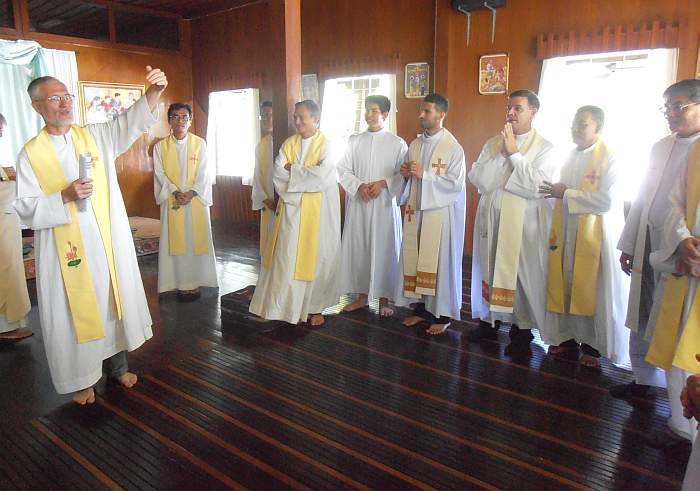 Kampong Cham is a province in the middle of Cambodia and priests came to the church there from down on the southern coast and from up on the northern border with Thailand and Laos.  Some of the trips required eight or nine hours driving.  For us from Phnom Penh it was only two and a half hours.
Once we arrived, the priests gathered in the upstairs chapel to vest and then Fr. Girard gave instructions about the ceremony.  This chapel is where they normally have Sunday mass for their small community of 50 or 60 people but for the ordination with hundreds of people, large tents were set up among the trees and buildings on the church grounds.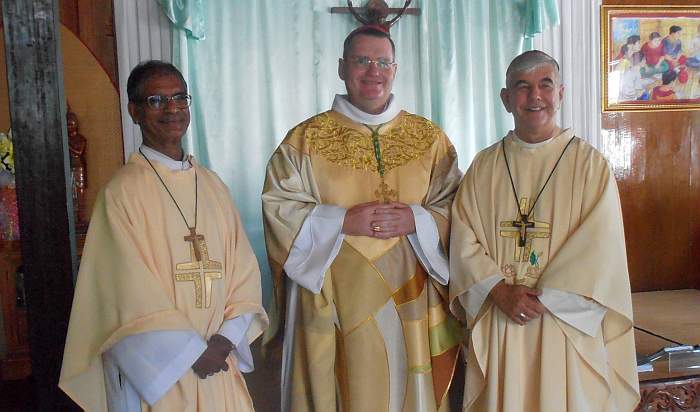 These are the three bishops who work in the Apostolic Vicariate of Cambodia.   That's official Vatican language for a country that is still considered a mission country.  Bishop Anthony (L) is the apostolic vicar for the Kampong Cham diocese.  Bishop Kike (R) is the apostolic vicar for the Battambang diocese in the north.  Bishop Olivier is the apostolic prefect of Phnom Penh and of all Cambodia.  The Catholic church loves making all kinds of distinctions and titles.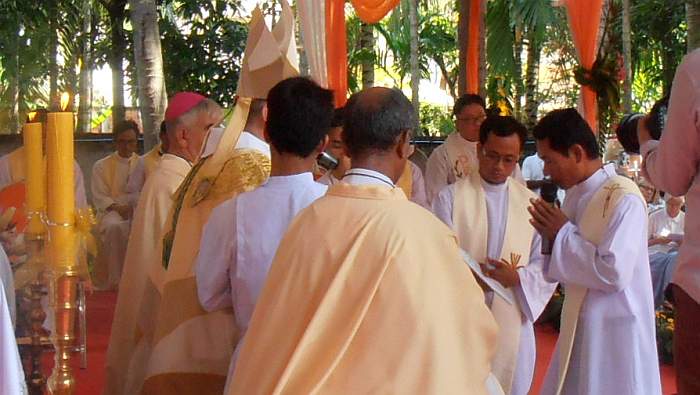 In the middle of the ceremony, after scripture readings, Fr. Sae Sat (R) makes promises of chastity and obedience to his church superiors before he is ordained by the laying on of hands by the bishops.  Fr. Sat is from the northeast of Cambodia.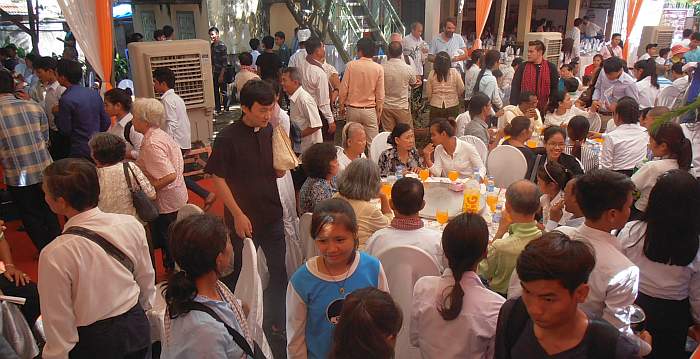 After the lengthy ceremony, the chairs were moved aside, tables were carried in, and then the several hundred people had a lunch together.  Then for many of them it was back on the road for long trips home.