Today was a regular work day at the Deaf Development Programme until 3:00 PM when I went home to finish packing.  It takes me longer to "pack" the computer with the appropriate files than it does to pack clothes for the trip.
Finally at 6:00 PM I got a motorcycle taxi (a motordupe) to take me to the Phnom Penh airport.
---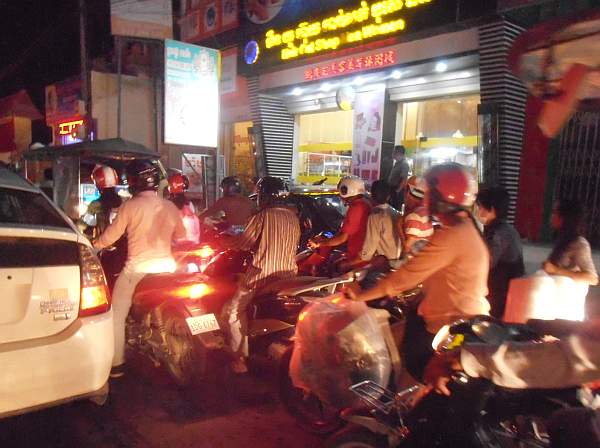 It took 50 minutes to get to the airport (4 miles), not too bad considering the traffic.  In the picture above, only the closest motorcycles are on the street.  The others plus the car and the tuk-tuk in the background are on the sidewalk, the normal driving pattern in Phnom Penh.
I was flying Thai International to Bangkok, then taking Juneyao Airlines to Shanghai, and then getting United Airlines to Newark.  At the airport, I found that although the Juneyao segment was sold to me by United, that airline doesn't have any interline connections with Thai International, and the ticket agent didn't want to check my baggage all the way to New York.  I had to talk to a supervisor and then they finally agreed to do that.
When I got to Bangkok, though, I found that the Transfer Counters inside the "airside" transit area did not handle Juneyao Airlines which apparently is a low-cost airline and doesn't want to pay to be represented.  I had to go through passport control and go outside and check in.  I had plenty of time so that wasn't too bad, but then when I got to their check-in counter on the "landside," they wanted my baggage.  I told them it was already checked through to Newark and that caused considerable confusion until they were able to locate the bags down in the baggage handling area.
Finally I was able to board the plane for the five-hour flight to Shanghai.