Daily Life in Cambodia 2008
Daily Life (2000)
Daily Life (2001)
Daily Life (2002)
Daily Life (2003)
Daily Life (2004)
Daily Life (2005)
Daily Life (2006)
Daily Life (2007)
Daily Life (2009)
Daily Life (2010)
Daily Life (2011)
31 December 2008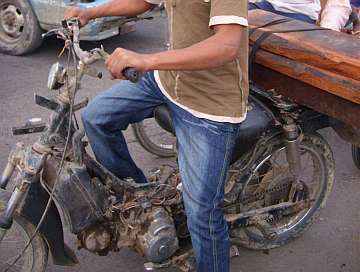 Now this is a real work motorcycle!
---
27 December 2008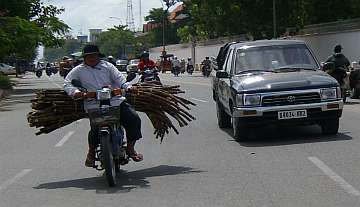 Motorcycle Passengers and Cargo #108
"Everything's kinda out of balance!"
---
23 December 2008
Holes are not uncommon in Phnom Penh streets, randomly appearing without warning, especially at intersections. Many are treated with something like benign neglect, just marked by a tree branch stuck upright in the hole to warn motorists and bicyclists of the danger. This hole was graced with a steel plate, a rather unusual response in city where the normal response to such events is no response.
---
17 December 2008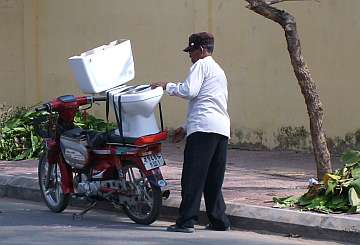 Motorcycle Passengers and Cargo #107
"Most guys just pee against the nearest wall but I've got more class than that...."
---
16 December 2008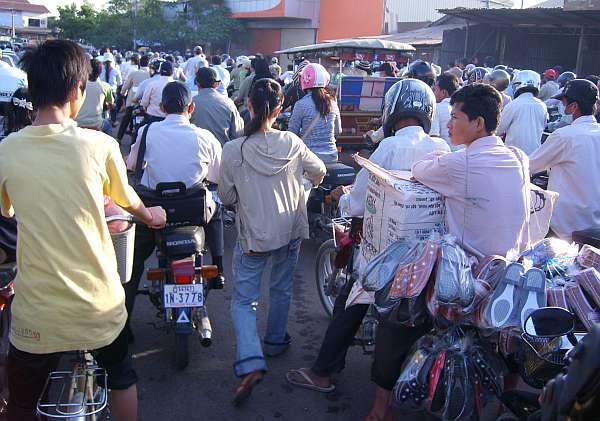 The chaos of traffic in Phnom Penh has to be seen to be believed. There is little traffic law and none of it is enforced. The police don't even have any means to enforce the law if they wanted to--which they don't. When they do decide to implement the law, it is only if they can make money from it, and then their means of enforcement are limited to grabbing the handlebars of the offending motorcycles to stop people they can shake down for supposed infringements. This is a major four-lane street in Phnom Penh on a typical morning. Because there is no system and expectation of law, people do whatever they want and whatever is needed to get from one place to another.
---
15 December 2008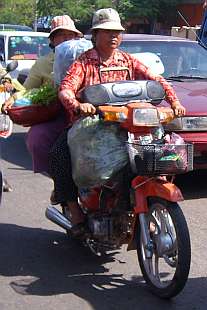 Motorcycle Passengers and Cargo #106
"I don't like those chintzy rearseat speakers. I want to FEEL my music!"
---
9 December 2008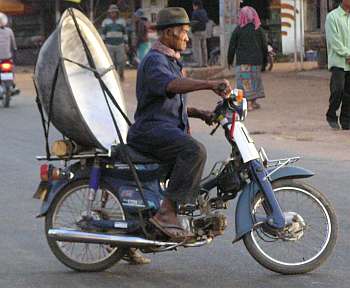 Motorcycle Passengers and Cargo #105
"Yeah, it's a big antenna but satellite radio is great! And it's the FIRST satellite radio on a motorcycle in Kampong Chhnang!"
---
5 December 2008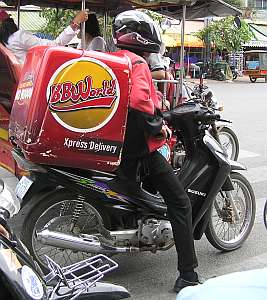 Cambodia doesn't have any international hamburger franchises yet—we do have KFC now—but there are some local imitators of McDonald's. Their menus, store layouts, color schemes, etc., show definite McDonald's influence! Because hamburgers are not a common part of the Cambodia diet, the imitators add service to attract customers, offering delivery service, for example. Here is a delivery man from BB World which competes with Lucky Burger for dominance in the hamburger fast food market here.
---
3 December 2008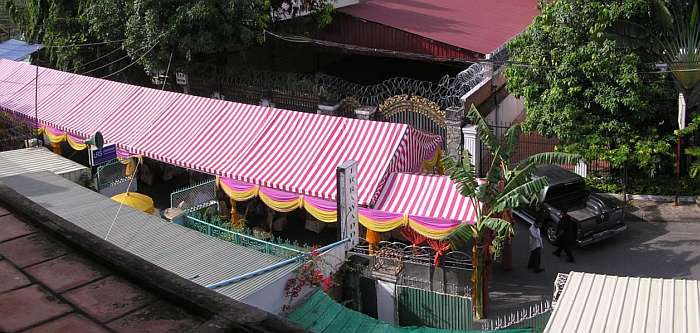 I cringed this morning when I got up at 5:30 and looked out the front door and saw workmen setting up a tent for a wedding celebration in the street by our house. For weddings and funerals, families rent tents and set them up in front of their houses, blocking all or part of the street. On our Street 334, this tent blocked the entire street. This view is from our third-floor balcony. When I got home at lunch time, they started the music--which is the worst part of a Cambodian celebration because it is always played at full volume, even to the point of distortion. I turned on the television to see if the Bangkok airport was opening yet, but I couldn't hear my own television standing right in front of it, the noise was so loud from the street. Luckily today is the day we have our Maryknoll meeting so I was gone most of the afternoon. I was dreading coming home tonight because these celebrations go on till 10:00 or 11:00 PM, but in a rare burst of common sense--or perhaps death threats from the other foreigners in the neighborhood--they had actually turned the music down when I got home at 7:00 PM. It's now 7:28 PM and the music is still loud, but I can handle it without wishing for an earthquake to swallow up the noisemakers.
---
1 December 2008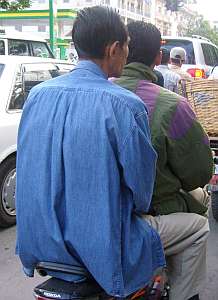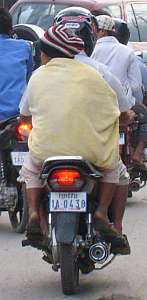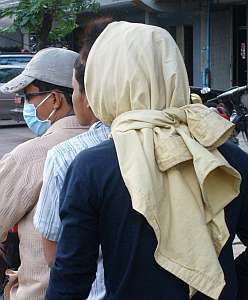 The temperature has been down to about 70ºF the past couple mornings and while I think it's great and am still using the fan all night long, the local people are freezing to death. The two men in the left photo found a long sleeve shirt and a jacket to keep them warm while the woman in the middle picture made do with a knit hat and a large bath towel wrapped around her. The man going to work on the right used a long-sleeve shirt to protect his head from the "cold."
---
20 November 2008
Raincoat for Flashers?

Have you ever seen a raincoat with a large clear plastic panel in front? It looks like something for flashers doing their thing in the rain, but actually it has a much more plebian and utilitarian purpose.

Most of the population in Cambodia gets around on small motorbikes. Probably only 2/3 of them have working lights—if that many—but for the few that worry about driving at night with headlights when it rains, this purpose-designed raincoat allows the driver to drape the raincoat over the front handlebars, keeping the contents of the basket dry, while still allowing the headlight to shine forward. It wouldn't work at the high speeds of traffic in a developed country, but it's functional here. Neat, no?
---
6 November 2008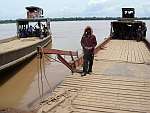 Click here to read about boats and ferries in Kampong Cham Province.
---
3 November 2008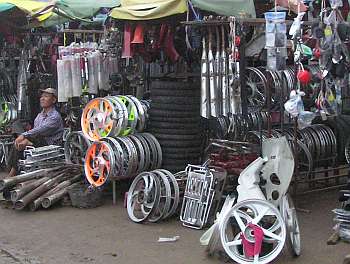 Very little is bought in stores in Cambodia. Most commerce takes place in shops like this, out on the street. This is one shop in a whole block of similar shops selling motorbike parts.
---
31 October 2008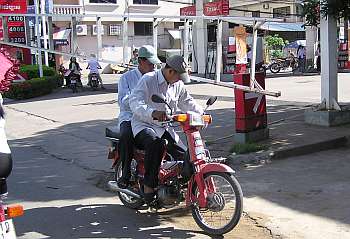 Motorcycle Passengers and Cargo #104
There just isn't any easy way to carry a twelve-foot ladder on a motorcycle!
---
27 October 2008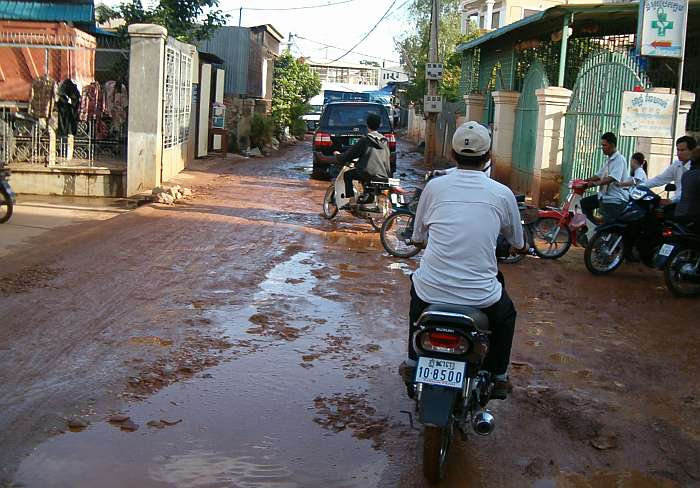 This morning I had a different motordupe driver—I don't know where my regular guy was—but he must have heard about the traffic of the last two Mondays that I went to Teuk Thla for the mass with the Carmelite Sisters because as soon as he saw vehicles start to slow down, he zipped into a side street and started following a tortuous path through small, narrow, muddy streets and roads. I don't think he know where he was exactly but was just navigating by the sun. And he was amazingly successful! Somehow we got through the maze of roads like the one pictured above and arrived at my house much quicker than usual.
---
22 October 2008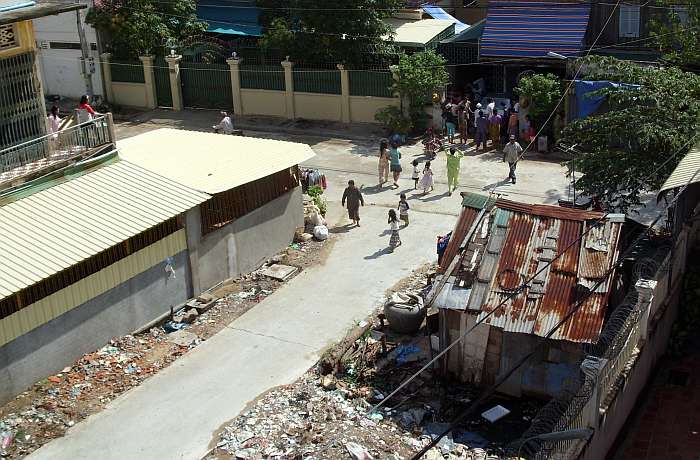 This picture is taken from an upper floor of the Deaf Development Programme building in Phnom Penh. The street running up at an angle from the bottom of the picture is brand new. Before, where the new street is now, there were just squatter shacks like the one on the right. Someone got the squatters to move and what is actually a road was finally paved. In this picture a car driven by a young woman came up the new street to the T intersection but instead of stopping or turning right or left, she just kept going, crashing through the closed front gate of the house where the people are gathered. The house finally stopped her forward progress. It will probably always be a mystery what really happened, but I saw a couple of people leading the young woman back down the street to her home. She was smiling and giggling, which is an appropriate response for some Asian people in a situation they don't know how to handle. No one got angry or upset about the whole thing and most of the neighbors probably appreciated the excitement.
---
20 October 2008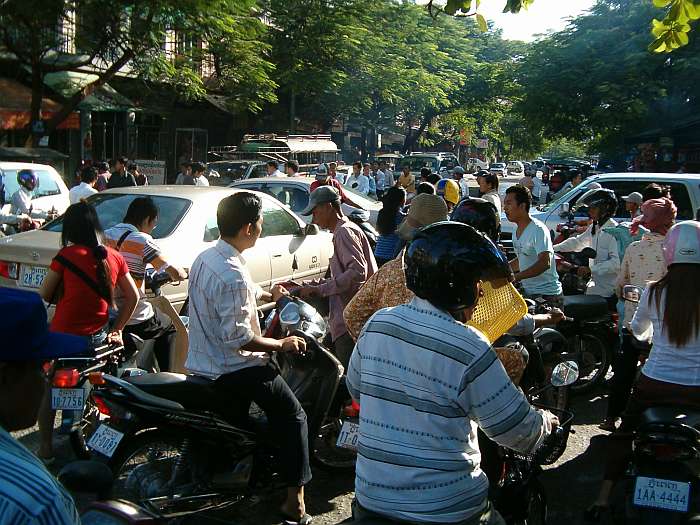 Today when I was leaving the Carmelites, my motorcycle taxi driver (the same one as last week) didn't even ask but turned in the opposite direction and went a roundabout route on streets I had never traveled before. He didn't want to sit in traffic for an hour again! The normal route is on some of the biggest streets in Phnom Penh. The alternate route today was on regular side streets and it was amazing how bad the traffic was there, too! The poor people who have to travel those streets every day! This is an ordinary intersection, like all of them without any lights or signs to control traffic. Everyone just pushes into the intersection or else you'd never get through. Most amazing is the lack of irritation and anger. The drivers just take it for granted.
---
18 October 2008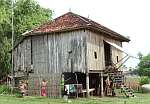 Click here to read about houses in Kampong Cham Province.
---
16 October 2008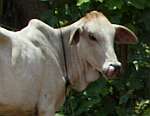 Click here to read about cows in Kampong Cham Province.
---
14 October 2008

Click here to read about Muslims in Kampong Cham Province.
---
13 October 2008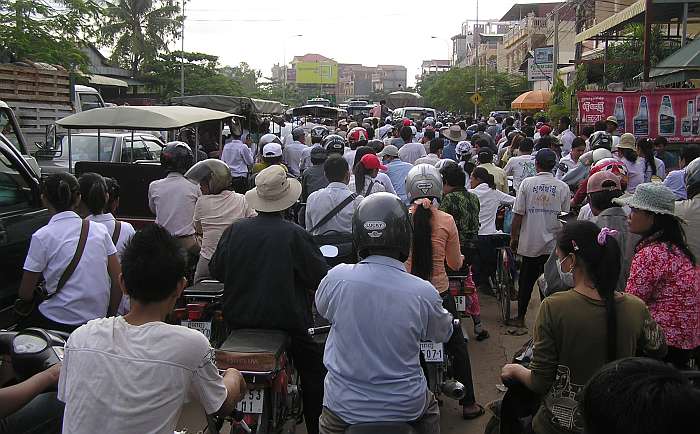 Today I was in the worst traffic jam of my life. I was coming home from a 6:30 AM mass with the Carmelite Sisters on the other side of town, riding a motordupe (a motorcycle taxi), and all of a sudden we just ran into this mass of vehicles totally stopped. We sat in the mass for 58 minutes. There were literally thousands of motorcycles in both directions along with assorted cars and trucks. What was so interesting was that, as we finally started moving, I could see there was no accident or other reason for the stoppage. I don't know which direction initiated the slow down that became the stoppage, but at some point people dissatisfied with riding in the three lanes of traffic moving in their direction went over into the three lanes of traffic coming the opposite way. At first they just squeezed around each other but eventually there were six lanes of traffic going in one direction facing six lanes of traffic going in the other direction--and they were all in the same lanes. It may be only in Cambodia that there is such total lack of traffic law, traffic awareness, and traffic law enforcement. It may be only Cambodia that can create gridlock--on a straight stretch of road, without a grid.
---
12 October 2008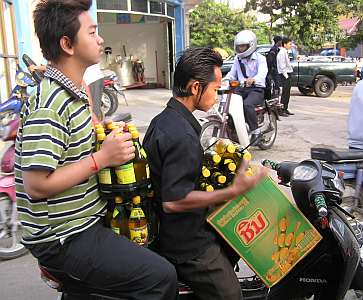 Motorcycle Passengers and Cargo #103
"Hey, you don't get soy sauce on sale every day!"
---
10 October 2008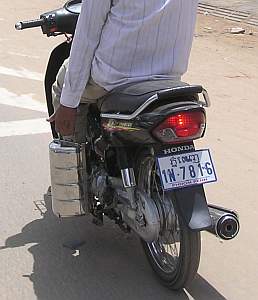 If he were in the United States, this motorcyclist might be heading for the drive-thru window at McDonald's, but here in Phnom Penh, he's carrying his lunch in a three- or four-part food carrier. It's not designed to keep anything hot--that's not a real value for Cambodian people--but the rice and curry and a vegetable that his mother or his sisters or his wife prepared can be kept separate in the different compartments of this very common type of lunchbox.
&nbsp
---
3 October 2008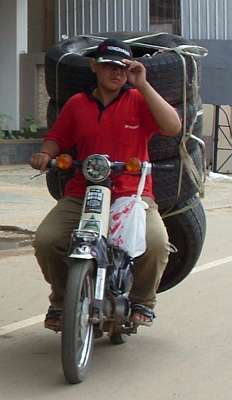 Motorcycle Passengers and Cargo #102
"Hey, if I get a flat, I am PREPARED!"
---
1 October 2008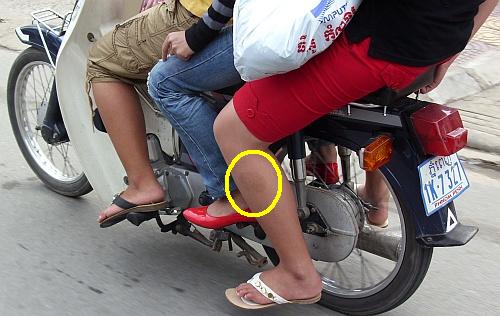 A common sight on the legs of people in Cambodia are round burn marks caused by contact with very hot motorcycle mufflers. Most of these "Cambodian beauty spots" are on the legs of women because they are usually the ones riding on the back of the motorcycle where the muffler is and their legs are often bare and unprotected. This burn mark (yellow circle) has almost healed but it was certainly plenty painful months ago! And with no footpegs to use, the rear girl may very well get another burn on her right ankle if a bump causes her leg to hit the muffler.
---
22 September 2008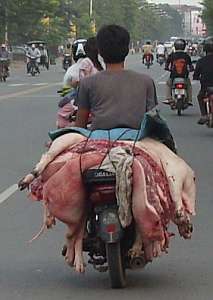 Motorcycle Passengers and Cargo #101
A not uncommon sight in Phnom Penh but one that has been hard to capture with the camera is the motorcycle with pig carcasses piled on the back end. These porkers were making their last ride--to a market--early one morning on the streets of the capital city.
---
19 September 2008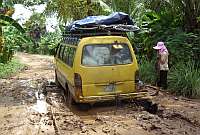 Click here to read about transportation in Kampong Cham Province.
---
17 September 2008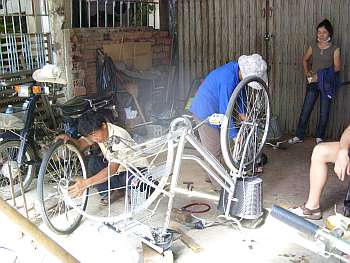 Recently a young woman on a small motorbike ran into me on my bicycle and bent my front wheel. She didn't suffer any damage to herself or her motorbike, but I had to take my bicycle to this repair shop. Luckily I knew about this one from before; it specializes in true-ing bent wheels. I told the woman proprietor (blue shirt) what happened, and she said "No problem. Come back in an hour." I did and for $3 I was back on the road.
---
12 September 2008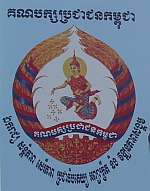 Click here to read about political signs in Kampong Cham Province.
---
8 September 2008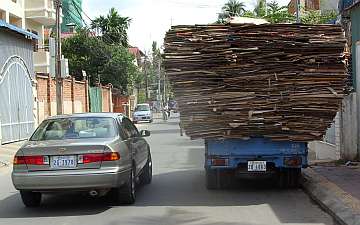 This load of cardboard could get a lot wider and higher except that it probably is at the limit of what will pass under the low wires across so many streets in Cambodia. The truck may be heading with its load to Vietnam or Thailand where there is a better market for recycling.
---
7 September 2008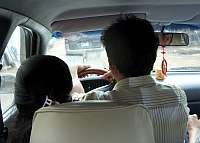 Click here to read about travel by taxi in Cambodia.
---
5 September 2008

Motorcycle Passengers and Cargo #100
"It's not too bad as long as I don't breathe...."
---
28 August 2008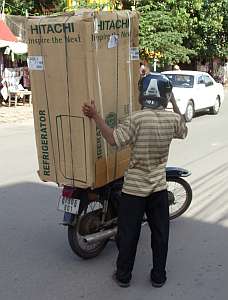 Motorcycle Passengers and Cargo #99
"Hmmm...I've seen other guys do this!"
---
23 August 2008
21 August 2008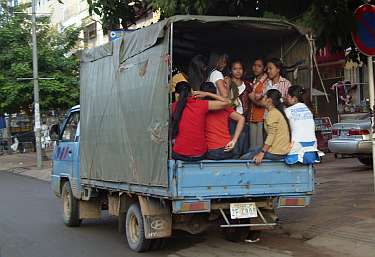 This is the way garment factory workers get to their jobs in a country with no local public transportation.
---
18 August 2008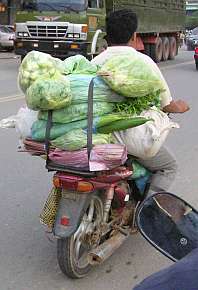 Motorcycle Passengers and Cargo #78
Hey, it's not the most aerodynamic load, but it will get there!
---
15 August 2008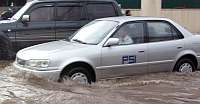 Click here to see pictures of flooded Phnom Penh streets.
12 August 2008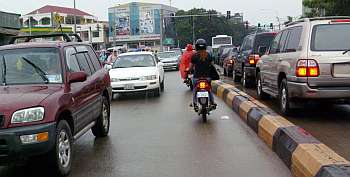 To create some semblance of order in the chaos of Cambodian street traffic, road dividers have been put in place on some major thoroughfares. As with all other traffic legislation in Cambodia, though, compliance is optional, with no threat of police enforcement. Why wait in traffic when you can move freely in the opposing lane?
---
8 August 2008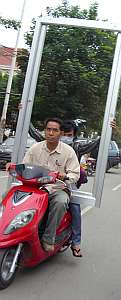 Motorcycle Passengers and Cargo #97
It's a good thing there's no glass in this door!
---
15 June 2008

Every time I get ready to head to the United States or some other destination outside Cambodia, I go to Shop #46 in the Russian Market in the Tuol Tum Pung section of Phnom Penh to buy Cambodian artifacts to take to people as gifts. This young woman has been selling me things for years. It's been good to have one place to go because they really do give me a discount. Here she is with some of the wooden and stone and metal objects they sell.

Here is the first woman's colleague who also works in the shop, near the cloth items they sell, all stacked on a table that fronts on the narrow aisle that runs through the market. I usually buy 100 khramas (scarves) and cloth bags at a time, so they are happy to see me come and willing to lower the price for me.

---
14 June 2008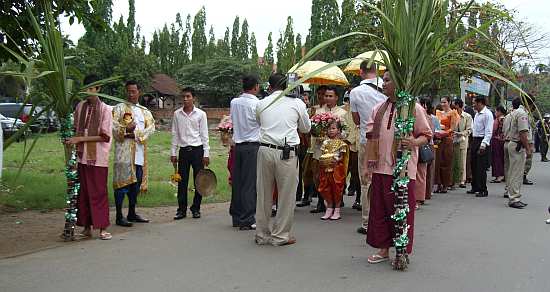 The number of weddings taking place tends to peak shortly before the rainy season and then starts to taper off as the rains appear. There are still a good number of wedding celebrations to be seen, though. Here, at 6:00 AM on a weekday, a wedding procession forms on the street to walk to the house of the bride where the couple will actually profess their vows and give gifts to their parents in the presence of a monk. A small number of guests are invited to this early morning ceremony. Five or ten will actually go into the house for the ceremony while the others sit under a tent in the street and listen to a comedian and eat. But for now they are lined up, all bearing traditional gifts ranging from a full roast pig to a case of beer, waiting to process to the house. In the evening, possibly hundreds will be invited to a wedding banquet, either under a street tent or--if the families have money--at one of the restaurants catering to the wedding business.
---
13 June 2008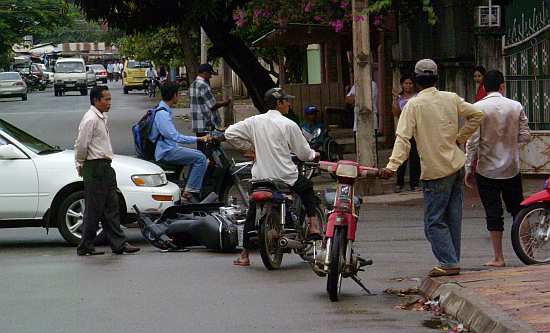 Very few intersection in Phnom Penh have any traffic control. There are very few stoplights--although to be fair, the government is starting to install them--and stop signs are unknown. Accidents like this one are quite common when people race through intersections, sometimes blowing their horns in advance as if that is some sort of a courtesy to people whom they might hit.
---
12 June 2008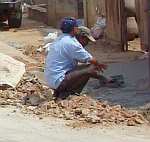 Click here to see the end of the paving work on Street 101, at least for the Deaf Development Programme.
---
10 June 2008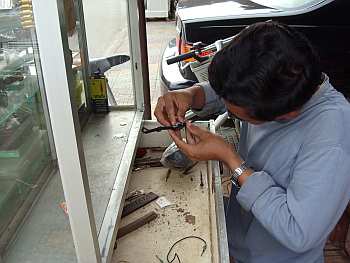 One of the interesting things about Cambodia is the ability to get almost anything fixed or repaired, often right on the street. This man is operating a watch repair shop from a little booth, smaller than a US-style telephone booth, set on the edge of the street. By day it is rolled out to the curb; by night it's locked up in some nearby house for a small fee. I had just bought a digital watch for $3.50, supposedly a Casio F91W, but I noticed it was losing a minute an hour. Then when I started fiddling with the controls, I noticed it had flashing red and blue LEDs to illuminate the screen so I knew it had to be a cheap counterfeit. Not wanting to throw it away without at least trying, I bought a new battery for the watch and this young man is installing it. It didn't work. The watch still loses time so I'm in the market for another one.
---
9 June 2008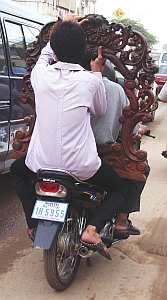 Motorcycle Passengers and Cargo #96
"I was going to hang this doodad on the rearview mirror but it's a bit big...."
---
8 June 2008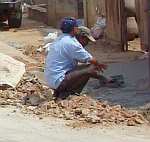 Click here to see the remaining work to be done on our street.
---
5 June 2008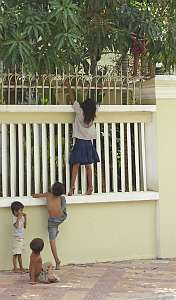 The previous two articles noted that both corn and durian are in season now, but the peak of the mango season has already gone. They are still available but not in the quantity and quality offered before. Here five children climb a security fence to steal some of the last mangoes of the season.
---
4 June 2008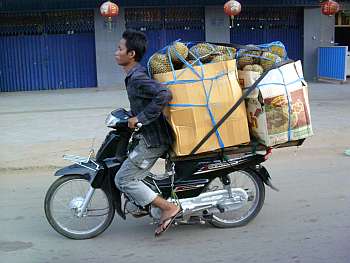 Motorcycle Passengers and Cargo #95
Corn is in season now (see 1 June below) and so is durian, the quintessential Asian fruit that "tastes like heaven, smells like hell." Here a motorcycle driver struggles with a load of fresh durians. At least the smell is behind him.
---
1 June 2008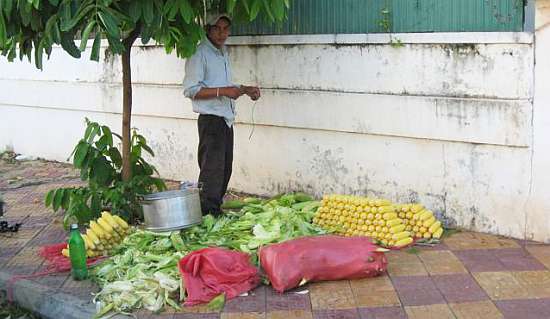 Cambodia is a country that doesn't have much in the way of seasons of the year but does have fruit and vegetable seasons. All fruits and vegetables are not available throughout the year as they are in countries that import so much of their food. And now is the season for corn on the cob in Cambodia! Along major highways are many little rickety wooden shacks with big pots of corn on the cob boiling away--and lots of customers here where corn is considered more of a fruit than a vegetable. Even in the city corn on the cob is readily available. This vendor is setting up his business for the day. (Maybe it's "corn on the curb"?) [Photo by Jim McLaughlin]
---
31 May 2008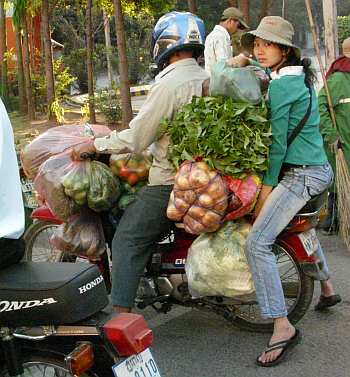 Motorcycle Passengers and Cargo #94
"What's the matter? Haven't you ever seen an onion before?"
---
20 May 2008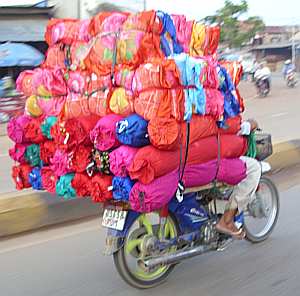 Motorcycle Passengers and Cargo #93
You sure can't say you never saw him coming!
---
18 May 2008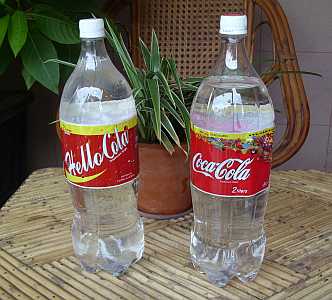 One of the mysteries--granted, a small one--of life in Cambodia is the absence of Coca-Cola and Pepsi in two-liter bottles for the past two or three months. Coke has a bottling plant in Cambodia, but apparently the two-liter products are imported from Thailand. The label of the Coca-Cola bottle in the picture is written in Thai. With both Pepsi and Coke in the large sizes off the shelves, Hello Cola, a deliberate imitation of Coke, has been more noticeable. The shape of the bottle, the color scheme, the logo and design are all direct imitations of Coke's trademarks. But if you were fooled by the shape of the bottle, you couldn't help noticing the difference in taste. Hello Cola is sweet, has something of a synthetic aftertaste, and --most noticeably--it's not carbonated! The first time I had it I thought poor packaging had allowed the CO2 to escape, but since then I've found out they don't bother to use carbonation. It's NOT the real thing!
---
16 May 2008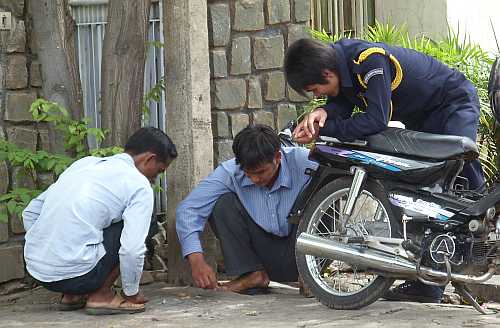 Cambodians are avid chess players. Impromptu games spring up everywhere as seen in this photo of a chessboard outline scratched onto a sidewalk and rocks used for the various chess pieces. Cambodia even has its own variety of chess, called Ouk Chatrang, which has a few moves different from those of international chess, such as the pawns starting out on the third row and the queen moving only one square at a time. In order to preserve Cambodian chess and also to develop players for international competition, the Cambodian Chess Association and the National Olympic Committee are hosting a first-ever chess competition, with prizes sponsored by Coca-Cola.
---
15 May 2008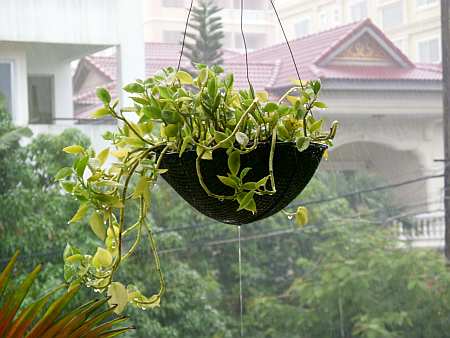 The rains are coming every day now so we have definitely begun the rainy season. The rains have been quite heavy, and if they continue for more than just a few minutes, significant flooding occurs throughout the city. This is a hanging plant on the front porch of Charlie's house that benefits from the daily rainfall.
---
13 May 2008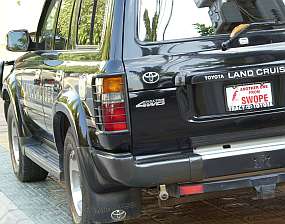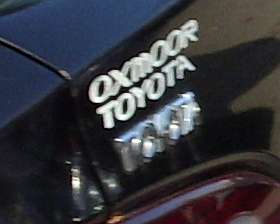 Not long ago I saw a Land Cruiser in Phnom Penh with a paper dealer plate from Swope Toyota in my hometown of Louisville, Kentucky. A couple days ago I ran across a Toyota with an "Oxmoor Toyota" decal on the back. That dealer is also located in Louisville. I really would like to know the workings of the distribution system that gets used cars from Louisville to Phnom Penh!
---
12 May 2008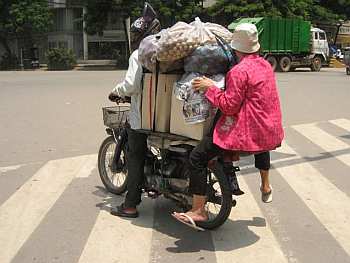 Motorcycle Passengers and Cargo #92
"I'm glad we're not carrying a load of horse manure!"
[Photo by Jim McLaughlin]
---
10 May 2008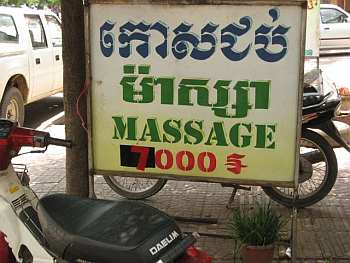 Inflation is hitting Cambodia just like many other parts of the world. The price of rice is now 2 1/2 times more than the price of a year ago and gasoline prices are rising similarly. And now even the massage places are raising their prices. A massage has been about 5000 riel ($1.25) for the past three or four years and now suddenly the cost has jumped to 7000 riel ($1.75). [Photo by Jim McLaughlin]
---
9 May 2008
---
8 May 2008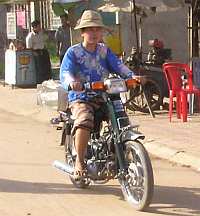 Here is a third section on ice in Phnom Penh, concentrating on the big trucks that pick up ice at the freezing plants to distribute it around the city. In this photo a woman takes a block of ice on the back of her motorcycle.
---
6 May 2008
Many older Americans remember images of the Viet Cong in their black "pajamas" during the Vietnam War. What the VC wore weren't really pajamas at all but a traditional attire suited to the climate. But here in Phnom Penh, many women wear real pajamas everywhere as a sort of casual dress. They do sleep in them, too, but the PJs are totally acceptable on the street, most often seen in the morning.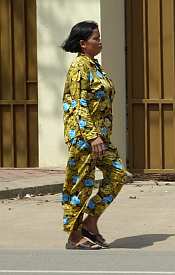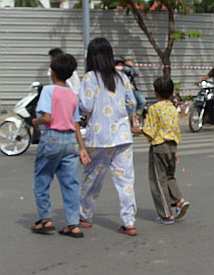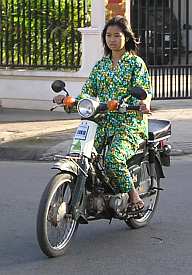 ---
5 May 2008
---
2 May 2008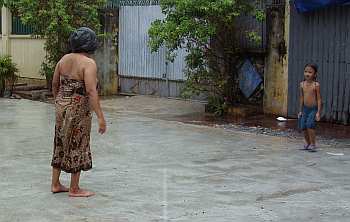 A day after the previous shower picture, a neighbor of the Deaf Development Programme afforded another. Here a mother (with a black plastic bag on her head to keep her hair dry) and a daughter turn a heavy rain shower time into a shower opportunity for which they don't have to haul water.
1 May 2008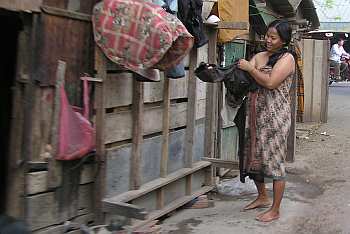 Most of life in Cambodia is lived in public, especially in the rural areas. Houses are small and do not have indoor kitchens or bathrooms. Those activities take place outside and are considered part of the life of the village. Men think nothing of stripping down to jockey shorts and using a pan to pour water over themselves for a shower two or three times a day. Women wear a sarong while taking their shower in full view of all passersby--who don't really notice since everyone else does it, too. This woman has finished her shower and used the shower water to wash her clothes also.
---
Dairy Queen, KFC, and Swensen's

Progress?

29 April 2008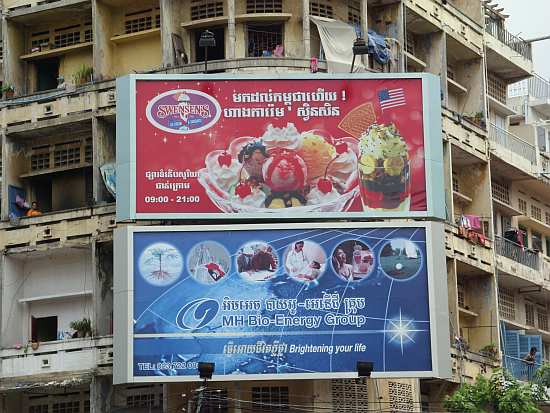 Yesterday when I was passing by the formal opening of KFC in Cambodia, I noticed a large sign on the other side of the street advertising Swensen's, the ice cream store. It caught my attention because I thought there were only two foreign franchises in Cambodia: the Dairy Queen at the airport and the new KFC. I didn't know Swensen's had arrived also. I'll have to see if I can locate it and find out what it's like.
---
28 April 20088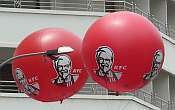 Click here for Colonel Sanders' arrival in Phnom Penh!
---
25 April 2008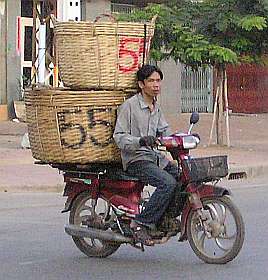 Motorcycle Passengers and Cargo #91
Many large wicker baskets like these are seen on the back of motorcycles in Phnom Penh. Most of them are filled with durians--a smelly fruit with a thick skin--or loose baguettes of French bread.
---
23 April 20088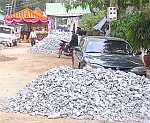 Click here for still more pictures of the seemingly endless street paving story.
---
12 April 2008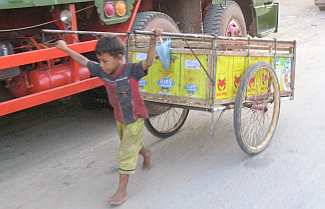 A barefoot child starts the day pulling an empty cart as he goes out to hunt trash to recycle to help his family survive. Why isn't he in school?
---
11 April 2008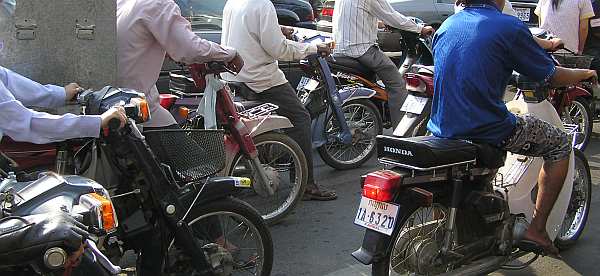 Last year a law was passed requiring motorcycles to have rearview mirrors. A small number of people installed the mirrors when the police started cracking down, i.e., stopping motorists without mirrors and extorting money from them. The lucky ones, though, were those who decided against complying with the law (Many young people think mirrors are not "cool.") or who just procrastinated long enough. When riding with our program manager recently, I noted how few motorcycles had the mirrors and he informed me that the prime minister had decided people didn't need to get them. Even those who did have them took them off their motorcycles. So much for the rule of law! So much for common sense! So much for enlightened leadership!
---
8 April 2008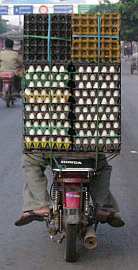 Motorcycle Passengers and Cargo #78
Would you believe more than 120 dozen eggs on the back of this motorcycle?!
---
31 March 2008
| | |
| --- | --- |
| | In 2003 there were 9,500 registered car owners in Cambodia. Today there are 173,300, an increase of more than 18-fold in five years! The newly rich, a very, very small group in Cambodia, are very rich and are spending their money on apartments and vehicles. Many go to small, even unnamed lots like this one where they look for a distinctive model to be a status symbol. |
| | Many cars and other vehicles don't have license plates in Cambodia, but others that at first glance seem to be lacking them actually have yellow temporary tags (yellow circle) as on this vehicle. Many cars are imported used from the United States, so it is not uncommon to see a vehicle with a temporary tag on the windshield and a California or Georgia license plate on the bumper. |
---
29 March 2008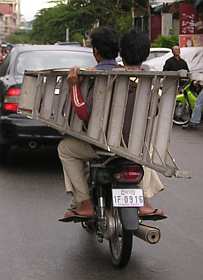 Motorcycle Passengers and Cargo #89
No load is too wide, too long, too heavy for a motorcycle. If it's not dragging on the street and the motorcycle can move, you're good to go!
---
27 March 2008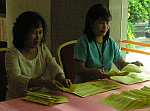 Click here for pictures of the Easter Sunday ecumenical service.
---
25 March 2008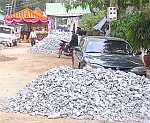 Click here for still more pictures of the street paving chaos.
---
24 March 2008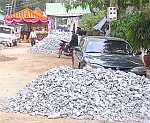 Click here for more pictures of the street paving chaos.
---
23 March 2008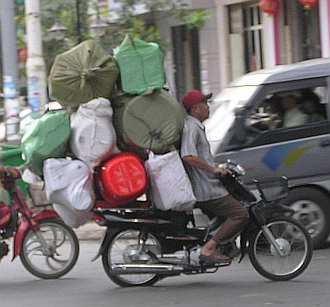 Motorcycle Passengers and Cargo #88
Cambodians are masters of holding things together with a bit of twine or piece of plastic pulled from a trash heap. The basic rule is that you can load anything on a motorcycle or truck that will pass under the overhead telephone and electric wires. And some loads don't pass that test so a young boy rides on top of the load to lift up the wires--with his bare hands--so that the vehicle can pass underneath. Note the motorcycle's rear tire. Some of those containers are NOT empty!
---
21 March 2008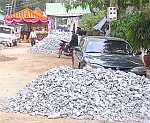 Click here for pictures of street paving in Cambodia
---
20 March 2008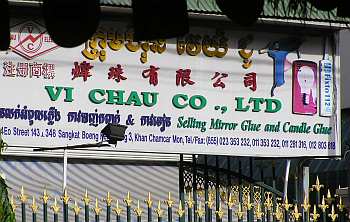 While waiting for some deaf people recently, I noticed a sign on a shop advertising "mirror glue" and "candle glue." I really don't have any idea at all what those products are or what they are for!
---
18 February 2008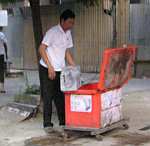 Click here for more pictures of the ice industry in Cambodia
---
17 February 2008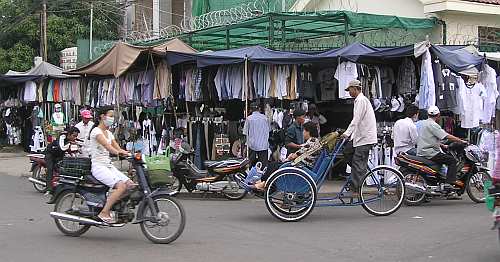 This is a street stall selling men's clothing on a corner near our house. This corner, on the street where the Boeung Keng Kong Market is located, sells men's clothing. The corner on the next street on the other side of the market sells women's and children's clothes. A shirt here costs anywhere from $1.5 to $5.00.
The really interesting part of these stalls is that they are set up every morning and taken down at sunset every day. They are on what would be called the sidewalk--if anyone could ever actually walk on them here--and about 6:00 AM or as first light is dawning, cyclos and motorcycle trailers pull up and unload the bamboo supports, awnings, and all the stock--usually in metal cases--and they erect the stands and then hanging all the shirts and pants and belts for another day of commerce.
---
15 February 2008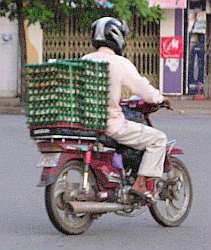 Motorcycle Passengers and Cargo #87
48 dozen eggs on the way to market!
---
10 February 2008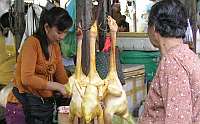 Take a picture tour of the Boeung Keng Kong Market.
---
7 February 2008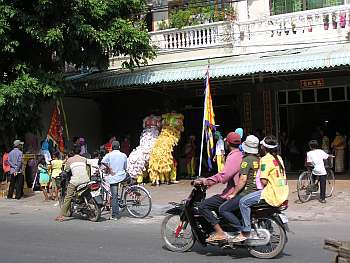 Today is the first day of the Lunar New Year, the Year of the Rat. Many Khmer people have Chinese ancestry so this is a big celebration even here in Cambodia. Many of the Chinese people are the merchants and business people of Cambodia, with a lot of wealth among them, and such families often engage traditional musicians and lion dancers to perform at their homes or places of business.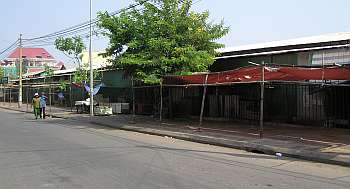 Probably to the embarrassment of the Cambodian government, the city shuts down for the Lunar New Year almost as much as for the Khmer New Year in April. It's embarrassing because the Lunar New Year is not a holiday in Cambodia and because it is the big festival in neighboring Vietnam whom the Cambodians blame for everything. But this market near the deaf office shows what the people think of the government's edict that this is NOT a holiday! (Of course, you can be sure the government people are not in their offices--and might even take a full week or two off for the Lunar New Year!)
Maryknollers working at the Royal University of Phnom Penh reported that the government told the university to be open so they opened the front gate--while all the staff and students stayed home.
---
5 February 2008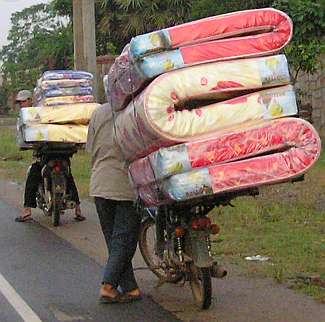 Motorcycle Passengers and Cargo #86
A couple loads of foam mattresses on their way to some village store.
---
4 February 2008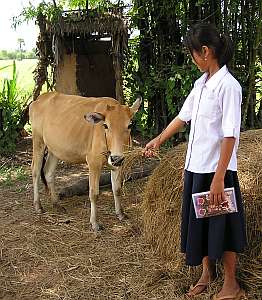 The Rural Development Ministry is engaged in a campaign to raise the level of awareness about hygiene and sanitation in the provinces. One technique being used is a comedian using humor to educate villagers about their lack of toilets and the poor sanitation that prevails in most of the country. In the rural areas, only 15.7% of the people have access to toilets. In the urban areas, the percentage is 56%. Countrywide, 21.6% of the population have toilets.
This picture shows a simple outhouse (behind the cow) at the rural home of one of the students of the Deaf Development Programme. The structure is made of wattle (mud mixed with straw) and has no door.
---
1 February 2008
Eating a fast-food breakfast, Cambodian style.
---
28 January 2008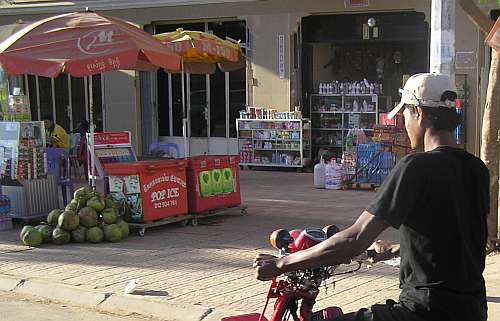 Many of the buildings in Phnom Penh are what are known as "shophouses", buildings with a small store or shop on the ground floor and the family living behind and above it in the rest of the building. This is a typical example. Note the display cases and other equipment are on wheels so they can be pushed inside the house at night.
---
27 January 2008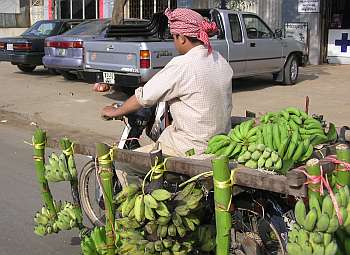 Motorcycle Passengers and Cargo #85
Bananas may get to the North America and Europe in containers, but they get to Phnom Penh from villages by motorcycle. Notice the two different types of bananas: the shorter fat ones and the longer thinner ones more common in the US.
---
21 January 2008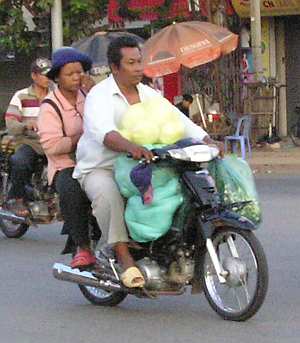 Motorcycle Passengers and Cargo #84
"Sheesh, I barely have room to hang my hat on the handlebar!"
---