Daily Life in Phnom Penh
---
Intruders at Maryknoll--24 July 2000
About 4:30 this morning, four people climbed a tree to get over the wall into the yard of the Maryknoll center house and office. Our guard was on duty and raised the alarm and the guards from nearby houses came to help. They caught one of the intruders who were apparently trying to steal a bicycle. The captured would-be thief was just a young boy who started crying--with good reason since at least once a week thieves are beaten to death in the streets by crowds because they know the police won't do anything to arrest and convict criminals. Our guard didn't turn the boy over to the police--who would have just charged money from his family to have him released--but instead took him home. Our two newest lay missioners, both young women in their early 20s, were a bit shaken up by the incident but were just grateful that our most experienced lay missioner, a man, was also there in the house with them.
---
Remnants of a Secret War--12 July 2000
Recently six American 500-lb bombs were detonated at the Cambodian Mine Action Center's demolition site. The bombs, dropped from a B-52 in 1975, landed unexploded near Dechor Island, halfway along Highway One to Vietnam. They were the largest group of unexploded ordnance so far recovered by CMAC. A fisherman discovered them in the Mekong River. Demolition experts speculated that these six bombs were jettisoned in the relatively isolated spot by a bomber crew returning to base, and the bombs didn't explode because they were dropped too low and their fuses didn't have time to arm themselves.
Between 1970 and 1975 the Americans dropped more than two million tons of bombs on Cambodia in a secret war carried on without congressional approval. 43,415 air attacks took place within Cambodia, and some scholars cite the devastation they caused as a reason for the rise of the Khmer Rouge and their ability to attract the support of the peasants.
---
My New Window--9 July 2000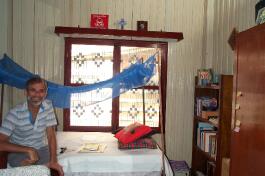 Fr. John Barth and I live in an old, traditional-style Khmer house in a relatively quiet neighborhood. My room had only one small window so we asked the landlord to put a larger one in. He and a friend did all the carpentry work, mainly with two axes with homemade handles, two crowbars, and one saw. The window was installed on Wednesday and Thursday--while in the meanwhile I had all my stuff out in the main living area--and then yesterday the landlord added a cornice over the window for hanging a curtain. I took this picture this afternoon, and then later in the day the housekeeper brought in some curtains she had made.
---
Morning Prayers--19 February 2000
Saturday was the full moon, and at 6:00 AM the head monk of the local Buddhist wat (temple) got on the PA system and broadcast a spiritual message to the neighborhood. I hope the neighbors appreciated it; I didn't especially. First, I couldn't understand what he was saying, and, second, it was 6:00 AM! Everybody gets up early here, but that's too early to be blasting the neighborhood. Or maybe I just think it's too early and everyone else except me was already up?! :) (Actually, I do get up at 6:00 AM on school days, but don't have classes on Saturday.) John, the priest I live with, says that I can expect to hear a message like that every fourteen days.
---
Supply and Demand--16 March 2000
I bought a new HP810C color printer today here in Phnom Penh. There's not a lot of bargaining room on name brand imported products like that, but I did get the price down to $205. My friend in the US told me he has seen the same printer in Office Depot for $150--and on sale for $130. And when I was in Bangkok on Tuesday, I saw it there for $170.
I could easily have bought it in Bangkok because I didn't have any other stuff to carry, but we try to buy everything we can in Cambodia, even if it costs more, because what this country needs is to build up its economy so that the government has a tax base for all the infrastructure projects that are so desperately needed. Cambodia also needs to develop a middle class which is one of the major factors in moving a country out of poverty and toward a more liberal and flexible political system. When a strong middle class develops and starts complaining about useless government restrictions, bureaucracy, and inefficiency and corruption, then the government has to listen because the middle class will have economic clout.
I don't drink many soft drinks but now I've stopped drinking Coca-Cola in Cambodia for the same reason--I don't want any money going out of Cambodia to Coke headquarters in Atlanta. I just order a lemon juice and every cent supports farmers and merchants here.
---
Wedding Season--18 March 2000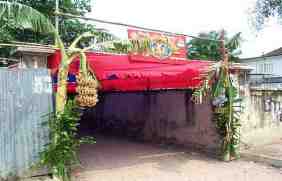 In the past day or so, I have seen about ten wedding parties around Phnom Penh, either couples and their entourages in a white car decorated with red ribbons and bows, or the tents set up in the city streets for a wedding celebration and reception. A couple days ago, I could barely get into the courtyard of the house where I live because a neighbor's wedding tent completely covered the whole street right up to our gate. Anyone wanting to use the street was out of luck. The advent of the rainy season is the reason everyone wants to get married now. They want to have a dry day to celebrate. Like the Chinese tradition, red seems to be the color for celebration and happiness here. In the picture above, note the bunches of bananas painted gold and silver on either side of the entranceway.
---
Ex-Pat Cowboys--20 March 2000
The main mode of transportation here in Phnom Penh is what are called "motordupes," small motorbikes with drivers who cruise around the streets all day looking for paying passenger. The standard rate is 500 riels (about 13 cents) per kilometer, and even that is expensive for the local people.
Not content to live and travel like the local people, a lot of the young ex-pat males here adopt a cowboy lifestyle. Probably away from home for the first time, with plenty of money in a foreign country where the average policeman makes $25 a month, these cowboys tend to be very ostentatious. They don't drive motorbikes but BIG motorcycles, usually dirt bikes with fenders about four feet off the ground. And no mufflers. They love to roar around and let everyone know what they've got. And throw loud noisy parties for their ex-pat friends. It's probably not terminal and they'll eventually grow up, but sometimes it makes you want to barf.
---
Happenings--23 March 2000
• Yesterday one of the ferry boats, like the one we took to Siem Reap less than two weeks ago, was hijacked. I don't have the full story but about an hour into the five-hour trip, some armed men who had boarded as passengers took over the boat, forced it to stop, and then tied up and robbed all the passengers. Not a happy event for the tourist industry here!
• Tonight I had dinner with an official of the UN Human Rights Commission here in Cambodia and an activist who works for one of the major human rights legal groups here. Very interesting conversation! It was revealing to hear the stories behind the scenes here.
---
Death in Cambodia--27 March 2000
The young man who works as a guard at the house where I live took off excitedly for his wife's village four days ago when he got the news that she had gone into labor. Both of them are about 20 years old and this was their first child. They live in Phnom Penh, but the wife wanted to give birth in the village where her parents live. Tonight the young man came back to tell us the baby had died. There were some complications and with only a traditional midwife or less in attendance they could not save the baby. The young man told us that then they had taken the wife to Vietnam for treatment because the health care system is better there.
What is so sad is that probably the mother had no prenatal care at all although Maryknoll pays for medical care for all its employees and their families--and even school for their kids. Most of the people don't really understand contracts and benefits, though, even when they are translated and explained repeatedly, and there is also a cultural obstacle to overcome in that no one here wants to waste money going to a doctor when they feel good but only when they are dying--which is what happened in this case.
We're just hoping the wife was in good enough shape to survive the two- or three-hour trip to the nearest Vietnamese medical facilities. The priest I live with was really upset because no one had told him in advance the wife had gone to the village where there was no possibility of medical assistance, and we have a Red Cross maternity facility--supported by the Japanese--just around the corner from us. It's one of the best maternity hospitals in the country and probably would have cost $40 to have the baby there. But now because people in poverty don't know about proper care, are afraid to ask for it, and reluctant to use it, the baby is dead and the wife is in trouble. The young husband borrowed $150 before leaving again to go to his wife in Vietnam, bribe the border officials to get in, and to pay for the care she receives. Say a prayer she survives.
---
Ex-pats in Cambodia--31 March 2000
Many ex-patriates who live in foreign countries never really know what that country is like because they live in embassy compounds or enclaves surrounded by high-walls and only allowing westerners to live inside. I've seen foreigners talking about their experiences in various countries and I know they have only seen close-up the inside of the embassy, their foreigners club, and their compound where they live. Anything beyond that was glimpsed through the tinted glass of their air-conditioned cars as they journeyed around town, avoiding the "bad" areas. This is one of the poorest countries of Asia, even of the world, and yet a person can live almost like in the US or Europe if she or he wants to. The average police salary here is about $25 a month but today's Cambodia Daily carries an add for the Bliss salon, offering "Free Eyelash Tint with Waxing." I don't think any of my neighbors will be going.
---
Cambodians Like Dollars--2 April 2000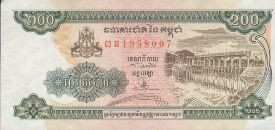 In the last twenty years or so of Cambodian history, through the ravages of the Pol Pot regime, the reconstruction period, then the 1997 coup and the flight of the NGOs and most business, the national currency, the riel, has steadily declined. The US dollar became a steady currency trusted by all, and now the dollar is used almost as much as the riel. For small purchases, like a liter of gasoline for a motordupe, riel are used, but for almost everything else the price is quoted in either US dollars or sometimes dollars and riel. Last week I bought a set of wrenches in a neighborhood market and the price was given in dollars. Today I bought bread in a western-oriented supermarket, and the prices were all in dollars. US coins are not in circulation, though, so all change is made in riel. So today the cost of my purchases was $2.20, I gave the cashier US$3.00, and she gave me 3100 riel for the 80 cents change.
---
Infant Mortality--4 April 2000
The government released figures this week showing that Cambodia has the highest infant mortality of all of Southeast Asia, approximately 115 children out of every 1000 dying before they are five years old. That is almost 12% of all children, and this figure is double the average of the region. The most common causes of infant death in Cambodia are malnutrition and diarrhea caused by dirty drinking water. One half of the children in the country are said to be malnourished.
---
Cooking on the Floor--5 April 2000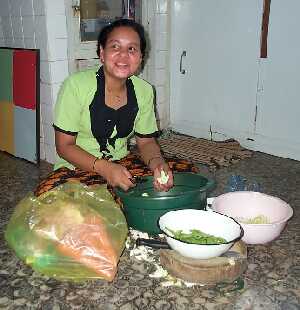 The Maryknoll center house in Phnom Penh is one of the old wooden houses built up on stilts. It has six bedrooms, a large living room, a small dining room, and a large kitchen. As seen here, though, our two cooks prefer to prepare the food seated on the floor, lots of counter space and several tables in the kitchen notwithstanding. At least everyone leaves shoes and sandals on the porch and the two cooks keep the floor clean!
---
Cambodian Haircut--9 April 2000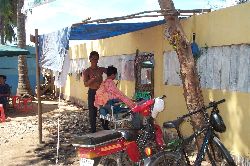 It was time for a haircut so I started looking for a barber when I went to the nearby market, a series of covered sheds with narrow paths between them. Inside were maybe 15 shops for women's hair but nothing for men. I had passed several little "shops" out on the street so I got back on my bike and started riding till I found one man with no customers and got my first Cambodian haircut. His "shop" is a chair set in the dirt next to a wall, with a rock for the customer's feet. I said "short" and that's exactly what he cut it! Cost me all of $0.72!
As soon as I got the haircut, I went home and took a shower to get rid of any lice that might be passed by the barber's tools. Many men don't like to use the street barbers because they use a piece of old razor blade for trimming (the customers are afraid of AIDS) but my guy opened up a new razor blade. (That's my black bike and helmet on the right.)
---
Early Rains--26 April 2000
It has rained almost every afternoon for the past two weeks, marking an early beginning to the wet season. It has kept temperatures from rising quite as high in the afternoons, but it has been somewhat disastrous for the rice farmers in the south. They usually plant two crops, the main crop in the wet season and a smaller crop in the dry season. Now is harvest time for the winter-time dry crop, but the early rains have caught the rice in the fields and thousands of acres have been lost because it was wet when cut and then became moldy. The loss of most of their crop has seriously hurt farmers who depend on that food and income to tide them over until the main crop can be harvested later this year when the rains stop.
---
Embassy Warning--28 April 2000

Yesterday the U.S. Embassy in Phnom Penh faxed to all the Americans on its security alert list to warn us of demonstrations expected on 30 April and 1 May. The warning advised all Americans to stay away from all demonstrations, political or otherwise, and away from military installations; and to remain indoors after dark and return home early if you should be out in the evening. We're curious what is behind this warning since 1 May, Labor Day, is an international holiday and has nothing specifically to do with the United States, and there is no strong anti-American sentiment going around Cambodia now. And one of our members who advises the Cambodia Labor Organization is part of the planning for a 2000+ demonstration on this coming Monday, Labor Day.
---
Readjustment Period--29 June 2000

Arriving back in Cambodia after seven weeks in the US and Hong Kong has required a bit of an adjustment period, to again get used to the way things are done here. When making my peanut butter and jelly sandwich in Hong Kong, I would open the jelly, open the peanut butter, open the bread, and then walk in the other room to get the newspaper or something. I have to keep reminding myself not to do that here because after just a minute away, the ants and geckos are in attack position on anything left open!
---
Crime in Cambodia--8 July 2000

One of the more popular backpacker tourbooks describes Cambodia as "basically lawless," but there are hopeful signs. Statistics recently released indicated that the violent-crime rate dropped significantly last year as the result of several crackdowns aimed at increasing security within the country. Homicides were down 26% to 581; armed robberies in Phnom Penh dropped 23 percent to 1,396 for the year; and kidnappings were down 30% to 27 during the past twelve months.
Prime Minister Hun Sen's government also launched a firearms buy-back program that netted 65,000 weapons and nearly 600 grenades; and it also closed 67 gambling house in the capital in addition to some high-profile anti-drug operations.