Today was the third day of the Lunar New Year, the third day of the non-holiday in Cambodia that everyone takes as a holiday in addition to the 23 official public holidays recognized by the government. I needed some ribbons for a liturgical banner and people assured me the markets would be open today, but the two big markets I went to first were closed and shuttered. Then I went to the smaller Boeung Keng Kong Market near my house and found it was half open. They didn't have any ribbons but I was able to get some photographs.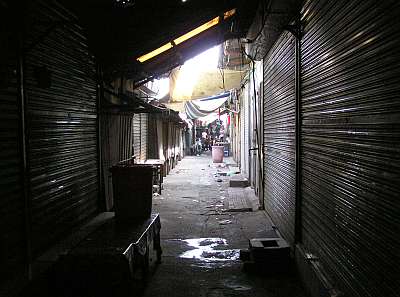 The market wasn't completely open by any means, as this picture of one of the side aisles shows, but probably 40% of the shops were doing business.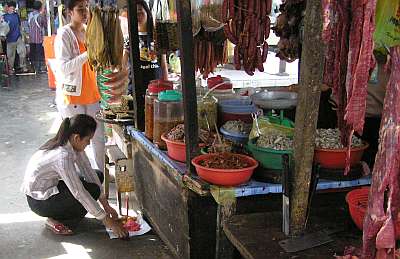 Even though they were back at work, quite a few of the shopkeepers were observing the lunar new year with the required rituals. Here a woman lights a candle before an offering at her shop.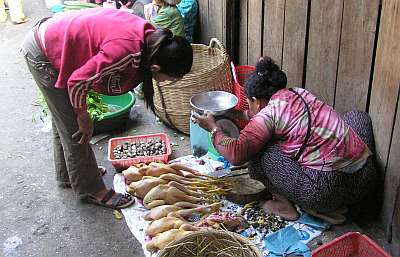 This is the low end of the market both spatially and economically. Vendors need to rent the stalls and tables but they can buy space in the walkways rather cheaply. This seller is checking her scale.

This woman has a small variety of vegetables to offer. The closed shops meant fewer people in the market which was good for taking photographs.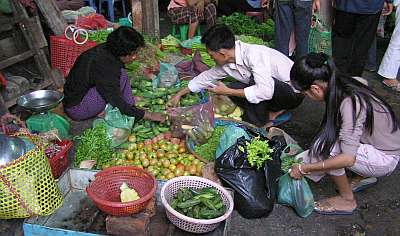 This woman has more to offer in the choice of vegetables.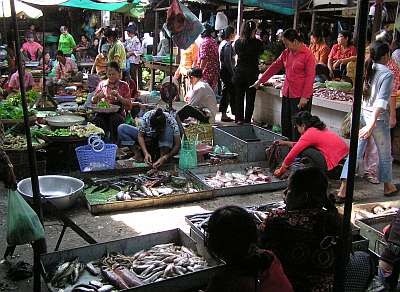 This is where you get your fish, from metal boxes on the ground. The center of the market is open to the sky although vendors almost block the sky with their canopies and umbrellas.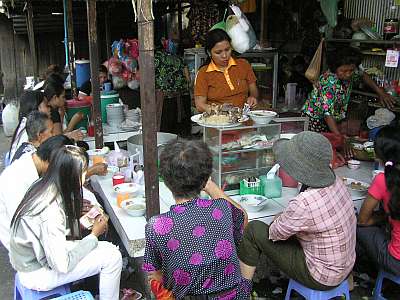 When you get tired of shopping, you can get an iced coffee or tea or a bowl of noodles at several little stalls like this one which is doing a brisk business.