Daily Life in Cambodia 2007
Daily Life (2000)
Daily Life (2001)
Daily Life (2002)
Daily Life (2003)
Daily Life (2004)
Daily Life (2005)
Daily Life (2006)
16 December 2007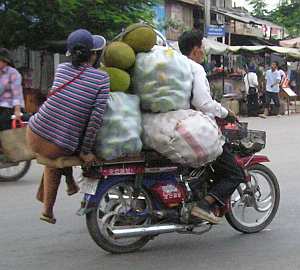 Motorcycle Passengers and Cargo #83
Early in the morning, a woman takes a load of fruits and vegetables from the wholesale market to a smaller neighborhood market, maybe a stall in front of her house. The big green fruits on top are jackfruit.
---
3 December 2007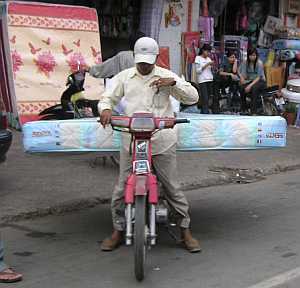 Motorcycle Passengers and Cargo #82
"I'll pick up the bed tomorrow."
---
1 December 2007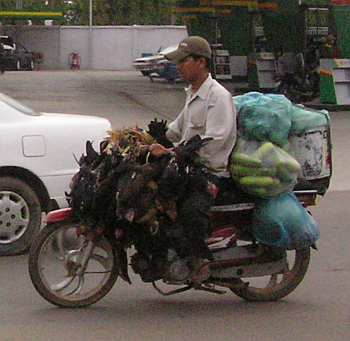 Motorcycle Passengers and Cargo #81
Chickens in the front. Vegetables in the back. All we need is the rice.
---
19 November 2007
One Thing I Really DON'T Like about Cambodia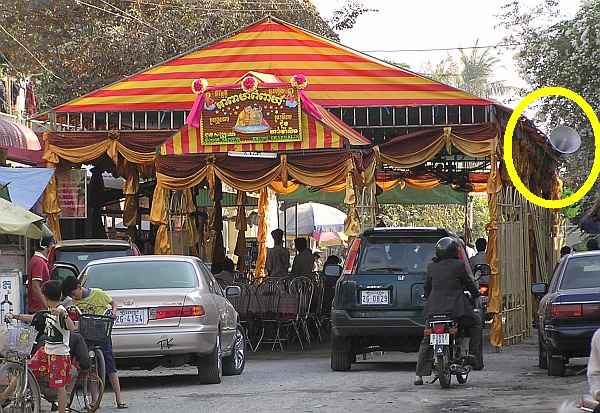 This is the season now for all sorts of weddings and Buddhist and other ceremonies, in addition to the funerals that are part of the normal routine. In this culture, people with money (probably to show they HAVE money) rent a tent and set it up in the street in front of their house, more often than not completely blocking the street.
Worse than the street blockage is the noise. For some reason Cambodian culture assumes that everyone within a several block radius wants to hear the monks chanting a wedding blessing or some Cambodian pop music or karaoke. Hey, we're celebrating and we want you to know it. It's probably related to the money thing: we've got the money to rent a HUGE sound system and we're going to make sure everyone around can hear it. Even worse is that the cooks and sound system flunkies arrive at 5:00 AM--or earlier--and by 5:30 AM the sound system is going full blast. And I mean full blast, all day long until 10:00 PM at night. You can literally hear every word of the chants or songs two or three blocks away. In a western culture, people would be arrested for such disrespect and abuse of the neighbors, but here it's just seen as normal. And as bad as the noise is two blocks away, can you imagine what it's like under the tent?!
---
16 November 2007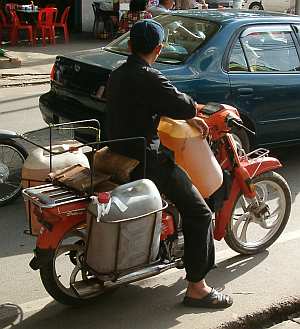 Motorcycle Passengers and Cargo #81
You've heard of Extended Range aircraft. Well, this is an Extended Range motorcycle, with a little extra gas for those long trips.
---
15 November 2007
For the past week, workmen have been breaking up concrete walls and tearing up ceramic tile floors in the other half of the duplex building where we have the offices of the Deaf Development Programme. As they hammered and banged on the concrete walls, the noise on our side has been deafening. The deaf students have been less bothered than the hearing staff who have suffered patiently.

The top photo shows broken up tiles and concrete floor fragments piled outside the neighbor's gate. The second photo shows the construction debris liberally applied to the potholes and ruts in the dirt street in front of our building. Nothing goes to waste here!
---
13 November 2007
One Thing I Really Like about Cambodia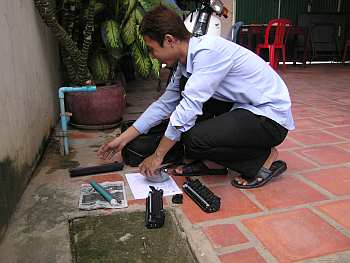 We have a couple Hewlett-Packard laserjet printers in our deaf office. When one runs out of ink, we pick up the phone, call the shop, and within fifteen minutes a man comes over on a motorcycle, takes out the depleted cartridge, cleans it, refills it, and reinstalls it. All for $6! Can you imagine something like that in the United States?
---
12 November 2007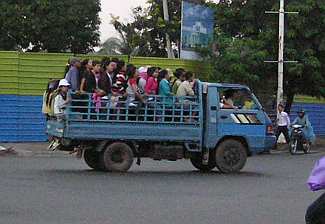 If you ever complain about your commute to work, consider these young women on their way to their jobs in a garment factory.
---
8 November 2007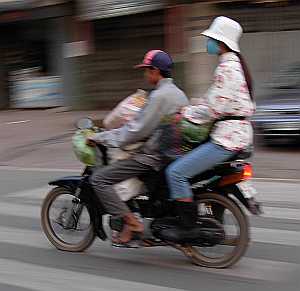 Motorcycle Passengers and Cargo #80
Zipping off to work early in the morning
---
7 November 2007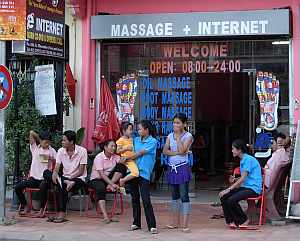 Have you ever been massaged with a mouse?
---
5 November 2007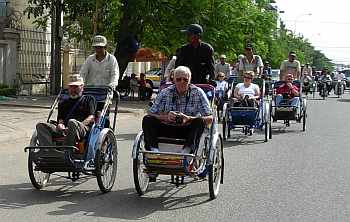 A fairly frequent sight in Phnom Penh is a pack of cyclos--three-wheeled pedal-powered vehicles--ferrying a tour group around the city in a rather different fashion. This group is taking in the sights near the river front and Buddhist cultural center.
---
3 November 2007

Motorcycle Passengers and Cargo #79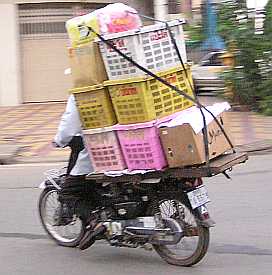 It's the same principle as a container ship!
&nbsp
&nbsp
---
2 November 2007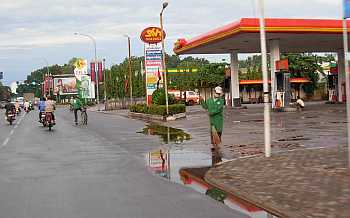 We're getting near the end of the rainy season and so last night's rain may be one of the last for this year. The street sweepers may not be unhappy about that. It's bad enough sweeping when it's dry and dusty, but trying to sweep wet debris from wet pavements must be a real challenge.
---
26 October 2007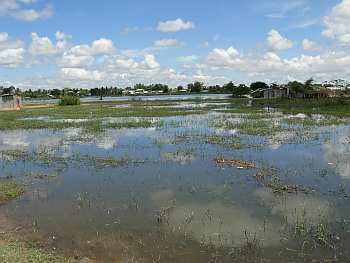 This is a shallow lake, called a "boeung" in the Khmer language, which is common around Phnom Penh. Many areas of the city have the word "boeung" in their name. In the dry season the boeungs often disappear or become marshes. In the rainy season, at the height of the annual floods, some of them might be ten or twelve feet deep because they serve as flood reservoirs. Normally they might be a one to three or four feet deep. Now that the government is selling off public buildings and public lands to their developer friends, the boeungs are being filled in because the dry land is worth much more to the developers than a shallow lake. The result is increased flooding in some urban areas near the boeungs because the flood waters now have no place to go. That's of little concern to the government and developers, though.
---
24 October 2007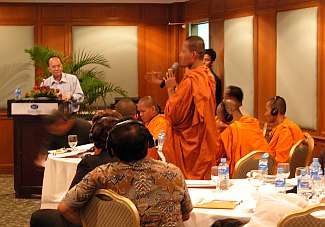 Buddhist monks in Cambodia are out on the street starting at dawn to beg rice, food, and money for themselves and for the people in distress who come to them. They return to their monastery (wat) before noon and eat a meal, and then they do not eat again between noon and breakfast the next morning. When they are together in their monastery, I suspect that is not a huge problem, but I always feel uneasy when monks participate in a workshop or other meeting in the afternoon or evening and cannot eat at the breaks or at any meals provided for the other participants. These monks were participating in a poverty reduction workshop organized by the International Labor Organization, but they just sat off by themselves at the noon meal, the 3:00 PM coffee break, and then a reception held at 6:00 PM after the day's sessions were finished.
---
21 October 2007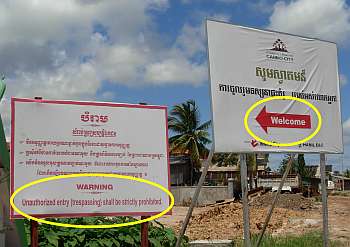 Well, which is it? Am I welcome or not?
---
19 October 2007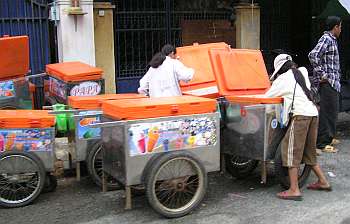 A lot of commerce in Cambodia takes place on the street and in the streets. Small tables and stalls are set up along roads to sell everything from gasoline to phone calls to noodles or a cigarette. And vendors of all sorts ply the streets with various products. Early in the morning these girls are preparing ice cream push carts for their daily rounds.
---
18 October 2007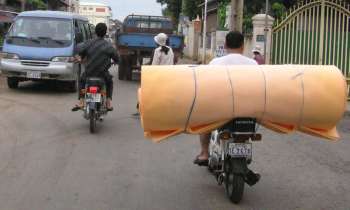 Motorcycle Passengers and Cargo #78
"This could be a bit tight...."
---
15 October 2007
| | |
| --- | --- |
| | Do you think OSHA (the Occupational Safety and Health Administration in the United States) would approve? |
---
14 October 2007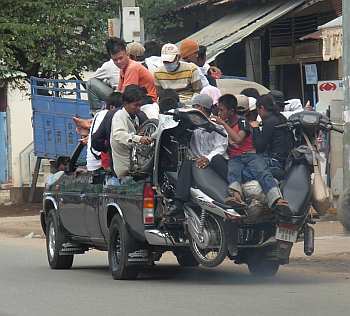 I bet some of them aren't wearing seat belts!
---
13 October 2007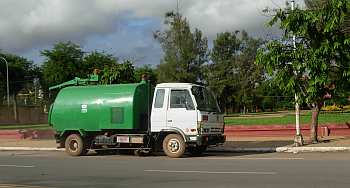 While riding around taking pictures during the Pchum Ben holidays, I encountered another first in Cambodia: a street-sweeping truck working over by the palace. Maybe it has been here for a while, but it is the first one I have seen in Cambodia.
---
11 October 2007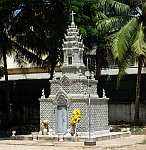 Click here for information on the celebration of Pchum Ben in Phnom Penh
---
10-11 October 2007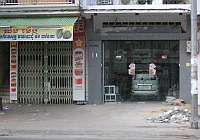 Read about the "house cars" and the "shop cars" of Cambodia!
---
7 October 2007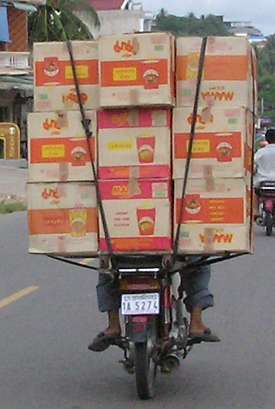 Motorcycle Passengers and Cargo #77
"Why would I need rearview mirrors...?"
---
2 October 2007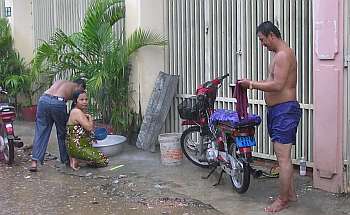 We get very heavy rains almost daily now in the rainy season, and people who have taken over the street next to our office with their squatters' huts take full advantage of the free water. This is the front of our office building, with water pouring off the fifth-floor roof and a third-floor porch roof. The neighbors first filled up their large bottles of drinking water, then brought over their motorcycles to clean them. The woman washed clothes in the torrent coming off the roof and now is taking a shower. In Cambodia where bathing is done outside wherever there is available water, women wrap themselves in a large sarong for their showers.
---
30 September 2007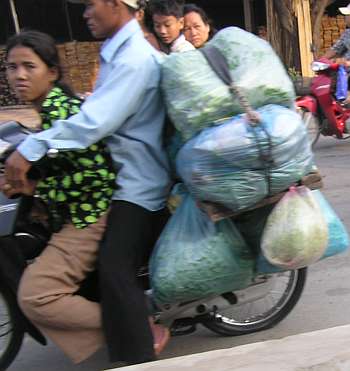 Motorcycle Passengers and Cargo #76
And for a REALLY uncomfortable way to ride a motorcycle, this girl's position probably takes First Prize!
---
28 September 2007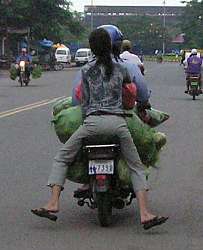 Motorcycle Passengers and Cargo #75
Yesterday's picture sure looked uncomfortable for the driver. This woman today can't be too comfortable either! I've been on a bike like that, holding my feet out! And one good bump and she's gone!
---
27 September 2007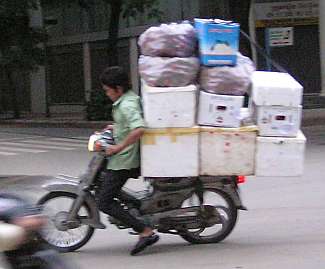 Motorcycle Passengers and Cargo #74
This really looks uncomfortable!
---
23 September 2007
The Cambodia Daily, Cambodia's main English language newspaper, is a quite good publication. They have a knack for short, concise editing that makes a point or gives a snapshot of life here very simply. Consider this recent brief notice:
Kompong Thom Police Seeking Four in Vehicular Slaying
Police in Kompong Thom province's Stong district are searching for four men who allegedly drove a car to chase down and crash into a group of four other men on Friday night, killing one. Following a dispute at his father's restaurant in Chamna Krom commune, Chhim Sokheng, 19, and three other men allegedly crashed a Toyota Camry into Pren Vanna, 23, killing him, deputy district police chief Hun Hath said. Earb Neom, 25, Rith Tha, 17, and Heng Tha, 20, were injured as they tried to flee, he added. The four victims had earlier thrown stones at the restaurant after they were strongly chastised for chasing a rat into the local eater, he said. (Lam Bopha)
---
22 September 2007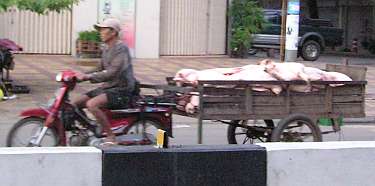 Motorcycle Passengers and Cargo #73
A wagon-load of pig carcasses on their way to market in the morning
---
17 September 2007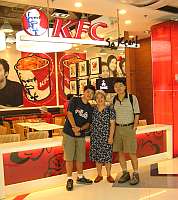 Guess who's coming to dinner? The Colonel is coming to Cambodia. One of Cambodia's tycoons recently announced a joint venture with a Malaysian group to bring KFC--formerly known as Kentucky Fried Chicken--to the kingdom. The Malaysian partner already operates more than 460 KFC restaurants in Malaysia, Singapore, and Brunei. The plan is to open four outlets in Phnom Penh and then add two locations per year, spreading to Siem Reap and Sihanoukville as well. The first KFC stores could be in place in November of this year.
---
16 September 2007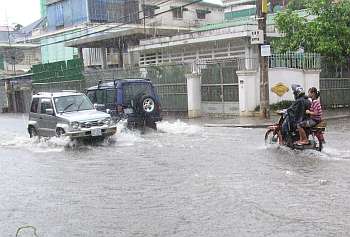 The rains are here
It rains almost every day now, during the rainy season, and some of the downpours are quite heavy. Our area of town is especially prone to flooding on some streets, and we get scenes like this several times a week.
---
14 September 2007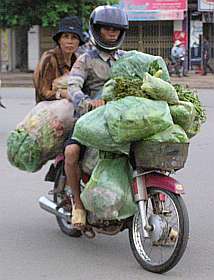 Motorcycle Passengers and Cargo #72
"It's a good thing I put a basket on this thing so I can carry a little extra...."
---
11 September 2007
| | |
| --- | --- |
| | Every morning Cambodia wakes up with people opening doors, serving food, washing. Here are some pictures of Phnom Penh in the morning. |
---
7 September 2007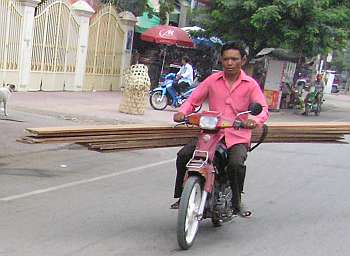 Motorcycle Passengers and Cargo #71
"It gets a little dicey when I take the corners too fast!"
---
3 September 2007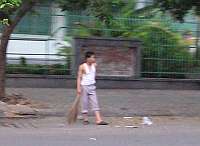 Earlier I posted a first page of photos of the morning sweepers who appear all over Phnom Penh each day, even before it gets light. Now here is a second page of more of the early-morning diligents.
---
31 August 2007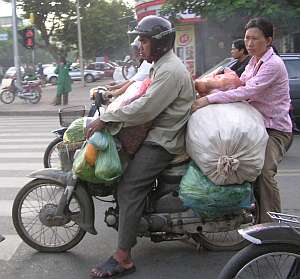 Motorcycle Passengers and Cargo #70
Loads like this are bought wholesale from the central markets and then sold in small street stalls around the city.
---
14 August 2007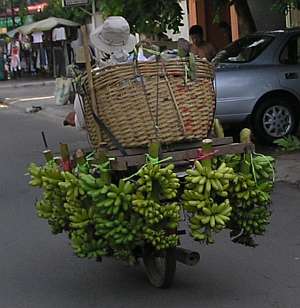 Motorcycle Passengers and Cargo #69
A load of bananas coming in from the provinces
---
10 August 2007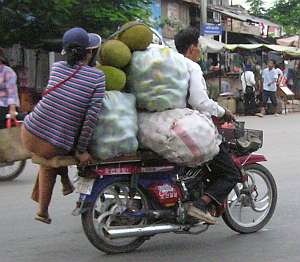 Motorcycle Passengers and Cargo #68
Riding sidesaddle on a stretch motorcycle...
---
4 July 2007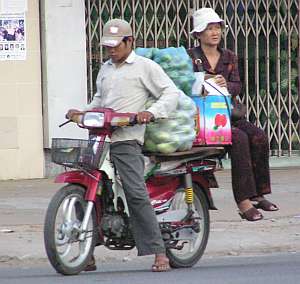 Motorcycle Passengers and Cargo #67
"It's more ladylike to ride side saddle...."
---
26 June 2007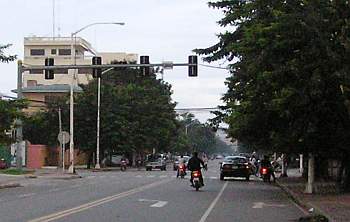 This is a picture, looking west, of a really busy intersection in Phnom Penh, one of the few that has traffic lights. But you will notice that the lights giving the signals to the westbound traffic are invisible, hidden by the tree limbs. What's frustrating is that it isn't a matter of some simple workman just putting a light where he's told. It's the fact that the society here doesn't see any problem: what's wrong with having a traffic light behind a tree?
---
25 June 2007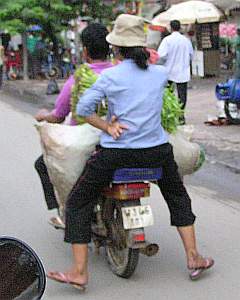 Motorcycle Passengers and Cargo #66
"Why, I can ride this thing with one hand behind my back!"
---
18 June 2007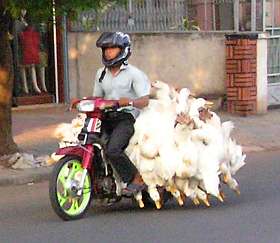 Motorcycle Passengers and Cargo #65
A load of live ducks on their way to a market. Keep those beaks up!
---
14 June 2007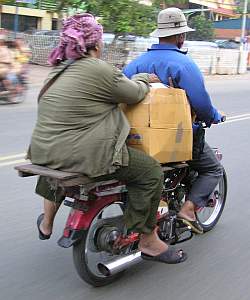 Motorcycle Passengers and Cargo #64
"This is better than those tiny seats...."
---
10 June 2007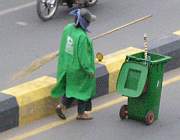 Another new section here in Daily Life is about Cintri, the private company that keeps the streets clean--and does a really good job of it!
---
8 June 2007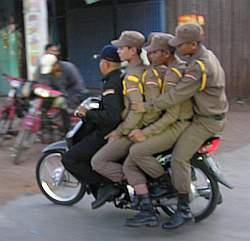 Motorcycle Passengers and Cargo #63
Who needs a humvee?
(Look closely--you may only see four heads but there are five bodies on the motorcycle.)
---
7 June 2007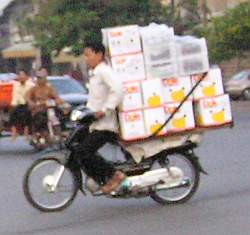 Motorcycle Passengers and Cargo #62
"Dang...I think I'm going to have to breathe again!"
---
29 May 2007
The foam pollution (mentioned earlier) is never absent from this part of this open sewer, but today the wind was picking up the foam and sending shreds flying to pollute the air as well as the water.
---
28 May 2007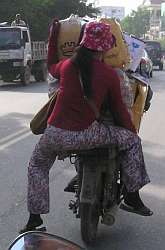 Motorcycle Passengers and Cargo #61
Is she on or off?!
---
27 May 2007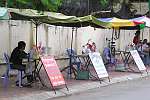 A curious phenomenon in Phnom Penh is the mass of small tables set up along the street to take orders for name cards and small printing jobs. Can they make any money? I doubt it.
---
22 May 2007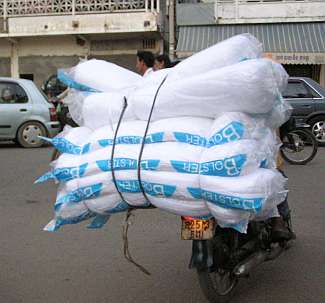 Motorcycle Passengers and Cargo #60
A load of foam stuffing on its way to become bolsters for Cambodian beds. A bulky but light and easy load.
---
20 May 2007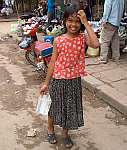 The third new section here in Daily Life is about ice, one of the small luxuries of life for people who may have little else to bring a little relief to hard lives. Here a little girl carries a block of ice home from a neighborhood shop. A tough piece of grass put through a hole in the ice serves as a handle.
---
18 May 2007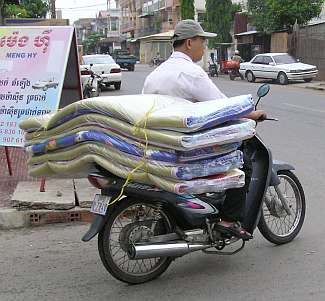 Motorcycle Passengers and Cargo #59
At least if he brushes anyone with his Wide Load, it doesn't have any sharp edges
---
15 May 2007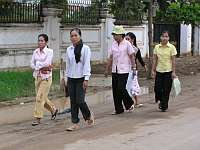 The second section in this new series is about Morning Rituals, showing the people of Phnom Penh as they start their day, get their food, and go to work.
---
14 May 2007

Since the rains started a week ago, the Carmelite Sisters have been flooded by mud almost every day. The house they rent for their monastery is on the low side of the street, and water flowing under their gate brings in a huge amount of mud. By the gate, it is two or three inches deep. They talked to their landlord, and yesterday he dumped a truckload of sand outside their gate to try and block the water and mud from flowing under the gate.

It's always tricky renting a house during the dry season. A wise renter tries to visualize and inquire of neighbors about the flooding situation when the rains come.
---
12 May 2007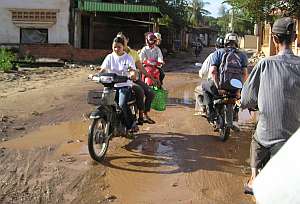 The rainy season is upon us now. It has rained every day for the last five days, nothing torrential but steady and enough to start filling the depleted reservoirs. It usually rains only in the afternoon or at night so riding on the Phnom Penh roads in the morning is a muddly, slippery adventure.
---
8 May 2007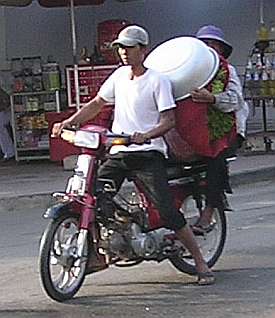 Motorcycle Passengers and Cargo #58
"...and the pan deflects the bugs!"
---
6 May 2007
| | |
| --- | --- |
| | On the streets of Phnom Penh, it's not unusual to see chickens, dogs, and cats, but you don't have to travel far from the center of the city to start running into other animals. Almost every morning that I cross town to have mass for the Carmelite Sisters, I see these goats but last week this porker was out rooting through the piles of garbage with them. |
---
4 May 2007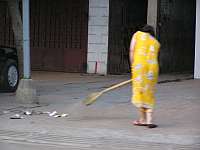 I am going to start a new page or series of pages in this Daily Life in Cambodia section. The first page is going to look at the morning sweepers who appear all over Phnom Penh each day, even before it gets light.
---
30 April 2007

Motorcycle Passengers and Cargo #57
She goes for the relaxed, casual look
---
29 April 2007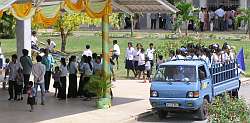 Students travel in dangerous ways
---
25 April 2007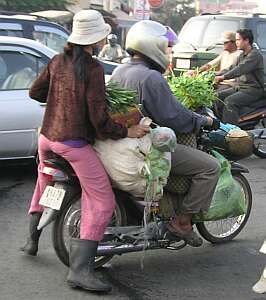 Motorcycle Passengers and Cargo #56
Just another load of vegetables on its way to the market.
---
21 April 2007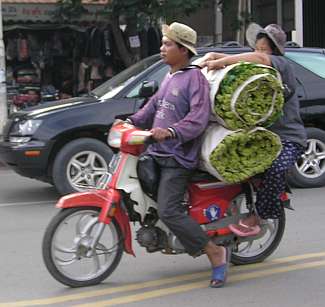 Motorcycle Passengers and Cargo #55
"I should have brought that third bundle! We would have made it!"
---
15 April 2007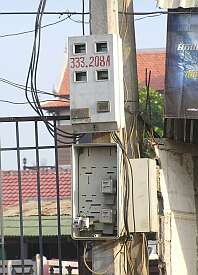 There isn't enough electricity to go around in Cambodia--not even in Phnom Penh--but that isn't the full extent of the problem. The existing wiring is largely installed by non-electricians, people who are trying to save as much money as possible. The problems start on the street where the utility poles have boxes containing a breaker for each house on the street. Some of the boxes have doors on them to keep out the weather; others do not. And because few houses have fuses or circuit breakers in them, people are constantly climbing the poles on the street to throw the breakers back on to restore the current.
---
14 April 2007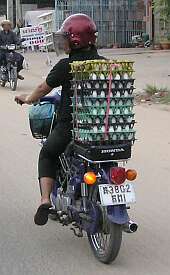 Motorcycle Passengers and Cargo #54
"Easter was LAST week??!! Now what am I going to do with all these @#$% hard-boiled eggs?
---
9 April 2007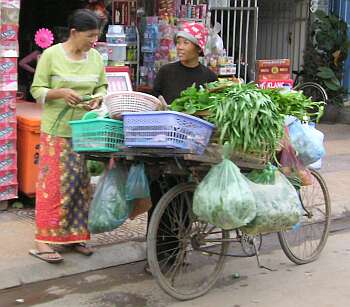 Where there's no Wal-Mart Supercenter, the vegetable lady comes to you!
---
30 March 2007
What a pile of dirt! She should get the Sweeper of the Year award!
---
26 March 2007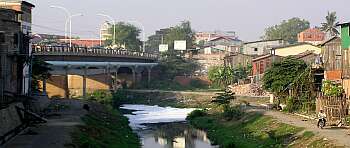 The early morning sun lights up a patch of chemical foam that permanently resides on this open sewer running into the Mekong River. The effluent is likely from a garment factory since there is little other industry that would generate this kind of waste. Another picture.
---
23 March 2007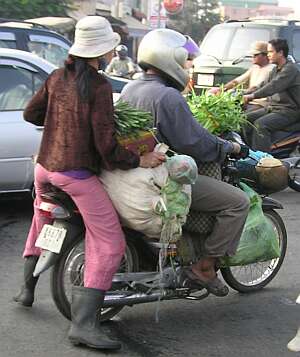 Motorcycle Passengers and Cargo #53

She better hope they don't hit any bumps. She's almost off as it is.
---
21 March 2007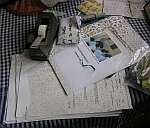 Click here for photos of Phnom Penh's second rain of the year
---
20 March 2007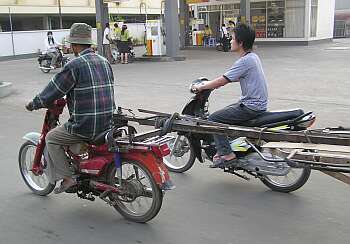 Motorcycle Loads
Many motorcycles in Cambodia are modified with a framework bolted over the rear axle that allows them to pull a wagon loaded with people, steel, or any type of goods. The loads on the wagon can easily weigh up to a ton or so. This red motorcycle is pulling a load of steel strips.
---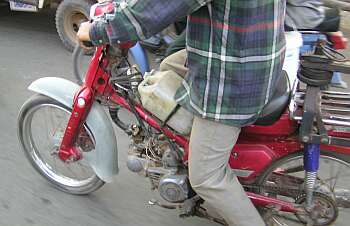 In the picture above, note the white container under the driver's left leg. Because the small-engine motorcycles are grossly overloaded and overworked, their drivers tape or wire jugs of water to the frame in front of the driver. A small plastic hose then drips water on to the overheated 90 or 100-cc air-cooled engine to help it cope with the excessive heat generated by pulling such huge loads.
---
19 March 2007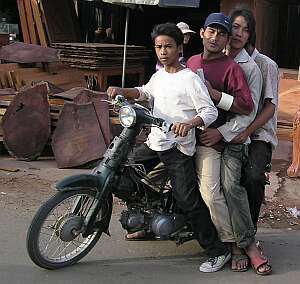 Motorcycle Passengers and Cargo #52
Close Friends
Well, let's hope they're friends because they're certainly close!
---
13 March 2007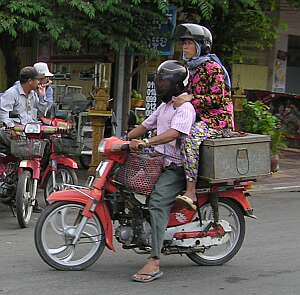 Motorcycle Passengers and Cargo #51
Kinda like the upper deck on a 747, don't ya think?
---
10 March 2007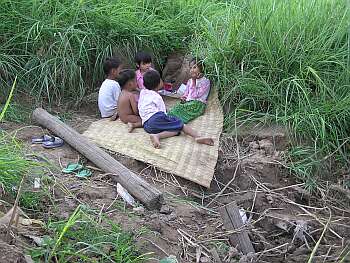 Notice you have to take off your shoes before entering the playhouse on the river bank
---
9 March 2007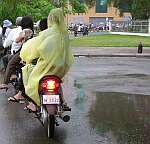 Click here for photos of Phnom Penh's first rain of the year
---
23 February 2007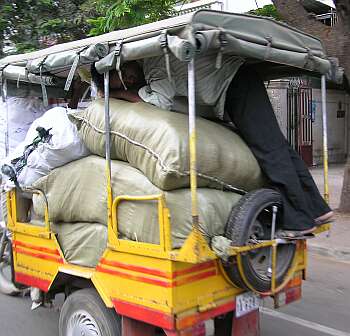 Motorcycle Passengers and Cargo #50
"They don't pay me enough...."
---
21 February 2007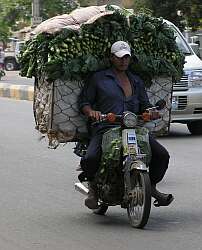 Motorcycle Passengers and Cargo #49
"I think I'll throw together a salad!"
---
19 February 2007
---
12 February 2007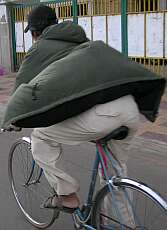 Right before Christmas I posted some photos of local people experiencing what I called "less hot" weather. It turned out that the end of January and first week of February was even cooler, with the temperatures dipping down to 16ºC/61ºF in Phnom Penh on one day. That is the lowest temperature ever noted in Phnom Penh since they started keeping records 27 years ago.
---
10 February 2007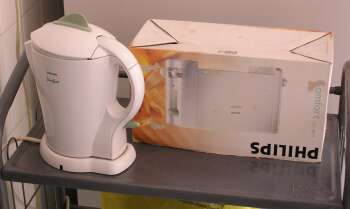 This is a picture of a hot water heater for tea and coffee in our kitchen in Phnom Penh. Next to it is our toaster. We use the toaster box as a cover to keep out the ever-present dust.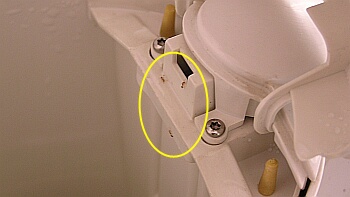 For some reason, as soon as the heater cools off enough, lots of ants start running around inside the heater. This pictures shows only three but often there are ten to twenty. I've scrubbed the inside, washed it repeatedly, all to no avail. Does anyone know what the ants want inside the water pot? They can get water everywhere.
---
9 February 2007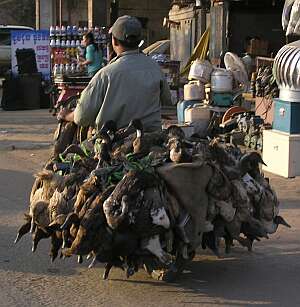 Motorcycle Passengers and Cargo #48
It's fairly common to see a motorcycle loaded with live chickens on the way to market, but this moto has live ducks taking their last ride.
---
1 February 2007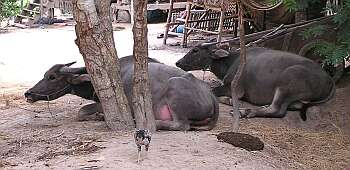 Cambodia weddings are usually arranged by parents and take place on an auspicious day chosen by the astrologers at an ungodly hour, normally at 6:30 AM. Only family and really close friends take part in the actual ceremony at the bride's house, lining up beforehand with traditional gifts and then processing to the house accompanied by traditional music. Of course the whole neighborhood is blasted with amplified sound during the festivities, sounds of traditional music, pop music, and comedians that can literally be heard and understood blocks away. It's rather unpleasant to western ears, to say the least.
It seems some of the animals can't take it either. At a recent wedding on the outskirts of Phnom Penh, the traditional procession started toward the bride's house with a Buddhist lay minister banging a brass gong as they walked. A water buffalo (like those above) in a nearby field took offense and charged the group, badly goring four guests. Because all the guests were government officials, there were loads of police and soldiers around and they promptly shot the bull with an AK-47.
---
26 January 2007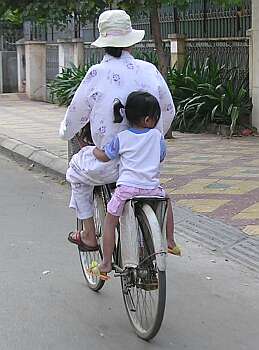 A real rumble seat (are you old enough to know what that is?), with a very limited field of view. But it gets you where you want to go!
---
24 January 2007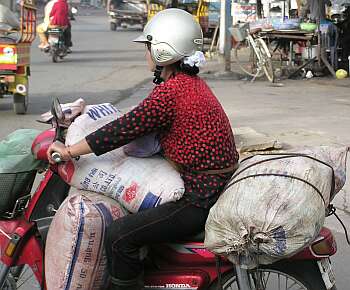 Motorcycle Passengers and Cargo #47
It isn't only the men who can overload motorcycles! So there!
---
23 January 2007

Four weeks after the new law went into effect, a little over half of these motorcycles have added rearview mirrors.
---
22 January 2007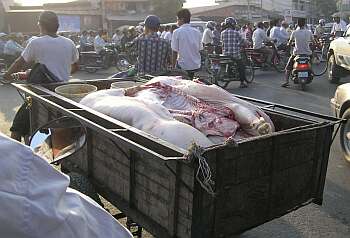 "These little piggies went to market...."
---
21 January 2007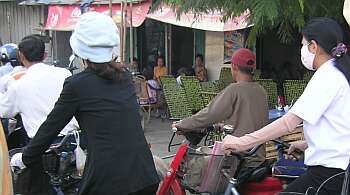 Women wearing long sleeves and gloves to protect themselves from the sun, specifically to keep their skin from becoming darker.
---
18 January 2007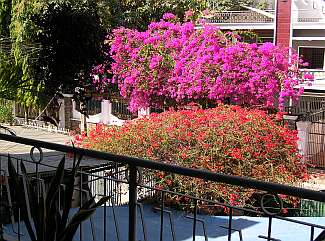 It may be cold in North America and Europe now, but in Cambodia it's endless summer with something blooming all the time. The noise here is terrible and consistent but there are real elements of visual beauty, like these flowering trees in front of the house where Charlie Dittmeier and Ed McGovern live.
---
17 January 2007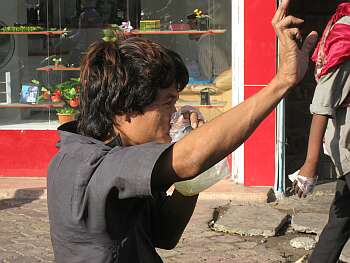 Sniffing glue from a plastic bag is a common sight on the streets of Phnom Penh. Many, many people are poor, and when young people are homeless, on the street, or alienated in some way, it is easy to turn to glue or some other form of escape. Sniffing glue deadens hunger pains so it is a frequent choice for kids with nothing to eat.
Photo by Jim McLaughlin, Maryknoll Lay Missioner
---
3 January 2007
| | |
| --- | --- |
| | You can find just about any vehicle going in any direction in the traffic of Phnom Penh. Nothing should surprise someone who has been here a few months. Here an ox cart adds to the early morning chaos. |
| | The province of Kampong Chhnang is known for its pottery, the utilitarian kind used for cooking and domestic chores. The clay there is especially suitable for such vessels. This ox cart has been several days on the road bringing the clay products to the people of Phnom Penh who still cook like they did in the villages. |
---