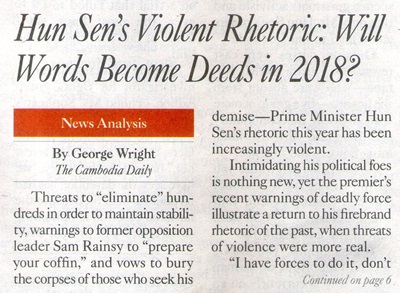 This is the lede from an article in The Cambodia Daily yesterday, 9 August 2017.  The last line before the continuation reads: "I have forces to do it, don't forget."
People here certainly will not forget because this language he has acted out and people died when his goons opened fire on a protest.
Later in the article it says:
Government spokesman Phay Siphan admitted that Mr. Hun Sen's recent rhetoric was in reaction to the 2013 election, while noting the subsequent protests led by the opposition CNRP that swept Phnom Penh as the party and its supporters rejected the results.
The demonstrations ground to a halt in early 2014 after forces opened fire on protesters during clashes in the capital.
"It's just related to the past experiences of 2013.  We won't let it happen,"Mr. Siphan said. "The prime minister wants everyone to abide by the law."
Everyone except the government, that is.