Random ideas, comments, reflections, and information on mission and life in a mission country.
---
Maryknoll Christmas Dinner

26 December 2013
| | |
| --- | --- |
| | Christmas is a work day in Cambodia. Most of the Maryknoll people go to the Christmas Eve mass and then to work on Christmas Day, but then to celebrate, Maryknoll Cambodia has a dinner Christmas evening. Some of the people who come to our regular wednesday liturgy are also invited and we also collect a few unattached people with no place to go on Christmas. |
| | At a table in the corner, Miyuki, from the Japan Lay Mission Movement, Sr. Helene O'Sullivan, Lieke Coenegrachts, from a Belgian lay mission group, and Fr. Bob Wynne enjoyed the meal and the conversation. |
---
Nativity Drama at Mass

25 December 2013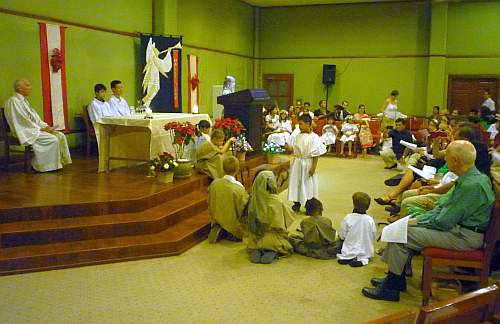 This evening we went to the Korean Diakonia Ecumenical Center for our Christmas Eve mass. We cannot use the World Vision auditorium during the week. At the gospel, some of the students from the religious education class acted out the story of the birth of Jesus as found in Luke's gospel.
---
Here Comes Santa Claus, Here Comes...

24 December 2013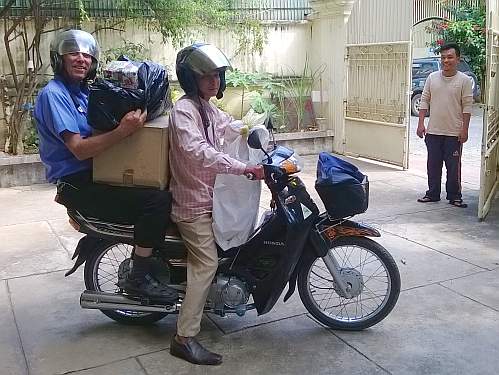 It's not only the locals that really load up a motorcycle. Here is our own Fr. Bob Wynne, playing Santa Claus with a load of gifts for the staff of his project in Anlong Kngang.
---
Combined Christmas Celebration

22 December 2013
| | |
| --- | --- |
| | Click here to see a combined Christmas service in Phnom Penh. |
---
A Christmas Tradition

21 December 2013
| | |
| --- | --- |
| | Click here to read about a Maryknoll Christmas tradition in Phnom Penh. |
---
What's It All About?

19 December 2013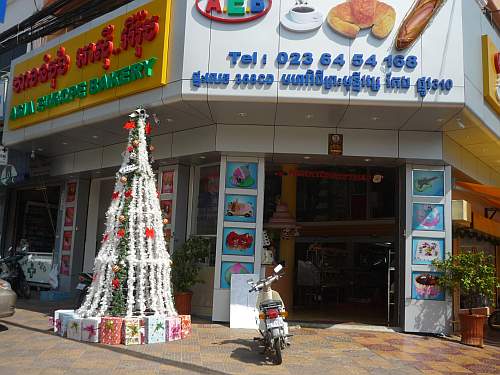 A recent article on the Sojourners website described Christmas as a commercial holiday more than a religious holy day. It's really neither in Cambodia where most of the people have little idea of what Christmas is about in either the commercial or the spiritual realm. The merchants see it as a marketing opportunity and so many shops will have their staff wearing red and white Santa hats and they will erect something like a Christmas tree out front, like this bakery, but they are just a set of symbols connected with a time of year when the Westerners will buy more things.
---
What's He Saying?!

18 December 2013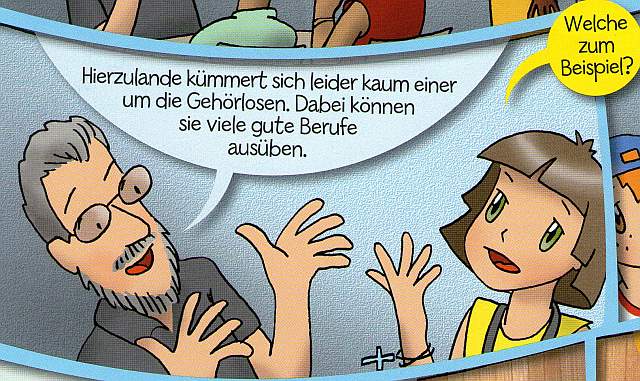 The Deaf Development Programme received some funding from Missio Austria, an Austrian Catholic funding agency. This year they wrote an article for their magazine, featuring DDP, and in a surprise to us, they also published a children's cartoon summary of the ideas about DDP. Here I am, younger and with more hair and less beard, speaking German.
---
Lay Missioner Meeting

8 December 2013
| | |
| --- | --- |
| | Every month the lay missioners from the different international communities come together for reflection and socializing. Today's meeting was led by Meden Tan (L) while Cristina Togli, Olga Pacumba, Beatriz Milenna, and Nancy Davies listened. |
| | A sad part of today's gathering was saying goodbye to Juana Encalada (seated, middle) who will go to the US at the end of the month to join the Maryknoll Sisters. The group took a photo together to remember the day. |
---
A Market for Buddhas

1 December 2013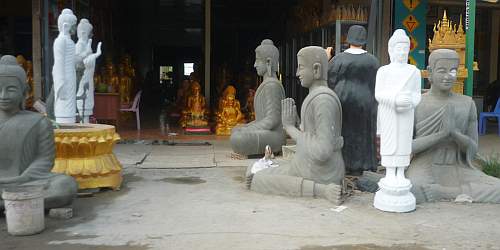 Cambodia is a very Buddhist country. Buddhism is integrated into every aspect of society, culture, and daily life. Many shops sell statues of the Buddha like these. You can get them any size, from very small ones to garden-size varieties like these to really big ones in the wats or temples. I've always wondered what one of these larger-than-life statues would cost. And I'm curious, too, in this photo what that statue is on the right that looks like a woman dressed in black almost Quaker-style clothing (with her back to the camera). I've never seen anything like that anywhere before.
---
St. Vincent de Paul Society Conference

30 November 2013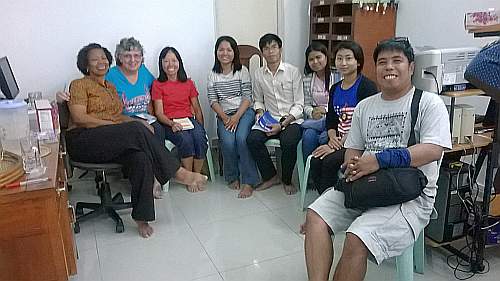 About six months ago, the English Catholic Community formed a St. Vincent de Paul Society group, a parish organization that serves the poor and people in emergency situations. We have a committed group of ministers working in the St. Vincent de Paul Society activities. Today, at a regular meeting, we were joined by five young Khmer people from other St. Vincent de Paul Society groups in Cambodia. It was interesting to talk about our different experiences.
---
Thanksgiving Celebration

28 November 2013
| | |
| --- | --- |
| | Thanksgiving Day is a work day in Cambodia but the Maryknoll community gets together in the evening for a turkey dinner with some non-US friends who are part of our regular praying group. The evening starts off out on the porch. |
| | Finally it's time to eat and the food is served downstairs. We are blessed with some really good cooks in our Maryknoll entourage! |
| | We meet for a simple dinner together on our regular meeting and prayer days, but today there were more people and they stayed longer to enjoy the company and to give thanks for all that we do have, which is quite a bit. |
---
Music Workshop

24 November 2013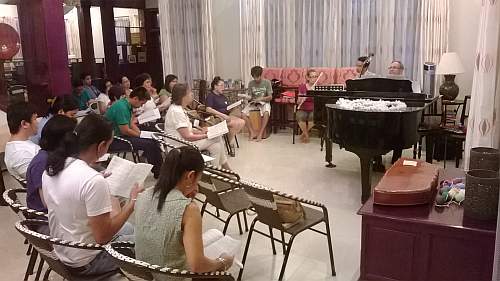 Brother Rufino Zaragoza is a member of the Franciscan community in California but he works a lot in Vietnam and occasionally in Cambodia. This weekend he has been in Phnom Penh to offer some training and encouragement to the two choirs and sets of musicians who support the music ministry at our two weekend liturgies.
---
Mass for Typhoon Victims

19 November 2013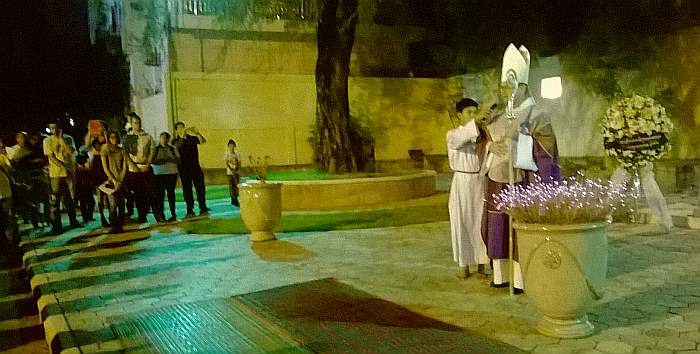 This evening the Catholic community of Phnom Penh celebrated a mass for all those killed when Typhoon Haiyan hit the Philippines and for all those injured and those who must now rebuild their lives. At the end of the ceremony, all went out to the church courtyard and lit incense before Bishop Olivier gave a final blessing.
---
A Wedding in Siem Reap

15 November 2013
| | |
| --- | --- |
| | Click here to read about a marriage ceremony held in Siem Reap. |
---
A New Center

14 November 2013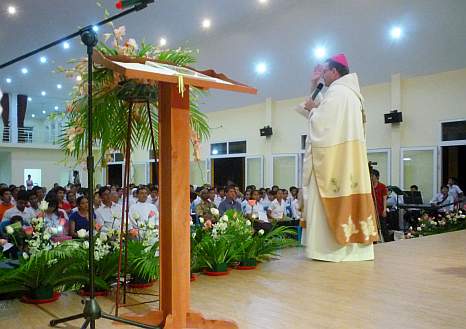 Bishop Olivier Schmitthaeusler has begun moving the diocesan center to the outskirts of the city, to an area known as Phnom Penh Thmey. It's still rather rough and undeveloped, but it is definitely a growing area of the city. Tonight, as part of his hosting the Communications Section of the Federation of Asian Bishops Conferences, Bishop Olivier presided at a liturgy which was only the second function to be held in this new hall.
---
A Different Decor

9 November 2013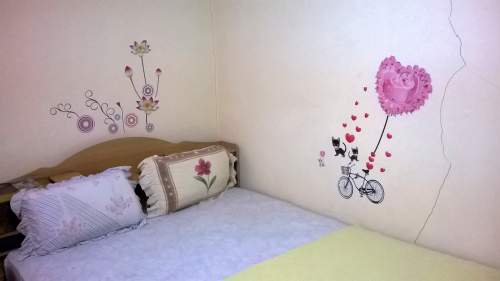 When I stayed at the Maryknoll office in Bangkok on my return trip from the United States, I noticed an addition to the rooms throughout the house--a multitude of decorative pictures applied to all the walls. Some are pop art, some just depictions of flowers or animals or cars, and on one wall I saw a traditional Chinese painting. I'm not sure who is behind the pictures but they've added a new tone to the house.
---
Against the rain

8 November 2013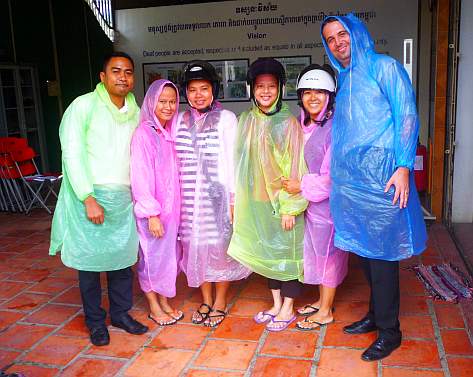 The rainy season is all but ended for this year but a typhoon hitting Vietnam brought two days of heavy rains to Phnom Penh. Yesterday as the staff went home at 5:30 PM, it was raining heavily so these staffers dressed up in the colorful ordinary Cambodian rain gear, a light plastic poncho that sells for 37¢.
---
The Way We Were...

9 October 2013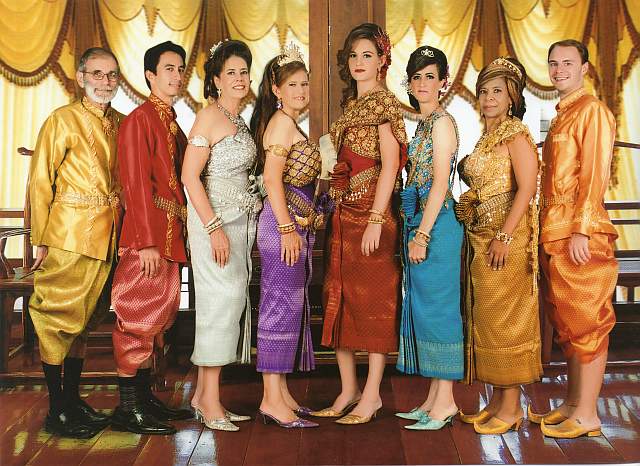 Maryknoll Lay Missioners in Cambodia is a youngish group and inclined to be a bit adventuresome. Recently someone had the idea that we should go to one of the photo shops where people can dress up in traditional Khmer costumes of ages past and have their photo taken. This is the group shot that resulted.
---
A Buddha Meal

6 October 2013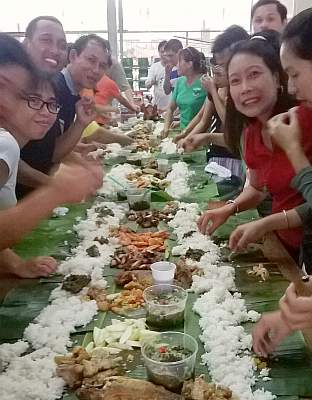 I had a new experience today, what one of the participants called a "Buddha meal." This morning at mass, several regional leaders of Couples for Christ were in attendance from the Philippines, and afterwards the group asked if I would go to lunch with them at the Don Bosco school in Phnom Penh Thmey. One of them mentioned that it would be a "Buddha meal," eaten on banana leaves. I had had meals in India where each person was served on a banana leaf, but today the banana leaves covered the whole table top and all the food was diced and chopped and put into piles on the leaves, behind a line of rice that lined the edge of the table. Then when it was time, everyone stepped forward and ate with their fingers, as we did in India. The food was delicious, the company was wonderful, and it was a really intriguing experience of eating together in real community.
---
Funeral of a Friend

3 October 2013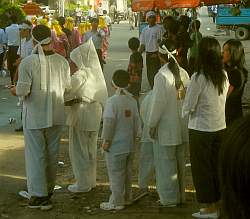 James Au Yeung, a man of Chinese ancestry, became a good friend of Charlie Dittmeier over the last thirteen years, when they were brought together by the computer store that James owned. He died suddenly last Friday and was buried today. Click here for pictures from the ceremony this morning.
---
Farewell for Bill Burns

26 September 2013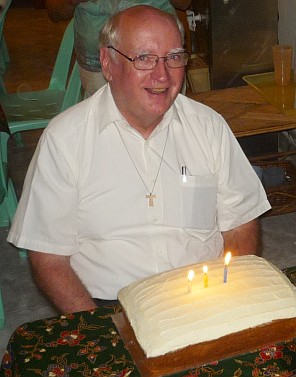 Two Sundays ago Bill Burns was celebrated by the group of international lay missioners on the last day they would meet with him before his departure for the United States. This week Bill was the object of Maryknoll Cambodia's attention as the Maryknoll community and friends celebrated Bill's presence here with us for the last twelve years.
---
25 September 2013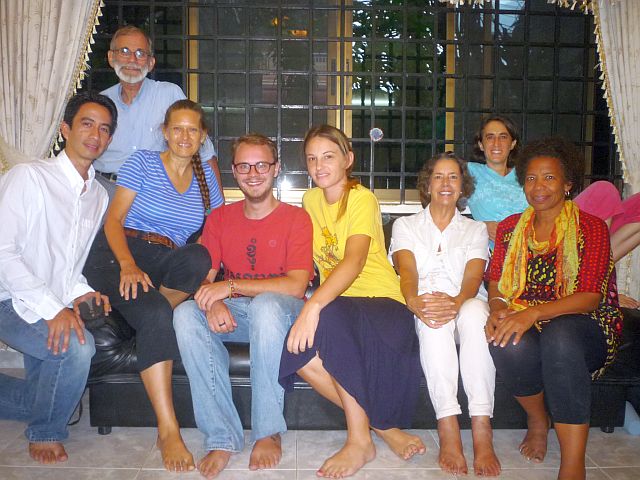 We are preparing some materials to send to the new members who will be joining our country group next January and needed a new group photo. Tonight we were all together for our weekly meeting and mass and dinner so we used the occasion to record ourselves. (L-R) Steve Chinnavaso, Charlie Dittmeier, Sami Scott, James Havey, Lindsay Doucette, Nancy Davies, Maria Montello, and Dee Dungy
---
Learning New Music

18 September 2013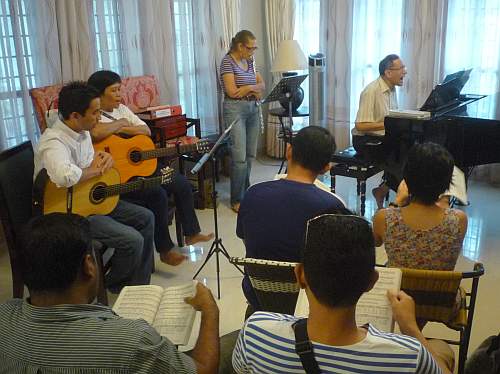 Brother Rufino Zaragoza is a Franciscan brother and musician and liturgist. He works for Oregon Catholic Press (OCP) and has arranged for the English-speaking Catholic community in Phnom Penh to receive a sample edition of the OCP's English missal and songbook, a pilot publication for the English church in Asia. He has also come to Phnom Penh twice to work with our musicians and choir. Here he accompanies on the piano as he teaches some new music.
---
Celebration for Bill Burns

17 September 2013
| | |
| --- | --- |
| | Bill Burns has been an active part of the Catholic church's presence in Cambodia for more than ten years and he has been one of the pillars of the lay mission community. He will be returning to the United States in October so at the September meeting of the international lay missioners group we celebrated Bill's presence over the years as we marked his last time with us. Here Bill (holding papers) speaks to the group about his time in mission. |
| | Part of our ceremony was an anointing of Bill by the group. Meding Tan (L) waits her turn while Beatriz Millena anoints Bill's forehead. Jim McLaughlin holds the holy oil. |
| | When the meeting and the refreshments were coming to an end, we posed for a group photo with Bill. He will be missed. |
---
Wondering about the Kingdom

11 September 2013

Here is a song, written by a friend here in Phnom Penh, reflecting on the turmoil generated by the July national elections generally acknowledged by independent observers to have been tainted by fraud and manipulation.
---
Dependable Transport

10 September 2013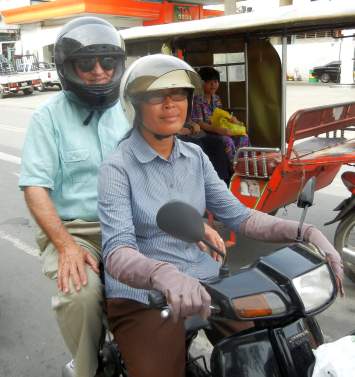 Jim McLaughlin is a former Maryknoll Lay Missioner who still works a good part of the year in Cambodia, helping to set up microbiology labs for Cambodia's health services. Years ago he ran into the woman who may be the only female motordupe driver in Cambodia, and now whenever he is in town, he rides on her motorcycle.
---
Riding by the River

8 September 2013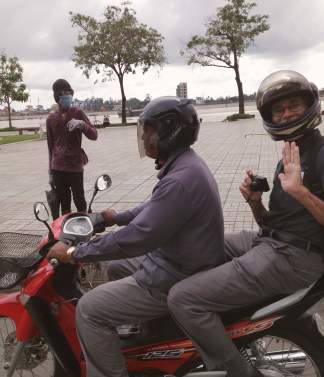 I don't get too many pictures of myself, especially in action, but this morning as I was on a motorcycle taxi going to mass across town, the Fujiwara family passed me in their car and Hiroto took this picture of me. I've got my camera in hand because I was taking the types of pictures I use here on the website. (Thanks, Hiroto!)
---
Heavy Police Presence

7 September 2013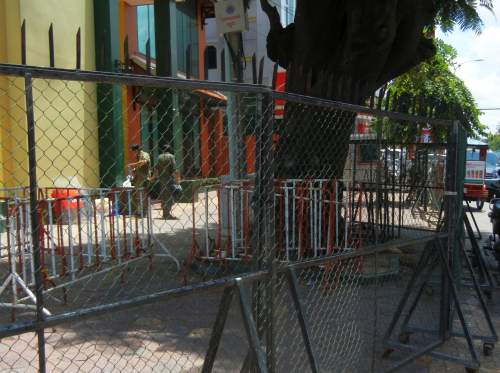 Today large-scale demonstrations were planned in Phnom Penh and other major towns to protest against the irregularities that took place in the July elections and which the opposition says robbed them of their victory. The government and the ruling party have been intimidating the people with threats of civil war, looting, etc., and by moving large numbers of troops and heavy vehicle like APCs into the city. The demonstrations this morning went very peacefully, as the opposition had said they would, but the government still had positioned barricades and many police and soldiers throughout the city.
---
Courier-Journal Article

29 August 2013

Well.... Five or six weeks ago, Chris Kenning, a reporter from the Louisville Courier-Journal newspaper, came to Phnom Penh and interviewed me. He said it would be a while before the article was published, and I was really surprised yesterday when I started getting e-mails commenting on what was on the front page of that edition. It turned out to be a major article space-wise and to boot, it was picked up by USA Today so that I started hearing from people from all over the country.
If you would like to take a look at it, click on Courier-Journal.
---
Angkor Wat

24 August 2013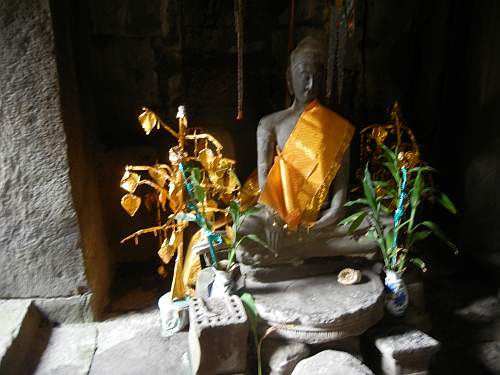 In the last trip to Angkor Wat, last month, I toured the temple with a guide, the first time I'd done that. Always before I had depended on a guidebook, but having a guide was really beneficial. I learned a lot more than I ever had in the past. I knew the Angkor Wat was built under Hindu influence and then had become a Buddhist center. What I didn't know is that it later became Hindu again and then eventually returned to Buddhism. This is one of the Buddhist era statues inside the ruins. People still decorate these statues and make offerings of incense to them.
---
Angkor Wat

13 August 2013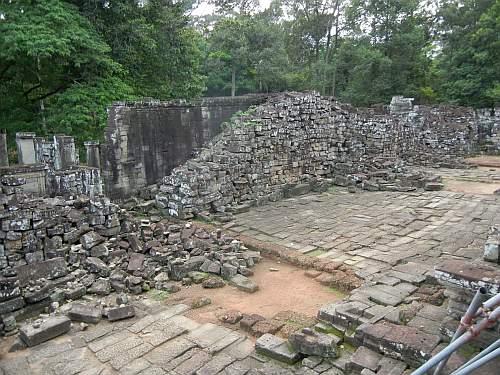 Over the centuries, the trees and other elements of nature--along with thieves and vandals--have left many of the temples in the Angkor Wat area in ruin. In some of them, the archaeologists and preservationists have started work, identifying the pieces, researching old records for pictures of the temples as they were before they collapsed, and, of course, raising money to carry out the work of restoration. It's a long slow costly process. The scale of the work can be seen in a picture like this where all the stones from a temple have been stacked to one side as the expert teams figure out how to reassemble them.
---
Rising Waters

10 August 2013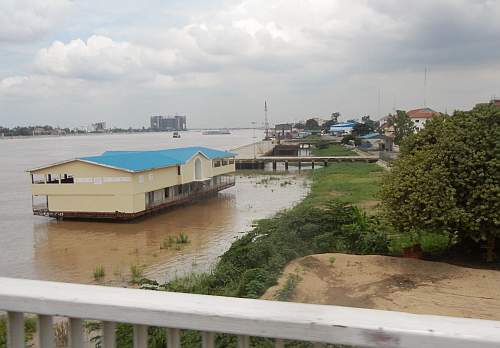 It is unusual for me to cross the Japanese bridge to the other side of the Tonle Sap River in Phnom Penh but today I had to attend a conference in a new hotel across the river and made one of my infrequent trips on the bridge. The waters of the Tonle Sap are now starting to overflow their banks and spread inland as the rainy season progresses. Now the Mekong River, in the far distance, is higher than the Tonle Sap so the river is flowing toward the camera and up to the Tonle Sap Lake at Siem Reap. During the dry season the Tonle Sap River flows from the lake to the Mekong, in the opposite direction.
---
Angkor Wat

9 August 2013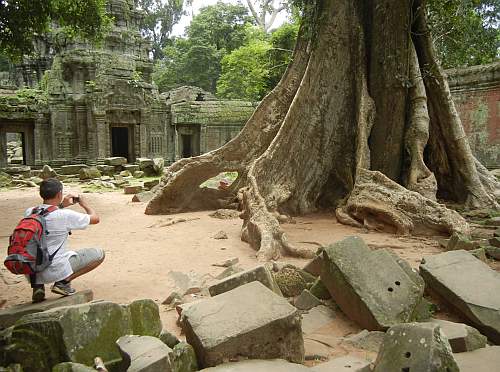 Here is another picture from the trip to Angkor Wat. This time the setting is the Ta Prohm Temple, known for its marriage of the ancient temple buildings with ancient trees that grow through and into the stone walls and foundations. In this courtyard are blocks of stone knocked down and scattered over the centuries by the huge trees such as the one pictured. Note the man's little daughter peering through an opening in the roots.
---
Angkor Wat

5 August 2013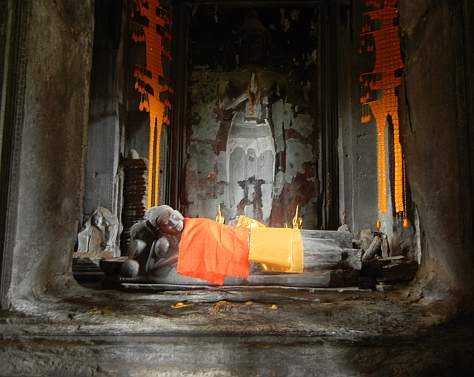 Some day I would like to put together a good visual display of Angkor Wat and surrounding temples, but in the meanwhile maybe I can post an occasional photo or two. The Angkor Wat temples were built by the Hindus but later were taken over by the Buddhists. In the top gallery of the many levels of Angkor Wat itself, this reclining Buddha has a position of honor.
---
Visit to Cambodia

23 July 2013
| | |
| --- | --- |
| Click here to see more about Sr. Arlene Trant's visit to Cambodia. | |
---
Salesian Sisters Vocational Training Graduation

20 July 2013
| | |
| --- | --- |
| | The Salesian Sisters run three vocational schools for girls in Cambodia. On 20 July, they had a combined graduation ceremony for the girls who successfully completed their courses in Phnom Penh and Battambang. The ceremony began with the traditional Khmer blessing dance performed by some of the young women. |
| | Sr. Ljudmila Anzic gave a report on the past school year and a farewell to the graduating girls. 116 girls graduated in business, sewing, and food service courses. |
| | A popular part of the morning program was a fashion show featuring various outfits created by the sewing students. |
| | Just before the presentation of the diplomas, the First Year students sang a farewell song to their graduating older sisters. |
---
Similar Entranceways

11 July 2013
Thailand and Cambodia are similar in many cultural aspects, especially in the Buddhism that they share. One place where the similarity can be seen is in the entranceways to the wats or temples. Almost every wat has an arch on the main road with a driveway leading back to the wat which can often be more than a kilometer from the main road. On the left is an archway marking the entranceway to a Cambodian wat. On the right is the entrance to a wat in Thailand. Note that the telephone and utility lines are the same for both!
---
Street Displays

27 June 2013
Cambodian culture is not very subtle. It can't be, given the low level of education for so much of the population. The prime minister in his speeches of two to three hours threatens war if he is not re-elected, blatantly promises to disregard the villages that don't vote for him, etc. And on the street, everything is in your face. There is a constant barrage of noise announcing sales and weddings and funerals. And there are all sorts of displays on the streets--usually attended by noise--that mark various events or honor people. The queen's birthday was celebrated last week and in honor of that, this large display with her photos was erected at a major intersection.
---
Cambodian Naga

25 June 2013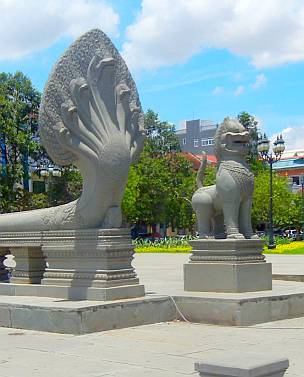 This is an image of a naga, a seven-headed serpent, which is one of the symbols of Cambodia. It is often used in traditional images and is incorporated into fountains, buildings, fences, etc. Here it is at the end of a barrier along one side of a faux bridge erected in a park area of Phnom Penh where there used to be a bridge over a canal that has long since been filled in.
---
Anniversary of CSC

21 June 2013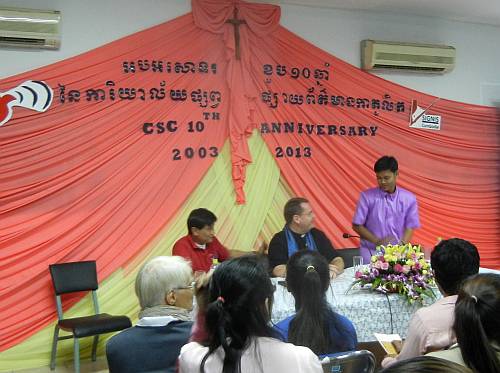 Today the Catholic Social Communications office celebrated its 10th anniversary with about 100 people present for some laudatory speeches (too long!), then a mass, and then a dinner. Here Bishop Olivier and Fr. Werichai, his delegate to CSC, listen to Vanna, the director of CSC.
---
Catholic Alliance on Charity and Development

10 June 2013
Today we had the quarterly meeting of the Catholic Alliance on Charity and Development, a group formerly known as the Catholic NGOs. More than thirty people from probably twenty groups met to attend to presentations on the problem of alcohol in Cambodia and our response to it.
---
Pentecost in the Christian Community

20 May 2013
---
Pentecost in the Catholic Community

19 May 2013
| | |
| --- | --- |
| | Today was Pentecost Sunday and at St. Joseph Church, the Korean, French, English, and Khmer Catholic communities had a joint service to affirm the unity and communion of the church. Part of the service was a confirmation ceremony, and here thirty-eight young men and women practice for receiving the sacrament. |
| | In an age when there were no scissors, sewing machines, buttons, snaps, or zippers, all Cambodian people wore sarongs made from a single rectangular piece of cloth like a tablecloth. It is folded in layers in front and then the remaining flap is twisted and pulled through the legs to form something like pantaloons. Men and women both wear this. |
---
Everything changes....

7 April 2013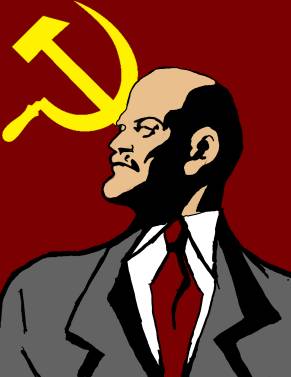 For the homily today, I was making a point that after his resurrection Jesus did not appear to those who had condemned and persecuted him to say "Guess what !" or "I'm back!" but instead went to be reconciled with his disciples who had abandoned him. That reminded me of when we used to have mass in the Russian Cultural Center in Phnom Penh. It was theatre-type seating and the altar was on a stage. When I was at the altar I looked back toward a projection booth and on a shelf there was a bust of Lenin. He and I were eye-to-eye during mass and I couldn't help thinking "We won."
---
Fellowship after Mass

24 February 2013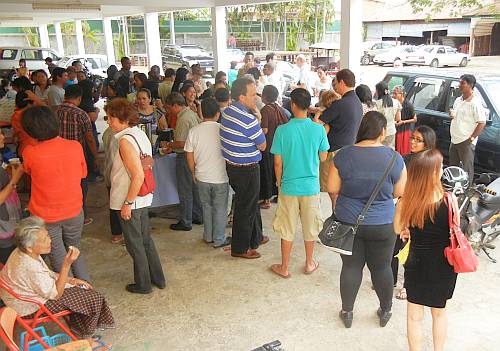 This morning we had coffee and tea and cookies after the 10:00 AM mass at St. Joseph Church to provide an opportunity for our parishioners to meet each other. It was organized by Couples for Christ, and we hope to make it a more regular event. We are starting to acquire our own hot water boilers and table cloths and other accessories because now we have a storage area where we can keep them. We would love to do something similar for the 5:00 PM mass on Saturday evenings but we must be out of the building we rent by 6:30 PM.
---
A new logo for Pepsi?

14 February 2013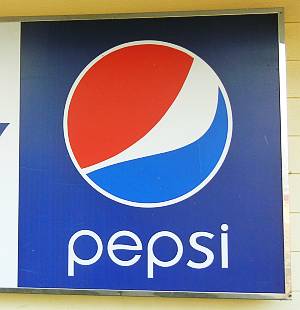 Recently when I was in Thailand, I saw this Pepsi logo on an outdoor sign. It is similar to but different from the Pepsi logo I remember from the United States. Has Pepsi changed its logo world wide or only in Thailand or ???
---
The ceremony is finished

but not the memorials

7 February 2013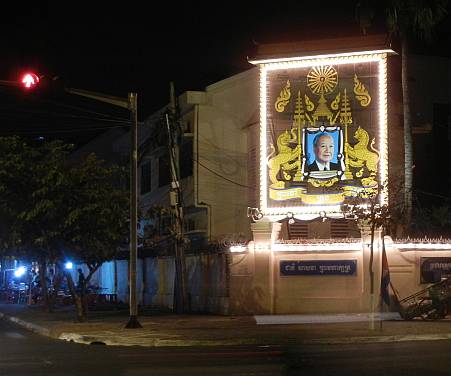 King Sihanouk was cremated on February 4th but the Royal Palace is still lit up at night and many memorials are still evident throughout the city. This memorial is on the headquarters building of one of the government ministries.
---
Movie time...

...Preparing for a lay missioner meeting

27 January 2013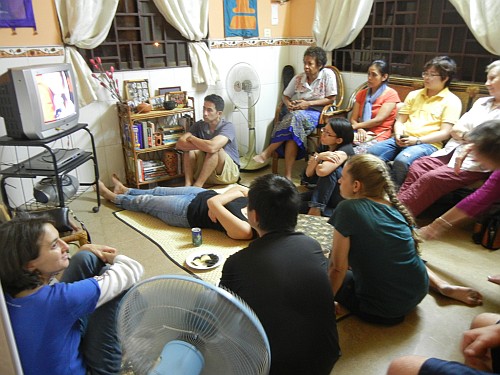 Each month lay missioners from various mission groups from different countries get together on the first Sunday of the month. The program varies according to the wishes of the group responsible for presenting that month. This coming Sunday we will have a gathering led by the Italian and Hong Kong missioners, and they asked that everyone watch the movie A Boy and his Bike before they come. Tonight a bunch of the lay missioners got together at Maria Montello's house to see the French film and now we need to see what the presenters will do with it next Sunday.
---
Margo Cambier visits Cambodia

23 January 2013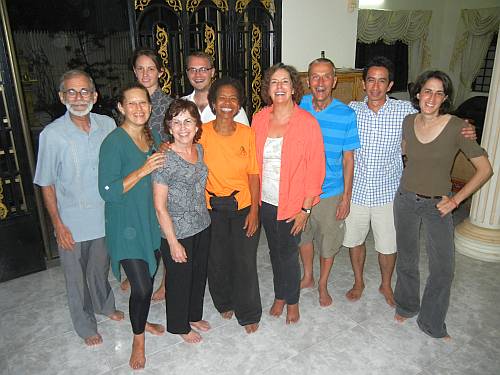 The Maryknoll Lay Missioners has a two-person leadership team, Sam Stanton, the Executive Director, and Margo Cambier, the Director of Mission. Margo came to the Maryknoll meetings in Hua Hin, Thailand to learn about that group and then she came to Cambodia to meet the Cambodia Region lay missioners on their home ground. Tonight she met with the whole Cambodia Mission Team for their weekly meeting and then the region posed for a photo with Margo.
---
Lay Missioner Orientation

A Visit to the DDP Barber Shop

22 January 2013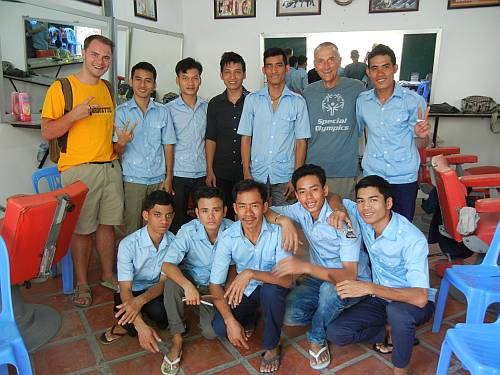 James Havey (left) and Ed Riehl arrived at their new mission site in Cambodia last Thursday and have been exposed to many new settings since then as part of their orientation. Today they ventured out on their own to the barbershop of the Deaf Development Programme and got haircuts and the opportunity to make some new friends.
---
Another air evacuation for DDP

3 January 2013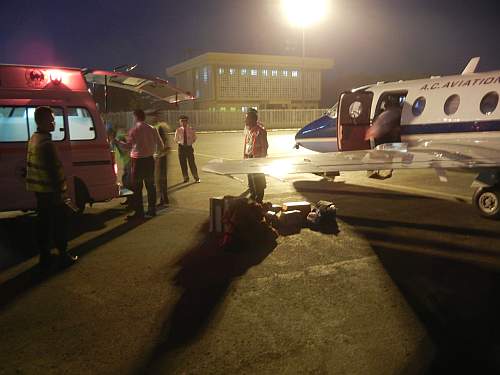 January 2nd, the first day of work in the new year was not a good one for our deaf volunteer, Selwyn, from Australia. As he was bicycling to work at 8:00 AM, a motorcycle, not wanting to wait for the traffic, went into the opposite lanes going the wrong way and plowed into Selwyn. He received multiple fractures, some of them compound, in both bones of his lower left leg and had to be evacuated to Bangkok for surgery. I went with him to interpret in sign language. Here is his truck ambulance with the air ambulance at the Phnom Penh airport as they prepared to load Selwyn on board for the trip. More to come about this.
---
Visiting Maryknoll Lay Missioner

1 January 2013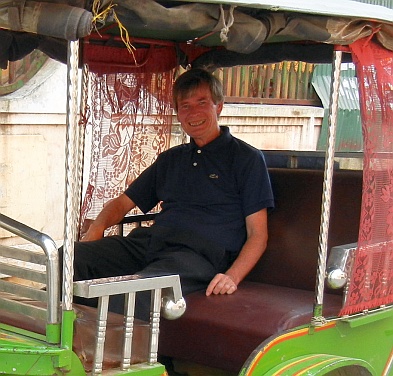 John O'Donoghue is one of the Maryknoll Lay Missioners who was assigned to East Timor until that mission site was closed for MKLM. John then transferred to the Kenya Region in Africa. This week he is back in Asia, visiting Cambodia before he goes with all the Maryknollers in Asia South to their annual meeting in Thailand. Here he takes a tuk-tuk ride after visiting the Deaf Development Programme.
---
Go to Mission Notebook for 2000-2001
Go to Mission Notebook for 2002
Go to Mission Notebook for 2003
Go to Mission Notebook for 2004
Go to Mission Notebook for 2005
Go to Mission Notebook for 2006
Go to Mission Notebook for 2007
Go to Mission Notebook for 2008
Go to Mission Notebook for 2009
Go to Mission Notebook for 2010
Go to Mission Notebook for 2011
Go to Mission Notebook for 2012
Go to Charlie Dittmeier's Home Page