Easter Week

...meant to be celebrated!

10 April 2007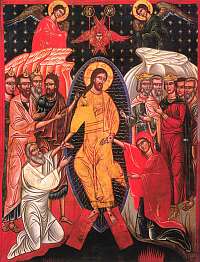 After Vatican II, the first document on the liturgy set out the plan for reform of the Roman rites, offering significant insights into what we believe and how we should express it. It gave special emphasis to Easter, the central event of salvation history, to help us enter more fully into our understanding of the Paschal mystery.
The instruction made a rather surprising declaration. It said that the eight days after Easter--and that includes the Monday, Tuesday, Wednesday, Thursday, Friday, and Saturday--were to be celebrated as solemnities of the Lord. That means all these weekdays after Easter are to be celebrated at the same liturgical level as Christmas, the Ascension, and Pentecost. Only the celebration of Easter itself is more important. That is unique for weekdays but it shows the significance of the Resurrection in our theology and our lives.
The challenge for us is to really celebrate Easter this week. Some priests--and maybe some daily mass-goers--might anticipate doing the minimum this week after all the major celebrations of Holy Week, but actually the liturgy these days calls for the Gloria, Alleluias, joyful song, even incense. If Easter is as important as we say it is, then one day or even one weekend cannot capture the fullness of the mystery.