Learnings--#17
Things learned in mission and living overseas
Riding a bicycle in a flood
20 July 2006
Three days we had a heavy rain (pictured in 17 July, below) and today we had an even heavier rain that lasted for 2½ hours. We were having a meeting for most of that time, and the rain pounding on the metal roofs over our porches made it almost impossible to hear. But then when I left, a half hour after the rain had tapered off, I found Street 63—a perennial trouble spot—and its intersecting streets flooded the worst I have seen in my six years here. I was on my bicycle and kept plowing through the water even when cars and four-wheel drives were turning around rather than test the depth of the flood water ahead. And finally I got to the point of today's enlightenment or learning: that I could continue to ride a bicycle in water up to my knees! I was really glad that I could shift to the lowest of my six gears as I labored through the water and against the waves thrown at me by large vehicles. It's too bad it was too dark for me to take pictures!
---
17 July 2006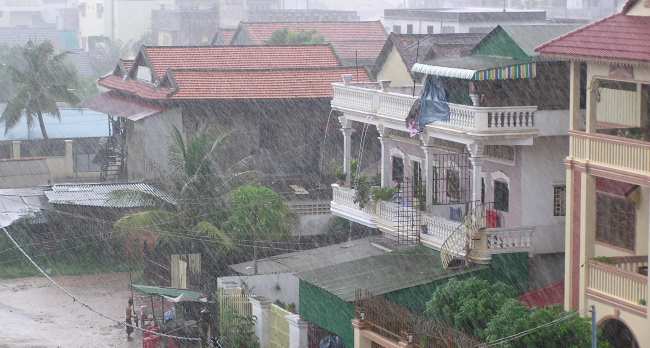 We are in the rainy season now, with some rain almost every day. And some days it REALLY comes down, like today!
---
Catholic Identity

in Catholic institutions

15 June 2006

The book A People Adrift: The Crisis of the Roman Catholic Church in America, by Peter Steinfels, the Senior Religion Correspondent for the New York Times, gives many interesting insights into and interpretations of the contemporary American Catholic church.

The following is an excerpt from a chapter on Catholic institutions.

Having studied Catholic health care's public role and identity for years, Professor [Clarke] Cochran found the Catholic identity of institutions like Buffalo's Mercy Hospital seriously challenged by "market forces and medical technology."

"Internally," he stated, "the business practices of Catholic institutions look very much like the business practices of for-profit institutions." The CEO "is most likely to be a non-Catholic layman with an MBA from a state university, instead of a Catholic nun with an MDiv from Fordham." The realities of the bottom line left little room for the attention to the poor, the immigrants, and the outcasts that had been a central concern of Catholic institutions. At the same time, modern medicine has stressed acute care, heroic efforts to defeat illness and extend life, and reliance on machines and pharmaceuticals rather than touch and voice. Largely eclipsed was "healing modeled on Jesus," which Professor Cochran described as "personal and incarnational," valuing "care more than cure, regarding death as an enemy but by no means the most dangerous enemy."

"What would be the consequences of taking quite seriously the claim that sacramentality is central to Catholic identity?" he asked. By this, he meant the capacity to convey through the visible and tangible a message about the presence and action of the invisible and mysterious. "If health care is to be Catholic it needs to look, feel, smell, and taste Catholic. This demand is difficult to measure. How many crucifixes and statues does it take (per bed? per floor?) to make a hospital Catholic? Does sacramentality reside in the visible primarily, or in the tangible, the touch that passes between healer and patient? Or is it in the voice, compassion embodied in words and tones?"

These are good questions as Catholic institutions today struggle with their identity. These are also questions very much related to mission work today. What is the value of and the need for visible Catholic identity in the good work done by groups like Maryknoll?
---
Celebrating the King's Birthday...

...for too long a time

15 May 2006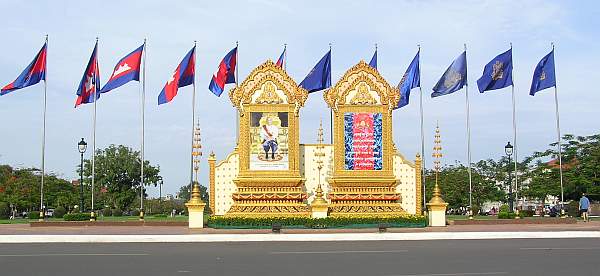 Cambodia is cursed with one of the largest numbers of public holidays in the world—23 of them. (The United States has 10.) It's fine to celebrate but a little moderation is in order. For example, today we are celebrating the birthday of King Sihomani, a genuinely good and respected man. But the official holiday was Saturday, Sunday, and Monday (today). And because the one holiday fell on a Sunday, an extra day has been added tomorrow (Tuesday) to give a full four days of celebration! And on top of this, the former king who resigned last November is still alive and so—not to be disrespectful—he gets three days of celebration this year also. Enough is enough! The country is in terrible shape and people need to work to make it better.
---
Wet season begins...

...at least officially

11 May 2006

The government's chief meteorologist has announced that the wet season in Cambodia officially began Tuesday, 2 May, five days later than last year. The meteorologist didn't explain how her ministry calculates the beginning of the rainy season. So far there have been several cloudy periods on different days but no real rain consistent with the wet season. The rainy season extends from now until September or October, and normally some rain could be expected almost every day.
---
10 May 2006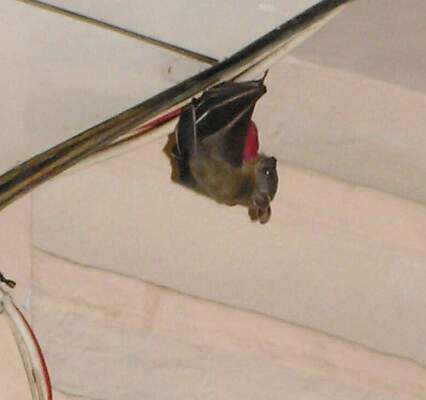 When we first looked at our present house on Street 334, Ed and I noticed some droppings on the porch at the top the stairway. I assumed it was probably a bat, and finally I got to see it a couple nights ago when I was locking up for the night. It roosts on some electrical wires. In the picture the bat is holding a red fruit it is eating. From the amount of droppings, I was expecting to see a bigger animal but maybe I'm just as happy it's not any bigger.
---
Coming to Kentucky

13 April 2006

I received news this morning that my mother is dying and so I am starting the journey to Louisville tonight, with a flight to Bangkok. From there I will proceed on to Kentucky in the morning. I was extremely fortunate in getting a ticket on one hour's notice and then getting my passport back from the Cambodian Foreign Ministry where it had been sent to get a new visa. The ministry is closed today (although the holidays for Khmer New Year don't start until tomorrow...but that's government), but our office manager was able to go through a contact in the ministry to retrieve my passport. I'm not sure when I will be able to update this website further.
---
29 March 2006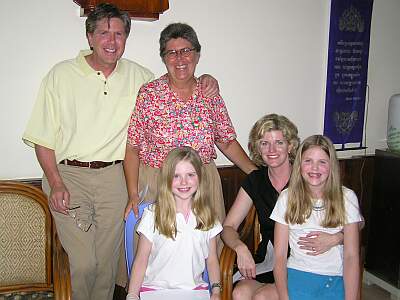 Sr. Regina Pellicore (standing) is a member of the Maryknoll Cambodia Mission Team, one of the earliest arrivals when Cambodia was reopened to foreigners. This week her brother Richard and his wife Karen and their daughters Madeline (left) and Katie are visiting Regina in Phnom Penh. Richard and Karen are both 747 captains for a major airline.
---
Breakfast on the road

A Khmer tradition

16 March 2006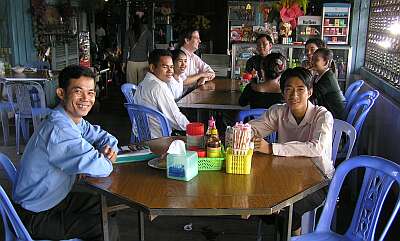 Maybe it's a carryover from days not too far past when it took much longer to travel about Cambodia than it does now (although it still takes a LONG time!) but in every trip of more than an hour or so, Khmer people need to stop to eat. This is particularly true in the morning. The westerners eat at home before they leave, but the Khmer people don't and always want to stop for food.
This morning some of our staff and a group of deaf people traveled to Kampong Chhnang province (an hour and a half trip) for our education program. We left at 6:30 AM, and, sure enough, before 7:30 AM they were asking me if they could stop to eat. We're rewriting our policy and procedures now. Maybe we need to include something about expectations for food on trips.
---
The Maryknoll Cambodia Mission Team

Almost all of us

15 March 2006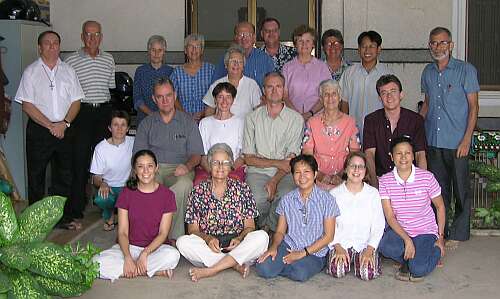 The Maryknoll Cambodia Mission Team with members from the Maryknoll Congregation, Society, Maryknoll Lay Missioners, and partners. Front row: Celina Campas, Luise Ahrens, Ayan Matutina, Lisa Pirie, Doy Castro. Second row, seated: Myriam Frys, Kevin Conroy, Kathy Kremer, John Pahls, Mary Little, Jean-François Frys. Rear row, standing: John Tucker, Jim Noonan, Fran Kemmerer, Judy Helein, Roberta McLaughlin, Jim McLaughlin, Ed McGovern, Helene O'Sullivan, Regina Pellicore, Duc Nguyen, Charlie Dittmeier. Missing from the photo are Kathy Tucker and Kim Ji Hoon and Li Chung Won.
---
Sean Sprague

Maryknoll photographer

10 March 2006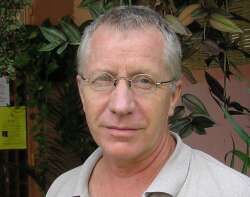 People who have read Maryknoll magazine over the years might certainly know the name of Sean Sprague. It has appeared in the credits for hundreds of photos over the years as Sean has traveled the Maryknoll world photographing and writing about the work of Maryknoll members. Recently Sean was in Cambodia on another assignment and visited and photographed activities of the Deaf Development Program. It was good to be able to put a face with the name that has been familiar for a long time.
---
25 February 2006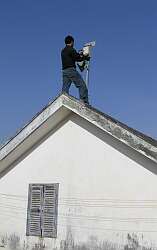 Five days ago our Internet connection stopped working at our house in Bokor. I called Telesurf, our ISP, and they checked from their end but could not get a response from our microwave antenna on the roof. They wanted to send a technician to check it, but I was busy with our funders from Finland and could not be home to meet the technician until yesterday afternoon. After doing his on-site checks, the tech determined that the router in the antenna box was malfunctioning so he had to climb the roof to get access to the antenna. Then he had to go exchange the old router for a new one, but 2½ hours later we were back on the air.
---
George and Michele Otte

Bearers of good news and my camera

17 February 2006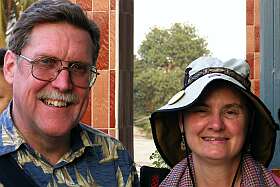 George and Michele Otte are two Maryknoll Affiliates from Menlo Park, California who are on an exposure visit to Cambodia to see if some sort of mission work might be in their future. Their traveling to Cambodia coincided with the shipping of my new camera here, to replace the one that was stolen, and they graciously agreed to put the new Olympus C750 in their luggage to save me overseas shipping charges. Thank you, George and Michele!
---
Learnings--#16
Things learned in mission and living overseas
The sound of silence can wake you up!
16 February 2006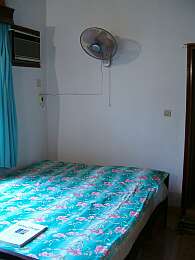 Fans are an essential part of life here where there are only two seasons, hot and dry, and hot and wet. In addition to providing a cooling movement of air, fans--turned on high--also help mask the constant noisy din of life in Cambodia. One soon is accustomed to dropping off to sleep to the accompanying sound of the fan. We get so used to the noise that it is noticeable when it stops, and it can be really frustrating when the electricity cuts out and the fans stop while you are sleeping. It's bad enough that the fan goes off and the heat and the mosquitoes the fans kept at bay begin to envelope you. What is worse is that the sudden silence wakes you up! It wouldn't be nearly so bad if you could at least continue sleeping until the heat woke you, but--no--you wake up as soon as the fan noise stops, wide awake to ponder the approaching heat.
---
15 February 2006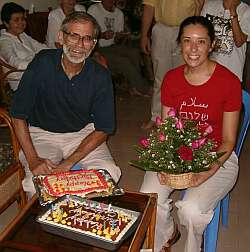 In the Maryknoll community, now that we have about 35 people to remember, we celebrate all the birthdays in a given month on one of the Wednesdays when we normally come together to have our weekly meeting, liturgy, and dinner together. My birthday is in February and so is the birthday of Celina Campas, our newest member. Celina turned thirty. I turned thirty once,too.
---
14 February 2006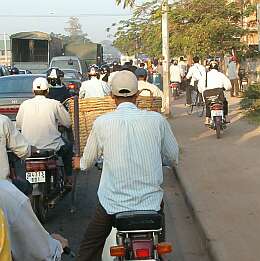 Traffic is getting worse and worse in Phnom Penh. More and more vehicles are put on the road every day and with no effective traffic laws or enforcement, chaos rules. Here in morning traffic, motorcyclists take to the sidewalk when the street traffic stops.
---
A bad day

...50 feet from my house

3 January 2006

When I was riding my bike home at lunch time today, I was thinking that I wasn't looking forward to sitting through six interviews for a new sign language interpreter we are hiring. About that time I heard a motorcycle coming up behind me as I was nearing an intersection on the rough dirt road near my house, and I thought to myself that I hoped the guy didn't pass me and then immediately turn right on to the side street in front of me. That happens all the time because of the different cultural values and behaviors here.

Then the motorcycle was right beside me, very close, and I said to myself "He IS going to turn in front of me!" But instead, the guy riding on the back of the motorcycle reached into the basket of my bicycle and stole my bag with my camera, a flashdrive, my appointment books for 2005 and 2006, and all the papers I was going to work on at home. The motorcycle then took off down the street ahead of me. All I could see was that it was two young guys on a black motorcycle with no license plate.

I always am conscious of not placing things in the basket that can be stolen that way, and I had deliberately put the strap into the basket first so it wouldn't offer something attractive to grab. I was thinking that if anyone reached toward my bag, I could put my hand on it and stop them first, but these guys were too fast. A lesson learned.

Then I got our office manager to go to the police station with me to help me through the bureaucracy. I knew there was no chance whatsoever that they could do anything but at least I wanted another theft to be on the official record so that the terrible condition of the country would have to be that little bit more acknowledged by the government.

The police station is just a little shop house in a row of shop houses. When we arrived, there were two policeman out in front, one just getting up from a nap on a folding bed he started putting away, and the other who directed me to the post chief in the backroom, probably because I was a foreigner. The office manager helped me give the story, and while he was talking, I was taking a look around. There were fifteen AK-47s, all of them dirty, beat-up, and probably not in working condition, and none with magazines, stacked in a corner. Five more Kalisnakovs and an M-16 were hanging on the wall, and the chief had his shirts hanging on the M-16.

It took about an hour to fill out all the forms and tell the story to one of the officers in the first room, and then to thumb-print all the copies with red ink. I had come prepared with a copy of my passport, a typed explanation of what happened and what was stolen, and even a map showing the location of the theft. It would have taken much longer if I hadn't had all that in writing that the officer could basically copy. Then just as I thought we were finished, our Maryknoll office manager went scampering out of the police station and returned a minute later with a blue folder the policeman had sent him out to buy so they could put it in the official pile of crimes they had recorded.

And on top of that I still got back to the office in time for three of the interviews!
---
Christmas in Cambodia

A "Three Kings Party"

1 January 2006
| | |
| --- | --- |
| | The last Maryknoll gathering of the Christmas season was a Three Kings Party hosted by Roberta and Jim McLaughlin |
---
---
Go to Mission Notebook for 2000-2001
Go to Mission Notebook for 2002
Go to Mission Notebook for 2003
Go to Mission Notebook for 2004
Go to Mission Notebook for 2005
Go to Mission Notebook for 2007
Go to Mission Notebook for 2008
Go to Charlie Dittmeier's Home Page