Bird Flu

...what does it mean for a place like Cambodia?

5 November 2005

Several people in other countries have inquired about the bird flu situation in Cambodia. They have been reading about the incidence of the flu in Southeast Asia, especially in Thailand where there have been 13 deaths and in Vietnam where there have been more than 40 deaths and probably human-to-human transmission. Cambodia has had four deaths so far, and we are probably lucky because the government is ill-prepared to deal with anything like a mass outbreak--even to give accurate information and advice--and the health care system is close to non-existent.

There is increasing concern among both the local and ex-patriate populations, though, about the dangers of avian influenza. The Australian Department of Foreign Affairs ratcheted up the level of concern this week with advice to Australians living in Cambodia to evacuate quickly if sustained human-to-human transmission occurs. The bulletin noted: "Australians who don't leave affected countries when first advised to do so may be prevented from leaving later. Borders may be closed, commercial air services may be curtailed or halted and quarantine requirements may further restrict options for leaving."

An international NGO this past week raised the fear level even higher, advising its staff to stock up with a month's supply of food and water, candles, cooking gas, etc. That advisory warned of the cessation of air travel, possible rioting and public disorder, and attacks by hungry people in Cambodia! It advised staff to avoid contact with outsiders, and if there is human-to-human transmission, to lock themselves in their houses to avoid contact with friend and foe alike.

Maryknoll Cambodia has Jim McLaughlin, our own PhD microbiologist who is keeping us up to date on the bird flu, and he doesn't believe the situation is anywhere near so perilous. Jim recently returned from training at the Center for Disease Control in Atlanta and is working at the public health lab in Cambodia so he is quite knowledgeable about the disease and its spread and has been able to give us a lot of good advice.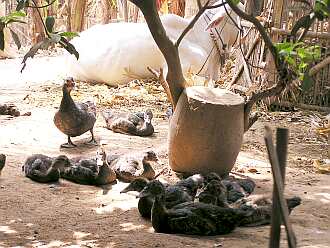 Recently he told us that the bird flu may not be dissimilar to other major diseases which are actually quite common around the world but only affect certain people and relatively few of them. Jim said no one can prove it yet, but his personal belief is that bird flu may well be a somewhat common disease that has been around for decades, even centuries. Many of us may have been exposed to it but only a very small number of individuals actually contract a serious and lethal form of the disease. What the world is seeing now is just the most severe cases that are getting a lot of publicity. There may not be a grave risk to the rest of humanity who, for whatever reason, don't have the factors which make them susceptible to the disease.
Still, Jim advises caution, especially the avoidance of contact with wild and domestic poultry, and thorough cooking and careful hygiene for all of us Maryknollers. And if worse comes to worst, he has also managed to get 15 doses of Tamiflu which he is keeping in reserve for us.