Part of Maryknoll's work is mission education, helping the U.S. Catholic church understand more about the realities of poor people all over the world. On my way back to Cambodia, I stopped at Honey Creek, Texas to speak at all the weekend masses about mission and inviting the people there to join us as lay missioners and to support Maryknoll's work financially.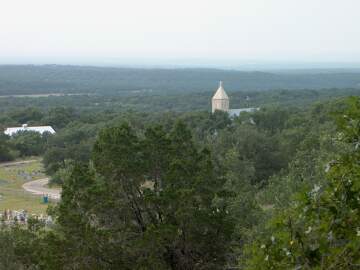 St. Joseph Church is a small parish in the Texas hill country about 35 miles north of San Antonio. More than 150 years old, it was founded by German immigrants and many signs of its German heritage still remain. Today the parish community consists of 850 families, but the area is growing fast, becoming a suburb of San Antonio, and a campaign is underway to raise funds for a new church.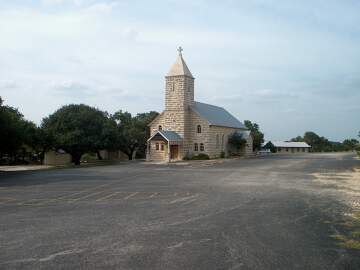 The church was built from rock quarried locally ("We grow rocks here," the pastor, Fr. James Janish, told me.) For reasons unknown, the church does not face the highway which runs behind it. The old church, seating just 200, speaks of a bygone era, but the offices, rectory, and religious education buildings behind the church are very much part of the 21st century.
100 years ago, the pastor at that time decided he needed some privacy for prayer and built this little chapel on a hilltop near the church. The church is somewhat isolated today. 100 years ago, it must have been in real wilderness, making me wonder if the pastor had an anti-social streak if he needed even more isolation.
Trip Itinerary
Hong Kong 1
Montréal/FAD
Montréal City
Montréal/WFD
Montréal Community
Deaf Retreat
JFD Meeting
Itinerary Change
Louisville
Texas
Hong Kong 2
Go to main deaf page
Go to On the Road...
Go to Charlie Dittmeier's home page