---
17 December 2009--More Misconduct Headlines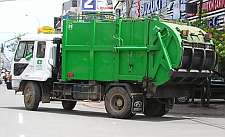 Click here to see still more headlines of official misconduct in Cambodia.
---
28 October 2009--Where's the Teacher?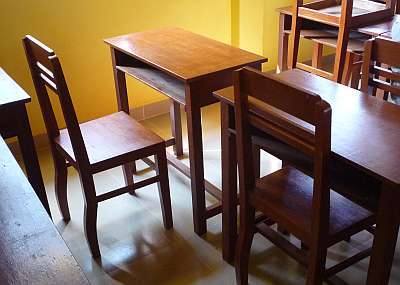 The United Nations Economic and Social Commission for Asia and the Pacific released a report on education showing that Cambodia has the highest student-teacher ratio at the primary school level in Southeast Asia. In 2006 there were 50.4 students for each teacher while the average for Southeast Asia is 22.9. Cambodia did do better at the secondary level with a 28.2 to 1 ratio, but the regional average is 17.5. To address[?] the imbalance, the Ministry of Education is setting a standard of 50 students per primary classroom and 45 secondary students in a class. [Doesn't something seem wrong with that logic as a solution?] The main reason for the shortage of teachers is low pay. A survey by the teacher's association found that 54% of those interviewed could not live on a full-time teacher's salary.
---
27 October 2009--More Misconduct Headlines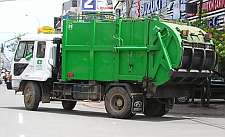 Click here to see still more headlines of official misconduct in Cambodia.
---
3 October 2009—"Get that overloaded truck out of the way of my Mercedes!"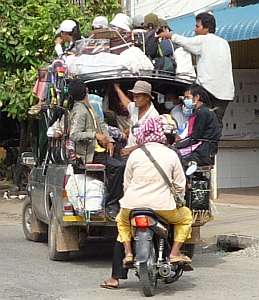 [Sometimes I debate whether an item should go into Daily Life or into Politics and Society, but some, like this one, make more of a comment about the inept government than about daily life.]
A recently article in The Cambodia Daily noted that a pickup truck with 32 people aboard crashed and rolled several times after the overload caused a wheel to break. Two people were killed and seventeen were seriously injured. The driver fled. These trucks are everywhere and are heavily used because they're cheap. There are no safety precautions because those cost money and because the government is so inept that it can't even control traffic.
---
---
16 September 2009—School?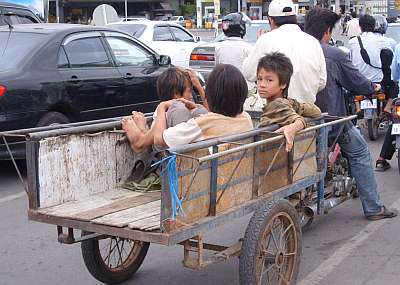 "Less than half of Cambodia's 15 to 24-year-olds have completed primary school, according to a research associate with the Cambodia Development Resource Institute.... One of the biggest issues on the horizon is the large number of people entering the work force every year...and the availability of jobs and the preparedness of young people for the job market. 'It will be a big burden for the government and the NGOs' [the researcher] said of the mismatch between young people and the job market. 'The education quality does not met market needs.'" (The Cambodia Daily)
---
27 August 2009--An unusual happening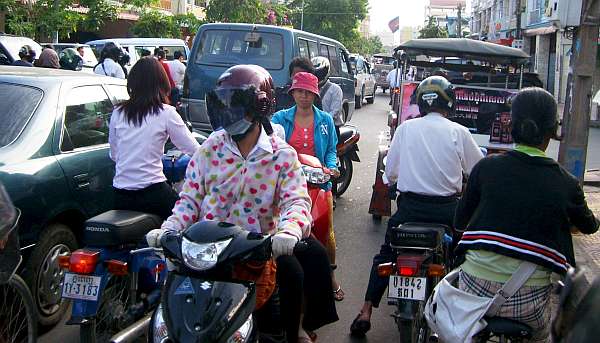 Cambodian traffic police typically do not try to stop vehicles operating illegally on the streets of Phnom Penh. Moving violations--the illegal driving that causes the most accidents and deaths--are ignored in favor of prosecuting technical violations such as not having rearview mirrors or helmets or a registration sticker. Partly this is because the traffic police have no means of stopping violators other than grabbing a motorcycle's handlebars. Partly this is because the police are poorly trained, poorly motivated, and poorly paid. Partly this is because there is no money to be made in going after moving violations while those guilty of technical violations can be shaken down right on the spot.
Thus it was rather a surprise to read in last week's Cambodia Daily that the police on Street 57 and Street 63 had stopped more than 350 motorcyclists going the wrong way on these one-way streets. And even more, they impounded their motorcycles! The motorbikes were held overnight until their owners attended some education sessions, signed an agreement stating they will obey traffic signs (Ha!), and paid a 10,000-riel fine (about $2.50). It would be nice to think the government is getting serious about traffic chaos but no one believes that is happening yet.
---
27 June 2009

Click here for a series on the venality and corruption of the Cambodian government.
---
18 June 2009--More Misconduct Headlines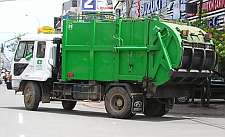 Click here to see still more headlines of official misconduct in Cambodia.
---
15 June 2009--It's only a piece of paper!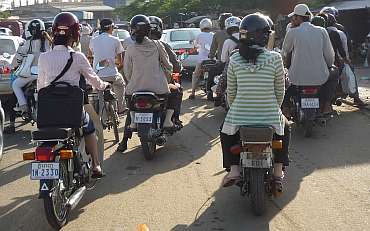 In attempt to cut down on the number of traffic accidents, the government has announced a plan to provide free motorbike-driving lessons to some 3,000 high school students in three of Phnom Penh's secondary schools. The latest figures show the need for such instruction: there are 592,285 motorcycles registered in Phnom Penh but only 7,267 motorcycle driving licenses have been issued!
---
7 June 2009--More Misconduct Headlines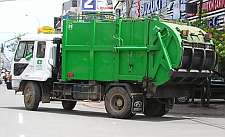 Click here to see still more headlines of official misconduct in Cambodia.
---
27 May 2009--Defining Poverty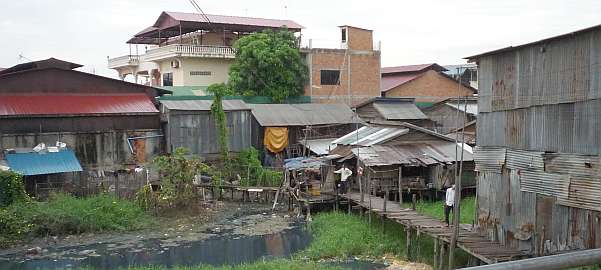 The World Bank recently announced a new international poverty line—$1.25 per day, based on 2005 prices. This was the first adjustment of the world poverty standard since 1993. For Cambodia, the new mark means that 42 percent of Cambodians (about 6 million people) live in extreme poverty. About 19 percent (2.8 million people) live on less than a dollar a day. The government here likes to use a national poverty threshold rather than the international one. They use a level set in 2007 at $0.50 to $0.75 a day. The government prefers this indicator rather than the international one because the national level puts a lower percentage of the population into poverty and that makes the government look better. But there is no getting around the fact that anyone living on 50˘ to 75˘ is without argument in dire poverty. Cambodia has a long way to go.
---
23 May 2009--More Misconduct Headlines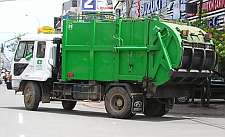 Click here to see still more headlines of official misconduct in Cambodia.
---
---
7 April 2009--Same Conclusion, Different Source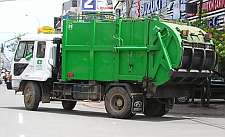 Recently The Economist magazine's Intelligence Unit conjectured that Cambodia is at a high risk of political instability and social unrest because of several factors. Now Forbes magazine has listed Cambodia as one of the ten most corrupt nations, reporting allegations that money for the UN-backed Khmer Rouge trials is being stolen by government officials. It noted: "Funding for a 13-year effort to prosecute acts of genocide in a special United Nations court has run out before trials could even begin." A ruling party lawmaker commented "I don't know what they based their findings on to make this report," even as he spoke of the law against corruption--put to the legislature in 1994--which has not yet been approved.
---
4 April 2009--More Misconduct Headlines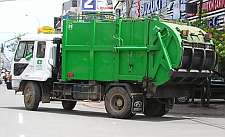 Click here to see still more headlines of official misconduct in Cambodia.
---
30 March 2009—Economist Uproar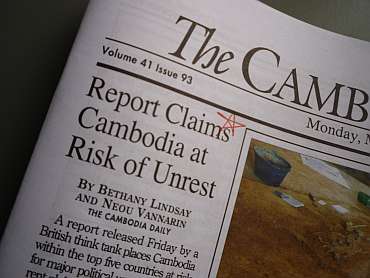 The Economist, a highly rated magazine that analyzes finances of the world, has an Economist Intelligence Unit which recently surveyed and analyzed the political stability of the world's countries in light of the global economic crisis. In its report, the EIU rated Cambodia as one of the five countries of the world most at risk from major political unrest in the current economic environment. Cambodia tied with Sudan for the place fourth from the bottom, with only Zimbabwe, Chad, and the Democratic Republic of the Congo ranking lower.
The extremely low ranking, based on an analysis of fifteen indicators such as income inequality, date of independence, trust in public institutions, discrimination against minorities, etc., surprised even some respected civil society groups who expressed amazement at comparison with Zimbabwe. The government, predictably, was outraged, and Prime Minister Hun Sen has been repeatedly railing against the report's conclusions and the think tank that produced them.
---
17 March 2009--More Misconduct Headlines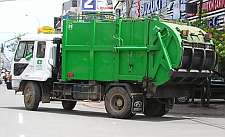 Click here to see still more headlines of official misconduct in Cambodia.
---
27 February 2009--"You wanna bet they reopen?" (Part 2)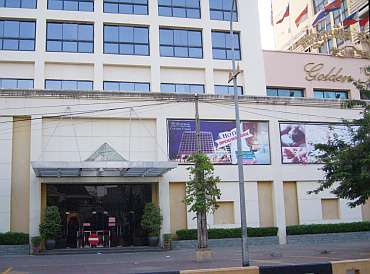 This morning I passed the Golden Casino on the other side of town. Normally there is not much evidence of business at that time (6:00 AM) but the blinking lights of the rows of gambling machines are always visible. Not today. After the prime minister's speech, this place was not only closed with all the lights off, but a barricade had been set up in front of the main doors to make sure everyone got the message. The casino is the only business in a ten-story building. All those upper floors have never been occupied. We'll see how long it stays closed.
---
26 February 2009--"You wanna bet they reopen?"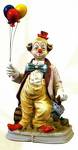 Cambodia has a series of gambling centers called Cambo Six in Phnom Penh and several other towns. They allow people to place bets on football (soccer) matches around the world and have held a license from the government since 2002. They are quite popular with the local population. But not with Prime Minister Hun Sen. In his typical erratic way, when he was speaking at a graduation ceremony for the National Institute of Education(!), he digressed a bit(!) to order the closure of all the Cambo Six centers because businesses were ignoring a decree he signed in December which bans Cambodian people from using electronic gambling machines.
[That makes sense, doesn't it? Ban Cambodian people from using legal gambling machines in gambling centers legally licensed in their own country by their own government.] The prime minister then started attacking a Phnom Penh district governor over the gambling center issue, talking about how the governor needs to "respect me," etc. Politics doesn't get any weirder than in Cambodia.
If you want to bet on this situation, bet on the gambling continuing. Who do you think owns the casinos, entertainment centers, nightclubs, gambling places in Cambodia? Want to bet on whether it's the family and friends of the government officials, the military leaders, the VIPs, and the tycoons? Are they going to let their cash cow be sacrificed? I wouldn't bet on it.
---
17 February 2009--More Misconduct Headlines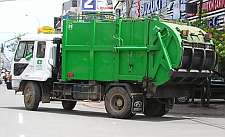 Click here to see still more headlines of official misconduct in Cambodia.
---
15 February 2009--Hey, they need a place to work!
One previous article "All power corrupts..." related how the Renakse Hotel was grabbed from its manager with just a week's notice--and with armed police--even though she had a lease on the property until 2050. Another article described the Prime Minister's cabinet. This article shows how the two could be connected, via comments from a Letter to the Editor:
"...The historic Renakse Hotel...is to be hastily converted into office space for government officials, its landlord being evicted on a week's notice despite having a lease that runs through the year 2050.
This action should come as little surprise to anyone who has seen the appointments of the decidedly top-heavy government for the new mandate.
Where would the whopping 198 secretaries of state be expected to carry out their important work for the Kingdom? And how about the nine deputy prime ministers? This does not include the seemingly countless...undersecretaries of state for each of the 25 ministries. Nor is this to make any mention of the many defectors to the ruling party over the past year who will surely need offices in which to do their work.
[signed], Brandon Biggs"
---
12 February 2009--Bloat on top of Corruption
Several months ago, when the re-elected CPP ruling party announced its new line-up of officials, it was revealed that the size of the Prime Minister's cabinet had swelled by more than 35% compared to the government sworn in four years earlier. The largest increase was due to the appointment of 205 undersecretaries of state. The average number of secretaries and undersecretaries of state for each ministry jumped from 5 to 7. When combined with all the deputy prime ministers, senior ministers, and ministers, the cabinet now totals 444 people, up from 327 in 2004. [Read about the closure of the Renakse Hotel" and then click here to see how these articles fit together.]
---
12 February 2009--More Misconduct Headlines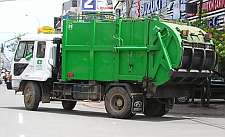 Click here to see still more headlines of official misconduct in Cambodia.
---
22 January 2009--"All power corrupts..." and money does a pretty good job of it, too...
A minor Phnom Penh landmark is the Renakse Hotel, almost across the street from the Royal Palace. Since 1992 it has been managed by Mrs. Kem Chantha, a supporter of the Cambodian People's Party (CPP), the ruling party in the government. The CPP owned the hotel and gave a 49-year lease to Kem, but then suddenly decided to break the lease and sell the land for millions of dollars to a private firm. The reason given was that Kem "had violated the lease agreement by failing to maintain the safety and beauty of the French colonial-era Renakse Hotel." Funny no one mentions complaints about that earlier. Of course, the first presumption is that this is just another instance of the government enriching its tycoon friends (who will then enrich their government friends).
Besides the hint of blatant corruption, it could very well all be illegal. Cambodian law requires that actions in a civil case not have a negative impact on the parties involved. This action certainly has negative consequences for Kem Chantha after the time and money she has invested in the property. The director of Cambodia's free legal aid group commented:
In my opinion, I think what the court has done here is wrong. Unfortunately, it is normal for the courts to take these kinds of actions.... The court is abusing the presumption of...being fair. It is a loss for the country and for the businesses."
But there's no loss for the CPP and their friends, and that's what counts!
---