16 December 2006--More Impunity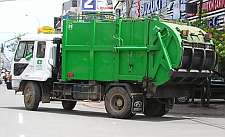 It's not on the same order as some larger cities of the world, but Phnom Penh and Cambodia have a gang problem. Gangs armed with swords wage running battles with other gangs or are involved in shootings and stabbings at weddings and dance parties in Phnom Penh and the provinces. This week Prime Minister Hun Sen warned government officials that it has to stop. It may not be too difficult to stop, if there is the will to do so. The top officials could tell their children at the supper table to knock it off and then take away their guns and SUVs.
As the Cambodia Daily reported an opposition official as saying: "The children of the rich and powerful are responsible for creating the gangs and ordinary police officers are unable to touch such people....
"When you look into these gang leaders, the gangs were created by the sons of senior leaders--governors or police officials, [he] said, adding that the current system is unable to deal with the children of the powerful." [From the Cambodia Daily, 13 December 2006]
---
14 December 2006--Unchecked Building Chaos

Construction in Phnom Penh has exploded since 2004 but has slowed in the last months because of a glut of empty housing in the capital which now has a housing surplus. An estimated 25% of the recently built homes are still vacant but developers still expect 10,000 new housing units to have been built before the end of 2006. Interestingly, house prices have not fallen and land prices continue to increase. There are many reasons put forward for the housing boom:

People have money to put somewhere but don't trust banks
People use real estate for laundering illegal money
Developers take advantage of people ignorant of their property rights, either underpaying poor villagers or initiating evictions by the municipal government
A land tax law is currently not being enforced.
The one thing most obvious is that the city can't handle the boom. There is no zoning. The roads are inadequate. There is no parking. The city has chronic electrical outages. The schools, health care system, and other elements of the infrastructure are all woefully inadequate. But the developers (read government officials) are making money so the building continues.
---
5 December 2006--United Nations Development Report

Every year the United Nations' Human Development Report ranks the nations of the world according to life expectancy, education levels, and standards of living. In the overall rankings, this year's report saw Cambodia move up one position to #129 out of 177 countries ranked. That put it one place higher than the military dictatorship in Burma. The report does not consider indicators like respect for human rights and political freedom.
In life expectancy, Cambodia ranked #134 with an expectancy of only 56.5 years. In education, with only 60.2% of school-age children enrolled in classes, Cambodia ranked #129. In standard of living, Cambodia jumped six places to #122 as per capita GDP jumped 16% to $2423. Cambodia's worst rating was in access to clean water. Only Papua New Guinea and Ethiopia ranked lower.
---
4 December 2006--Separation of Church and State?

Buddhism is probably not as inherently political as Christianity or Islam because it is not evangelistic and missionary. It hasn't the same need to demarcate and control territory and populations. But that doesn't mean there is a divide between church and state in Cambodia. The official letterhead of all government ministries reads "Nation Religion King" and you can be sure that Buddhism is the intended religion.
Last week the head Buddhist in the country formally lifted his ban against monks voting in elections. There was never any law prohibiting monks from voting so probably the Buddhist hierarchy feared possible alliances against the ruling CPP political party. That surmise is supported by the patriarch's admonition not to engage in "people power," which, of course, is always directed against dictatorial ruling elites. And further evidence came in his added statement that all the monks should "show thanks to the CPP's leadership for its role in 'saving the country from the Khmer Rouge.'" (From The Cambodia Daily)
---
30 November 2006--More on the kites!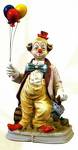 Where are George Lucas, Stephen Spielberg, or Alfred Hitchcock when you need them? "The Attack of the Kites" could have been a blockbuster. Poised to demonstrate for freedom of expression, 70 NGO workers and some lawmakers were prevented from endangering public order and safety by flying kites outside the National Assembly. Only a little more than 100 riot police, many armed with riot shields, electric batons, AK-47 assault rifles, and tear gas were needed to disarm (take away their kites!) those peacefully highlighting the need for freedom of expression. "We are afraid for the security of airplanes," a government spokesman said of the crackdown. The demonstration achieved its purpose, pointing out the lack of basic civil and human freedoms in Cambodia.
---
29 November 2006--"Go fly a kite!" Not in this country!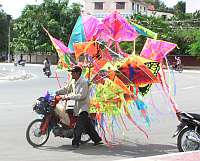 More than twenty NGOs (non-government organizations) had planned to fly kits in front of the National Assembly building two days ago to protest for greater freedom of expression. The event, organized by the Cambodian Center for Human Rights, had three objectives: pressuring the Assembly to amend a law curbing their own right of free speech; the scrapping of jail sentences for those accused of spreading disinformation; and advocating for a law guaranteeing people's rights to peaceful expression. The government threatened to block the kite flying. And they did--with AK-47s. "The CCHR did not ask permission from us so we do not allow them to organize the kite flying," said a municipality official. The CCHR said they did ask permission from both the municipality and the Interior Ministry but neither responded.
---
4 November 2006--Hey, you're not supposed to arrest me! I'm crooked, too!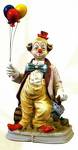 Recently military officials in a northern province of Cambodia confiscated nearly 500 pounds of turtles, monitor lizards, and other wildlife that were being transported illegally...in a police truck. The driver, a policeman, was arrested. An NGO worker in the province said the military may be taking revenge against the police because the police had confiscated illegal timber from the soldiers in recent months.
---
2 November 2006--Speech Law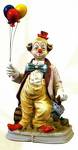 Two months ago the Cambodian legislature, called the National Assembly, passed a new law which allows the legislators to be prosecuted for what they say in their legislative debates. The government says the law is designed to prevent the opposition from defaming the government. "They can criticize the government, but not defame the government," a spokesman said. This is from a government that uses defamation laws as a political tool to silence critics.
Here is an excerpt from an article in the Cambodia Daily (1 September 2006) about the law:
US Envoy: Speech Law an Act of "Self-Castration"
The controversial new law scrapping lawmakers' right to speak freely in parliament has sparked concerns among rights workers and the US Embassy that Cambodia has taken a step backwards from democracy.
The US Embassy...called the passage of the law an "historic event" that has emasculated the National Assembly.
"Historically there have been isolated instances of individuals being castrated, but this may be the first instance of collective self-castration," US Ambassador Joseph Mussomeli said in an e-mailed statement. "That they are freely giving up their freedom is stunning," he continued.
Mussomeli said there are virtually no other countries enacting similar legislation. "It clearly sets the Cambodian Assembly apart from virtually all others," he added.
The law, which CPP and Funcinpec parliamentarians voted in favor of Wednesday, opens the way for lawmakers to be charged with criminal offenses without their parliamentary immunity first being removed.
It states that lawmakers cannot use their immunity to abuse an individual's dignity, public order, social customs, or national security. Lawmakers can also be arrested immediately if they commit a "serious crime," which the law does not attempt to define.
Several parliamentarians who voted for the law said that they did so because an additional chapter that gave them a lifelong pension and funeral expenses attracted them....
---
31 October 2006--Cambodia Motors into the 20th Century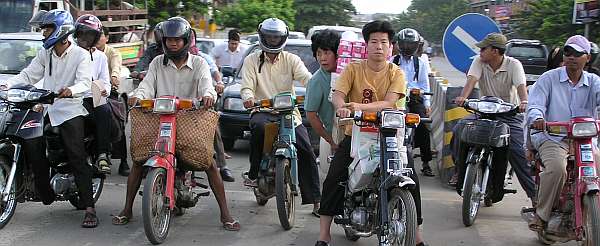 Authorities in Cambodia "have issued a decree warning the city's half million-plus motorcyclists they must use lights and wing mirrors in an effort to curb Phnom Penh's growing road toll." ("Wing mirror" is British-speak for rearview mirror.)
Mirrors are a real rarity here. One explanation is that all motorcycles here are imported, and motorcycles with mirrors are much harder to ship. That explanation is specious, though, since mirrors could be shipped with the cycles and then attached, the same way bicycle pedals are only attached after the bicycle arrives at its sales point. Another explanation is that mirrors make it more difficult and dangerous to maneuver through the really tight places in Phnom Penh's gridlock. That argument makes some sense.
The people most happy with the new ruling are those who sell the mirrors and the police who will be collecting the fines for non-compliance. Police here are notoriously corrupt and collect traffic fines for themselves and their superiors. No receipts are given.
You can be sure there will be more to say about this item in the coming weeks!
---
30 October 2006--Façade of Stability #2

LICADHO is a national Cambodian human rights organization. Since its establishment in 1992, LICADHO has been at the forefront of efforts to protect the rights in Cambodia and to promote respect for civil and political rights by the Cambodian government and institutions.
LICADHO issued a report in May, 2006 called Human Rights in Cambodia: the Façade of Stability. A second excerpt from the Introduction of that report:
...Cambodia's space for democratic activities, hard-won by more than a decade of effort by civil society and foreign donors, is steadily shrinking due to sustained, serious attacks on the rights of expression and assembly. The country's power and wealth is increasingly being consolidated into the hands of a small elite, who use their position to expand and solidify their personal privilege, usually at the expense of the poor and dispossessed.

Politically, Cambodia's "stability" is that of a wobbly-kneed democracy reverting to an increasingly authoritarian State.

Elections have been held and governments formed, but what true democracy can exist in the context of political intimidation, restrictions on freedom of expression, association and assembly, and only the weakest resemblance to rule of law? Elections alone do not create a genuine democracy; an independent, competent judiciary and democratic institutions to ensure accountability of the Government are vital ingredients absent from Cambodia's "democracy". Many of these issues are interlinked, and the lack of genuine reform must be seen as a lack of political will for change.

After decades of conflict and tragedy, Cambodia's "stability" is often understood as an absence of war and Cambodians are understandably relieved to live in peace. But true stability must be backed by genuine democracy, respect for human rights and rule of law for all. Without these foundations of justice, the aspirations of Cambodians for a pluralistic, tolerant and equitable society can't be fulfilled. Instead, there is only a growing risk of political, social and economic instability fuelled by the discontent of those who find themselves abused and dispossessed by the State.
---
21 October 2006--Façade of Stability #1

LICADHO is a national Cambodian human rights organization. Since its establishment in 1992, LICADHO has been at the forefront of efforts to protect the rights in Cambodia and to promote respect for civil and political rights by the Cambodian government and institutions. Building on its past achievements, LICADHO continues to be an advocate for the people and a monitor of the government through wide randing human rights programs from its main office in Phnom Penh and 12 provincial offices.
LICADHO issued a report in May, 2006 called Human Rights in Cambodia: the Façade of Stability. I will be publishing here some excerpts from that report:
Introduction
Newspaper headlines lend a deceptively rosy hue to life in Cambodia today: 13% economic growth in 2005 and reconciliation between long-term political foes.
The reality is far bleaker.
Beneath the veneer of political stability and economic development, the people of Cambodia continue to suffer.
Cambodians are increasingly subject to a wide range of human rights abuses--often committed by State personnel such as police and military--with little recourse to justice in Cambodia's notoriously corrupt and politicized courts. Land conflicts arising from private claims or large economic land concessions are evicting thousands of families from their homes every year, depriving them of education, health services, and other essentials while fuelling poverty and discontent.
Cambodia's police and judiciary, universally deemed as rife with corruption and impunity, fail on a daily basis to provide any semblance of justice for victims of human rights abuses....
---
17 October 2006--More impunity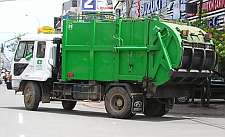 In the latter part of September, three suspected wildlife smugglers were released by a provincial judge in Pursat Province after he started getting personal threats from advisors and bodyguards "connected to high officials." The three had been arrested with their driver, when their Mercedes was stopped for a Forestry Administration inspection and the skin and bones of a rare clouded leopard and five kilograms of meat from a rare deer were discovered in the car.
Of course, the government sees no evil intent. The Pursat provincial prosecutor alleged that the suspects were released because there was not enough evidence of wrong doing. "Those three were released on bail because they have never confessed," he said. Strange standard for releasing suspects caught with contraband! Ignored in all this was the poor driver. No one asked for his release. [From the Cambodia Daily, 29 September 2006]
---
15 October 2006--More drunken violence--and impunity

About three weeks ago, there was another incidence of shooting in a karaoke parlor, this time in Kampong Cham. Five men, claiming to be the RCAF soldiers and the prime minister's bodyguards, started shooting up the place when the women working at the parlor refused to leave with the heavily intoxicated men. The five men were "detained," but they probably have nothing to worry about. At least five female waitresses at beer gardens or karaoke parlors have been injured in such shootings this year, but none of the gunmen has been prosecuted.
---
10 October 2006--"The Luxury of Corruption" [From the Cambodia Daily, 29 September 2006]


...."Cambodia cannot afford the luxury of corruption," [US Ambassador Joseph] Mussomeli said. "It is too far behind its neighbors due to the tragedies of its recent past."
Mussomeli called on the government to pass the long-awaited anti-corruption law, and support its implementation. He also said a 2001 Land Law is not being enforced justly, "particularly when powerful vested interests are involved."
Finally he discounted the National Land Dispute Authority as having "no appreciable effect yet on land disputes."....
CPP [the ruling party] lawmaker Cheam Yeap said...."Hun Sen does not tolerate corrupt officials."...
Mussomeli said the problem is systemic and has corroded even basic institutions. Children, the ambassador said, "go to school and what is the first lesson they learn--that they need to pay their teachers a little extra to get taught?"
---
4 October 2006--The government doesn't care
Today the Maryknoll Cambodia Mission Team had its monthly PTR (pastoral theological reflection) and the focus was on ten basic principles of Catholic Social Teaching and how they are experienced here. A perennial question for Maryknoll is whether we should be doing good works ourselves or pushing the government to do what they should be doing. As long as we're doing it, the Cambodian government feels no urgency to shoulder their own responsibilities.
One Maryknoller suggested that perhaps we're not pushing the government hard enough if none of us have been thrown out of the country. Another suggested that there really might not be much danger of getting thrown out because we are doing a huge amount of good work and the government could not take up that burden. Sadly, the consensus seemed to be that we could get thrown out of the country, our good works would stop, people would suffer—and the government just wouldn't care.
---
25 September 2006--More corruption

It would be hard to be a reporter covering the government and officialdom in Cambodia. The reporters are bound to be objective and fair in their accounts that appear in print, but I can imagine the guffaws and snickers that must go on around the reporters' desks as they talk to each other about the incredible corruption and criminality practiced by the government here.
Last month the deputy head of the anti-human trafficking department was sentenced to five years in prison for taking bribes from arrested brothel owners to get them released.
That wasn't the full extent of the case, however. The convicted man said that he was taking the bribes on the orders of the department's director. The judge couldn't believe that(!) although he admitted the convicted man told a superior the next day and then gave the money to the director.
The director said in a letter that she had spent the money on ministry affairs and "gave some of it to civil servants in an administrative office." Never addressed is the fact that an underling hands her $3000 and she just spends it. That is a non-question here because that is what lower staff are SUPPOSED to do! Part of all the money extorted by the police and other officials is passed up the line to superiors.
And then, to top it all off, the convicted man and his accomplices were ordered to pay $9000 in compensation to the brothel owners. For violating their civil rights, perhaps? Why weren't they arrested and put in jail?
---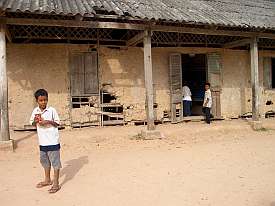 22 September 2006--Education Statistics

The Save the Children organization is planning to invest $14 million in education in Cambodia over a period of four years, beginning in 2007. They will work in five of Cambodia's twenty three provinces, some of the poorest in the country, and hope to expand into other provinces. [This picture is of a school in Svay Rieng province where DDP's classroom was located.]
In preparing for this Rewrite the Future project, they are working from the following education statistics for Cambodia:
Approximately 11% of children have access to pre-school
Approximately 43% of pupils complete grade 6
Approximately 19% of pupils complete basic education
Approximately 43% of schools have no drinking water
Approximately 34% of schools have no toilets
Of 40,000 classrooms, 5500 have no proper roof and 7000 no proper walls
There are an average of 51 pupils for every primary teacher
The deplorable state of education is further emphasized by the fact that even with this project, Save the Children's objective in its target areas is only to increase the number of children completing primary education from 40% to 55%!
---
19 September 2006--Morality Campaigns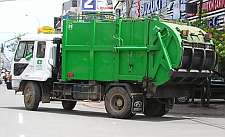 The ruling party has in the past months initiated several campaigns against immoral behavior. This month the Prime Minister railed against the Miss Cambodia contest.
Here are some paragraphs from the Cambodia Daily of 6 September 2006:
Prime Minister Hun Sen announced Tuesday that as long as he leads the nation there will be no Miss Cambodia contest, and that the country should be focusing on alleviating poverty instead of promoting beauty....

"We will wait until the Cambodia poverty line drops below 15 percent, and the [average] Cambodian yearly income exceeds $1,500, then they can have the contest...." Cambodia's current per capita income is around $300 per year.
A couple comments:
What does the poverty level have to do with a beauty contest? And why does reaching a per capita income of $1,500 justify an action the prime minister holds to be immoral?
If reducing poverty is important, the prime minister is the one who could change things. If he can ignore the legislature to ban beauty contests, he could likewise initiate anti-poverty moves.
An opposition politician commented on the beauty contest ban: "I think that it is a distraction from real and serious issues such as poverty, unemployment, and a lack of public services."
---
16 September 2006--Government Getting Worse

Every year the World Bank measures the quality of governments, using internal measurements and assessments by business consultants and various organizations like Reporters without Borders and the Economist magazine. The report just released, giving results for 2005, places Cambodia on the "fragile states" list, along with Burma, Haiti, Zimbabwe, the Sudan, and Palestine, among others. Six areas of governance are surveyed: voice and accountability (human rights); stability; effectiveness of civil service; quality of regulations; rule of law; and corruption. Cambodia's performance decreased in every area except rule of law which was about the same. The rating scale ranges from +2.5 to -2.5. Cambodia is in the negative range in all categories. A World Bank official said that generally negative perceptions of governance in Cambodia are made worse by unabated land-grabbing by the rich and powerful and by enormous, illegal land concessions of the government to its friends. For a World Bank statement on governance in Cambodia, click here.
---
14 September 2006--Tarnished Soul

From the Phnom Penh Post (8 September 2006):

So far in 2006, the government has banned mobile phone pornography, adultery, and the "Miss Cambodia" beauty pageant—all part of a legislative crusade to rescue Cambodia from moral decline.
But in a society where brothels, beer girls, and bauk—gang rape—are still socially acceptable forms of Friday night fun for many men, social analysts are wondering whether this battery of new laws will curb Cambodia's social ills, and just why the government is pursuing this particular path to moral regeneration.
"I don't think a law can address morality," said Mu Sochua, former Minister of Women's Affairs.... "Morality has to be addressed within a cultural contest. We need to look at the root cause of the issue: why are we in this situation as a society? The core issue is that Cambodia's soul is totally tarnished."
---
11 September 2006--Traffic Law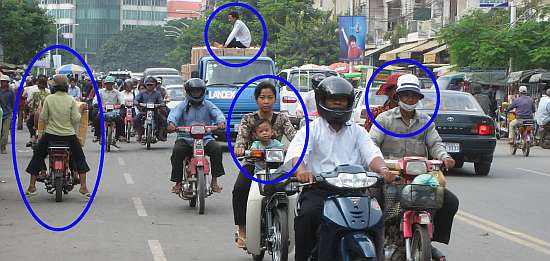 Cambodia has the highest traffic accident rate of all ten member countries of ASEAN. Four people a day are killed in road accidents and many, many more are injured.
Basically there is no traffic law except that which the traffic police make up on the spot to stop innocent drivers and extort money. One of our Maryknollers ended up paying $20 last week because he was in a crosswalk when he stopped his motorbike for a red light. (There is no such thing as a crosswalk in Cambodia. But some country gave the government money to paint lines on the street so we have what would be crosswalks in a country with traffic laws.) The police didn't go after all the people who ran through the red light. They just nabbed the one person who stopped for the light and was within walking distance and who, because he's a foreigner, will not gun the bike and roar off.
Our man could probably have negotiated a lesser payoff but he didn't have his license with him. (Foreign drivers should never carry their licenses with them because in case of a traffic stop, the police will keep the license and charge more extortion money to get it back. Instead, most of us usually carry a photocopy of the license.)
The draft traffic law to be presented to the legislature this month has some mind-boggling provisions:
All car drivers and motorbike drivers must have valid driving licenses and license plates on the vehicles
Car drivers and passengers must wear seat belts
Motorcycle drivers and passengers must wear helmets
Vehicles must carry no more passengers than there are seats
Drunk driving is prohibited
Can you imagine the existing traffic chaos and mayhem in a country where those are not already existing traffic law provisions? To help you imagine it, look at the photo above: a motorcycle going the wrong way in the lefthand lane; a worker sitting on top of the load of goods on a truck; a small child sitting in front of his mother on a motorcycle; the large majority of cyclists not wearing helmets.
---
6 September 2006--Cambodia's Adultery Law

It's been a bizarre two weeks for the Cambodian legislature. The first anomaly was what the U.S. ambassador described as "the self castration" of the legislature. More on that another day. The second weirdness was the passage of an adultery law. The law against corruption has been waiting for passage for twelve years; each year the legislature just can't seem to get to it. But in March Prime Minister Hun Sen proposed a monogamy law, and, lo and behold, it's been passed already!
What a joke! Cambodia is probably one of the most promiscuous nations in Asia. Second and even third wives are considered acceptable. There is little stigma attached to men of any marital status engaging the services of a member of the thriving commercial sex industry. Young boys can have their first sexual experience at a brothel, taken there by their fathers.
Now fines and possibly prison face people caught having sex with someone who is not their spouse. Do you think there could be any punishment for any of the government officials who are among the worst role models in the country? Ha! Remember, this is the country where a recent poll suggested the most trusted government agency was the sewer and water service which ranked much higher than the legislature, courts, etc. The officials have money and power and there will be no charges against them. The judiciary may or may not be corrupt; they certainly aren't stupid enough to prosecute the ruling party.
That is one of the major complaints against the marriage law, as it's known, that it can be used selectively and for political ends. Some observers already see it targeting Prince Ranariddh, an opposition political leader, who is divorcing his wife after living with a classical dancer for a long time. Others think it could be aimed at the errant philanderers in the ruling party, too, because they have long cemented their alliances with intermarriage among the party leaders, and any extramarital affairs could threaten their internal unity.
Perhaps the best commentary on the law has come from human rights workers, one of whom said "he could think of few regimes that had implemented such strict legislation on personal conduct, other than the fanatical Taliban in Afghanistan."
---
4 September 2006--Corruption and Poverty Doom the Children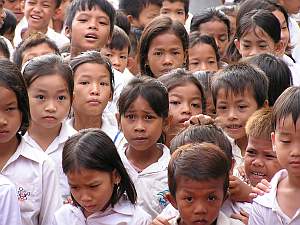 A recent World Bank poverty study reports that the enrollment rates for primary school children in Cambodia are the highest in the region. That is hard to believe, given the numbers of children on the street and the chaotic state of education in the kingdom.
More believable is the assertion that poverty and systemic corruption are causing large numbers of students to drop out of school too early to benefit from education. In the 13-15 age group, only 26% attend school.
Statistics from the Ministry of Education put the average dropout rate of students in primary school (grades 1 to 6) at 11.4%. That rate increases to 21.4% for students in lower secondary (grades 7 to 9) and is 17.8% for upper secondary (grades 10 to 12). The UN Development Program estimates that 65.5% of students leave school before completing grades 7 to 9. Another study stated that of every 1000 children who begin the first grade, only 20 will finish high school. That's a better picture of the real state of education in Cambodia.
For more statistics click here.
---
31 August 2006--Cambodian Tourism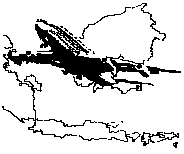 The number of tourists arriving in Cambodia jumped almost 20% in the first half of 2006 compared to the first half of 2005. Cambodia depends a lot on its tourist industry, although it still is relatively inexperienced in promoting tourism and serving the tourists. 18% of the tourists were from Korea, the main sending country. One of the big reasons for the increase in arrivals is the opening of Siem Reap airport, near Angkor Wat, to international flights. One third of the tourists to Cambodia arrive in Siem Reap and the government is trying to figure out how to get them stay longer and see parts of the country in addition to Angkor Wat.
---
9 August 2006—Goodbye to Another Natural Resource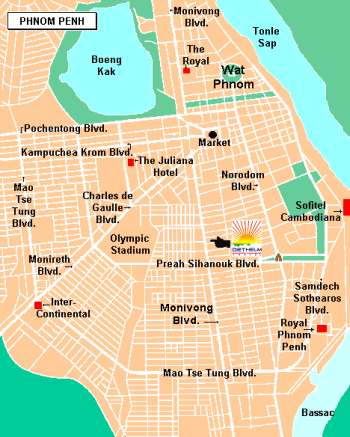 The city government is now in the processing of destroying another of Phnom Penh's great natural resources, the Boeung Kak Lake in the northern part of the city. Boeung Kak isn't much too look at in its present condition, but it is the center of the backpacker tourist trade, with many inexpensive guesthouses and restaurants set on its shore. Obviously they have to go when there's money to be made. The lake is approximately 220 acres in the city, a natural attribute that most cities would love to have, but Boeung Kak is being filled in, leaving only 25 acres of water. The reclaimed land will be used for a redevelopment into parkland with "high class resident" housing. Cambodia floods every year because it is so flat and the excess water collects in the boeungs. But the deputy governor of Phnom Penh avers that the filling in of Boeung Kak will not produce greater flooding in the city. "This is not the place where water collects," he said. "It is actually very shallow." Of course it is! Every lake in Cambodia is very shallow because the country is flat! That's why it is so important to have ponding areas where excess water can be held. Any normal city would love to have a lake like Boeung Kak and would have developed it into a major tourist and flood control resource long ago. But there's no money for the officials in that.
---
8 August 2006--Businesses Confirm Corruption (Part 2)

The Economic Institute of Cambodia recently asked 1200 businesses in Cambodia to rate public institutions and government sectors for their honesty and integrity. The highest ranking body was the sewage service. Another part of the survey focused on corruption in business. Small businesses said they paid an average 1.8% of their revenue to corrupt officials; large firms handed over 4.1%. $400 million in tax revenues was lost because of unofficial bribes paid to the bureaucrats and politicians in order to avoid the official taxes.
The results show the need for the long delayed anti-corruption laws. This past June, the government failed to meet the latest of 12 years of deadlines to pass the law. (Would you think from that that they are really serious about passing it?)
---
5 August 2006--With a little more help for their friends...

Last year I was commenting on the government's selling of police headquarters, police stations, public parks, lakes, university buildings, etc., to their friends for development—and making lots of money. The process has not slowed down. One of the more recent examples occurred in the city of Siem Reap (near Angkor Wat) where the provincial court house has been sold. From its central location in town, the court house is being relocated four kilometers outside of town. (Whoever heard of a court house in a town anyway?!) It was reported the old court house was sold to a nearby hotel. Of course, all the officials who should know about the land swap (and probably arranged it) now seem to know nothing or refuse to answer any questions like who is responsible for the swap, what is the name of the tycoon getting the downtown location, etc. (Transparency? Who? Us?) The people of Siem Reap are accustomed to such abuse. Their police station, a sports stadium, a high school, and the town hall all preceded the court house into the hands of developers.
---
27 July 2006--Businesses Confirm Corruption (Part 1)

The Economic Institute of Cambodia recently asked 1200 businesses in Cambodia to rate public institutions and government sectors for their honesty and integrity. The ranking scale was one to seven, with one indicating the institution was not honest at all.
Ranking worst as the country's least honest institution, at just 1.8 points, was the judiciary, followed by tax and customs services, the health sector, the police, the central government, and then the education sector. The water and sewage services finished the highest with 4.5 points. That sure says something about the way this country is run!
The report also noted that businesses operating in Cambodia lost an estimated $300 million to corruption last year.
---
19 July 2006--Misuse of World Bank Funds

Several weeks ago, the World Bank notified the Cambodia government that there were irregularities and misuse of funds in three completed WB projects and four current ones. The disbursement of funds was suspended immediately for three of the current projects, alone worth more than $64 million. The government Finance Minister sent a letter to two of his fellow ministers saying: "The WB has also made it known that the problem is serious and could lead to total cancellation and the government would be forced to refund the WB any amount already disbursed under inappropriate contract."
A week later the Cambodian government resumed the projects and demanded the World Bank disclose more information and stop keeping Cambodia in the dark. Could this be an instance of attacking the messenger bearing bad news? No where in the newspaper accounts does the local government acknowledge any wrongdoing found in SEVEN different projects or promise to deal with the graft scandal. Rather it seems to go on the offensive and play dumb. "Who, us? What did we do?"
---
22 June 2006--Banning telephones in Cambodia!

At the end of May, Cambodian Prime Minister Hun Sen banned the introduction of 3G mobile phones into the country for fear they would be used to disseminate pornography. The latest (3rd) generation of telephones is capable of high-speed Internet connections and of transmitting photographs and video. The Prime Minister acted at the urging of his wife and six other wives of high officials who fear the phones are capable "of destroying Khmer culture and polluting the minds of teenagers."
"We are the leaders' wives and leading women," the signatories said in their petition.... "We are all very concerned that bad people will use modern communication and information technology in the wrong direction and that it will make a serious negative effect on morality and social welfare," they warned.
A former female minister suggested that the women should worry less about the effects of telephones on Cambodian culture and more about the behavior of their husbands.
---
7 May 2006--Human Rights in Cambodia

On 9 May, the new United Nations Human Rights Council will be elected. This new body will replace the previous Human Rights Commission which became ineffective as the world's worst human rights violators learned they could avoid censure simply by becoming members of the commission!
Cambodia has definite problems with human rights. Following are some excerpts from an article in the International Herald Tribune in January:
...[Prime Minister] Hun Sen has hardly run Cambodia as a democracy. But now, as reported by Seth Mydans of the International Herald Tribune, he seems bent on extinguishing what remains of liberty by waging political war against human rights groups and political opponents, largely through misuse of defamation laws. Three prominent human-rights activists have been charged and jailed since New Year's Eve, joining to others already facing similar charges.

Several other opponents of the government have fled the country ahead of prosecution, among them Sam Rainsy, the leader of the only significant opposition party.

Hun Sen protests that he is only protecting his reputation by filing defamation suits against his critics. [See note below.] From a politician who has been leader or co-leader of every Cambodia government for 20 years, that's sheer nonsense. This is a man working to keep his long-suffering nation under the weight of dictatorship....

Unfortunately, in Cambodia as in a growing number of other countries, whatever Western leverage was left after the 1970s is being eroded by the economic rise of China. Beijing has become the biggest investor in Cambodia, and doesn't give a hoot about human rights.. Western donors are reluctant to put new conditions on aid to what is already one of the poorest and most battered countries in the world.

There are still things foreign donors can do. For one, they must make it amply clear to Hun Sen at ever opportunity that they don't believe in the legal cover he has thrown over his ambition, and that they firmly oppose his campaign to curtail democracy....
[The detained activists were later released after intense international pressure. Charges against them were dropped with an option of reinstating them later.]
---
30 April 2006--High-risk occupation?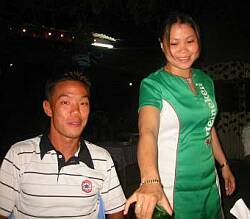 Last week a "beer promotion girl" was shot by two officers from the military unit that supplies Prime Minister Hun Sen's bodyguards for being too slow to bring ice to the men who had been drinking for several hours. The two were arrested, demoted in rank, and had their heads shaved as punishment--and their commander freed them a few hours later.
She was the fourth beer girl shot by soldiers since February. All the soldiers were either not arrested or arrested and then released. Impunity reigns!
---
8 April 2006--High-Level Paranoia

On 3 April the National Center for Disabled Persons marked its 10th anniversary and a celebration was held in Phnom Penh's Olympic Stadium, quite a big venue. NCDP asked us to give them names of deaf people who would attend and in return they sent us an ID card and a T-shirt for each of our participants. Our program manager received an official invitation but I didn't which was strange, since I'm the head of the Deaf Development Program. That really didn't bother me and I went on over to the celebration anyway, but when I got there they wouldn't let me in. Prime Minister Hun Sen was present and gave a talk and the security was quite strict. People with disabilities without a direct connection to an NGO--and therefore without access to an ID card and a T-shirt--were not allowed in! It was rather an anomaly to see people in wheelchairs, amputees, and other people with various disabilities all gathered outside the stadium but not allowed into their own celebration. Some of them had ID cards but didn't have the T-shirt and were still not allowed in. I was going to push the issue a little so I just started walking through the entrance and was abruptly stopped by a guard who asked for my ID card which I didn't have. Up close I noticed his ID and that of the other guards--they were all Hun Sen's personal body guards! What paranoia! No wonder this country is in such bad shape. Compare this NCDP incident with the previous article about the king at the Krousar Thmey celebration.
---
6 April 2006--Cambodia's King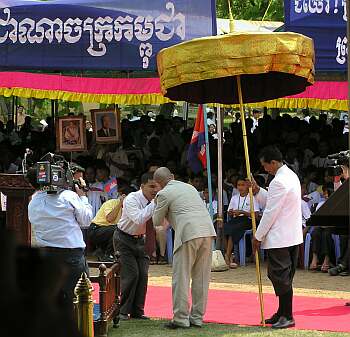 Today Krousar Thmey (New Family), a French-founded NGO that serves children with problems in Cambodia, celebrated its 15th anniversary at their schools for deaf and blind students in Kampong Cham Province. King Sihamoni attended and stayed for the whole celebration, and he is wonderful! He spent so much time with the students and is so genuine and personable. He is the caring, personal face that is missing from the rest of the Cambodian government. In the picture he is talking with a former Krousar Thmey blind student who had just given a talk. The king talked with him three or four minutes.
---
3 April 2006--The End of the Road (metaphorically)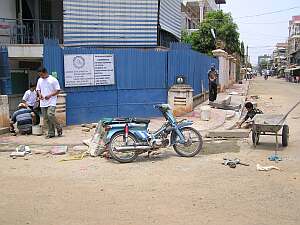 It was 4 November 2005 when the municipality first tore up the road in front of the DDP office and hauled the dirt away. Today, exactly five months later, three young workers came and put down the ubiquitous red and yellow tiles that are becoming the sidewalks of Phnom Penh. They delivered them on 14 March (see below) but for some reason they never laid them. Between 14 March and today, workers put a layer of thick oil over the compressed rock put down earlier so now we have a macadam street instead of the dirt street of five months ago. From the picture there is no difference because a layer of dirt has now covered the macadam.
---
14 March 2006--Getting near the end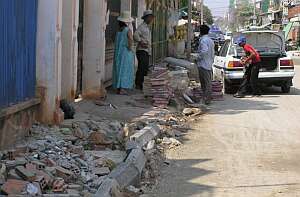 Our street in front of the deaf office was first torn up back in November. A few weeks ago, they rolled a gravel surface over the dirt base, and that's probably as good as it will get. But now workers are coming to create something of a sidewalk with the ubiquitous maroon and yellow tiles that are paving sidewalks all over Phnom Penh. Here a young man unloads tiles for our street from the trunk of a car.
---
13 March 2006--Counterfeiting is OK in Cambodia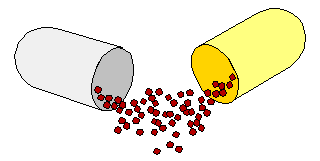 January 1st, 2006 was supposed to be the date when Cambodia started enforcing copyright laws, but that deadline was extended until 2013 by the World Trade Organization. The Ministry of Commerce here said that means that people are still free to use affordable pirated textbooks and CDs which are readily available here in every market. Cambodia and the United States made a bi-lateral agreement in 1996 about the enforcement of foreign copyrights, but Cambodia never signed it. An advantage of the present situation is that as a least developed country, Cambodia will be able to produce generic drugs until 2013 also. Several drug companies have expressed an interest in coming here because other countries like Brazil and India will no longer be able to produce generic drugs and export them.
---
3 March 2006--High-level Impunity

In 1995 UNESCO established a World Heritage Site, 400 square miles in Siem Reap Province, home to the great Angkor Wat temple complex. Angkor Zone 2 is a sector within the World Heritage Site, supposedly an unspoiled area. But 200 meters inside the zone is the Boeung Bopha Angkor karaoke bar, its colored lights and loud music intruding into what should be a protected area. The border of the Angkor Zone 2 is clearly marked and the bar is clearly inside the protected zone.
No one seems to want to claim the bar, however. Local authorities have responsibility for policing development within the zone but so far they seem to have left Boeung Bopha Angkor alone, which is a good sign that high-placed and powerful people are involved. Well-placed sources say that authorities are aware of the bar's location and are also aware of other illegal development within the special zone.
So despite a 10-year old royal decree and a 2-year old circular letter from the prime minister banning such construction, the bar continues to flourish and pollute the landscape seven days a week.
---
2 March 2006--Bridge Collapse

In late January, a 200-foot metal bridge in Kampot province collapsed under the weight of a truck overloaded with 60 tons of salt. The load limit on the bridge was 10 tons. The collapse occurred at 2:00 AM and the salt dealer who owned the truck fled the scene. Subsequent articles in the newspaper suggested that another reason for the collapse, in addition to the overloading, was the removal of the structural bolts from the bridge by scrap metal collectors.
---
11 February 2006--Yes, today. No, tomorrow

A continuing legal battle illustrates the sad state of governance and law in Cambodia. The country's infrastructure is in ruins. The government, according to a newspaper account, is sliding toward a "violent dictatorship." There are SO MANY needs of the people obvious to anyone who sets foot outside the house. And what seem to be the priorities of the Phnom Penh government? Right now sidewalks are being rebuilt with red and yellow paving stones at an astonishing rate. There seems to be such urgency to the project that someone must be making a lot of money from it. But is that what Phnom Penh needs? And then there are the houses in Chroy Changva that the municipality has said are detracting from the city's aesthetics. The city wants some landowners to demolish several additional stories they have added to their homes. But a city official acknowledges that the municipality originally let the homeowners add the extra floors before they decided they were illegal.
---
6 February 2006--Not what it seems?
Nothing is quite what it seems to be in Cambodia. Even a grant to a higher education body or the opening of a new university, the only one in its province, has overtones and undertones. Two weeks ago, Prime Minister Hun Sen donated $40,000 to the Cambodian Higher Education Association which has strongly criticized the opposition to Hun Sen's CPP party. Was that altruism or "favoritism toward organizations that serve his personal and political interests"? And then last week, Hun Sen spoke at the inauguration of Svay Rieng University which was funded by the National Police Commissioner and the Svay Rieng Provincial Governor. And Hun Sen's brother, the Kampong Cham Provincial Governor, was another contributor. Why is that rich politicians are giving money for basic educational institutions instead of a planned government program? The head of a development NGO spoke about the dangers of political influence in education, wondering if the politicians are using the schools and students.
---
3 February 2006--Hun Sen Backs Down

For the past month, Cambodia's Prime Minister Hun Sen has received a barrage of criticism from human rights groups and the diplomatic corps for his attempts to silence critics by charging and imprisoning those who disagree with him. Now he has freed the four most prominent detainees. Some commentary from international newspapers:
From the Asian Wall Street Journal:

It was a rare victory amid the new wave of repression in Cambodia. On Tuesday, Prime Minister Hun Sen told reporters that in the spirit of "compromise", he was dropping all charges against four Cambodians who'd had the temerity to criticize one of his decisions.

Rarely does the self-proclaimed Cambodian strongman back down. But the wave of international criticism that followed the recent arrest of a journalist a teachers' union leader and two leading human-rights activists evidently made even Hun Sen realize he'd overreached himself this time. Hence, his announcement that the four would no longer face defamation charges for opposing a border agreement last October that they said gave too much land to Vietnam. The move to drop charges came exactly a week after the four were released from jail in what Om Yentieng, Hun Sen's spokesman, bizarrely described as "a gift" for visiting US Assistant Secretary of State Christopher Hill on the inauguration of the new US Embassy in Phnom Penh.
---
From the Bangkok Nation:
"As a leader of the country with thousands of tasks to manage, I desire nothing but a calm situation in the interest of our nation," Hun Sen said. "As an initial step, I will try to propose to the court to withdraw the arrest warrant" against the prince.
Thursday's announcement was Hun Sen's latest about -face following heavy international and domestic criticism of his government's recent criminal defamation lawsuits against critics. Many fear Cambodia is drifting toward dictatorship.
---
31 January 2006--A Not-so-serious Anti-Bribe Campaign

In 2000, the government had a campaign going to curtail the practice of teachers demanding bribes from students, but it failed because teachers' salaries were so low. Now the government is reintroducing the campaign.
From The Cambodia Daily:
...The Ministry of Education has started a campaign aimed at stopping teachers from demanding bribes from students in exchange for teaching them.... Advertisements and notices were placed in various local newspapers last week and throughout the nation's schools, Education Ministry Secretary of State Pok Than said. "It is a campaign to reduce the expense of the students and to have more poor students come to class," he said. However, he added that there will be no punishments if a teacher continues taking money from his students.
---
28 January 2006--Another Errant Official's Son

Last month the 25-year old son of a high-ranking police official "allegedly" hit a motorcycle with two people on it on a Saturday night, killing one of the motorcyclists and seriously injuring the other. The official's son then continued driving and a few hours later "allegedly" hit another motorcycle, this one with three people on it, and seriously injured them all. This time he also crashed his car and was arrested. The provincial police chief alleged that both incidents were accidents and the young man's father would pay compensation.
This was a month after the prime minister ordered government officials to rein in their errant children. So far not much has changed, it seems.
---
24 January 2006--The end of the road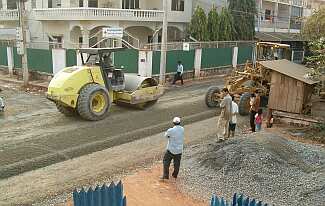 On 25 November 2005, the city of Phnom Penh tore up our dirt street and took away the dirt, only to return the dirt eight weeks later. On 20 January, truckloads of large gravel were dumped rather randomly on the dirt, and then yesterday a grader and roller actually created a hard surface. It's not paved, just rolled crushed rock, but it sure beats the more than 2.5 months of mud we had.
---
10 January 2006--Strong Man Hun Sen

Cambodia's political instability is increasing due to its corrupt government and lack of concern for the people. The Nation newspaper in Bangkok wrote in a recent editorial:
It has become an established pattern in Cambodia. When things don't go Prime Minister Hun Sen's way, swift, brute force is applied and arrest warrants are issued in order to silence his critics and political enemies. This has been happening a lot lately, to no one's real surprise. The status of democracy and human rights in Cambodia has gone from bad to worse under the one-party rule of the prime minister's Cambodian People's Party--which might be better called the one-man rule of Hun Sen.
The arrests late last year of Kem Sokha, president of the Cambodian Centre for Human Rights, and Yeng Virak, director of the Community Legal Education Centre, were met with waves of protests in human rights and civil society communities.
Strongman Hun Sen has struck again. And this time around, he is determined to break the backbone of Cambodia's burgeoning civil society movement.
...
Instead of striking out at his critics, he could have explained his action in a civilized way. After all, Cambodia is not a rogue state like Burma or North Korea. Or at least not yet, although Cambodia sadly may be descending to that level....
---
5 January 2006--Another speech, but any action?

Cambodian Prime Minister Hun Sen is noted for using the occasion of a school dedication or a similar event for giving fiery, highly political speeches broadcast nation-wide. He rails against various evils in Cambodian society--and also against his critics. Recently he told a National Conference on the Management of Natural Resources that land seizures must stop.
There is a persistent and widespread problem in the nation with high-ranking people, especially government and military officials, taking public land and that of poor farmers and squatters. In one of the worst incidents in 2005, more than 120 police, military police, and soldiers tried to evict 218 families from land near the Thai border. Police fired into the group of demonstrators, armed with crude clubs and weapons, killing five and injuring eight.
At the natural resources gathering, Hun Sen said "I declare and announce to all of you who have violated the law and have grabbed forestry areas and encroached on state land for your own property and have affected poor people--especially officials on duty--it is time for you to stop. He added: "I warn that if [you] continue to grab land there will be a farmers' revolution, and I hope you will understand my difficulty. It is time for you to stop before the people lose their patience." At least he was rather honest in admitting it was his difficulty--his government would be the target of the revolution. But what about the difficulty of the people whose land is stolen?
The Director of Forestry Administration said that between 1979 and 2002, 615,000 acres of forest had been grabbed by the rich and by powerful people in the armed forces. He noted that although the government banned the transport of timber in 2002, the practice has continued although now the timber is not carried in trucks but in luxury vehicles like Landcruisers.
---