28 December 2005--Incompetence or Corruption?

On 4 November 2005, a work crew appeared unannounced on Street 113 in front of the Deaf Development Program office and removed 18" of the dirt from the dirt road. Cars were stuck in the compounds along the street, and those away when the dirt was removed faced an 18" step to re-enter their office parking areas.
Of course this work was being done in the rainy season so our street turned into a sea of mud. There was one three-day period when it barely rained, and the street became mostly dry. But not dry enough to prevent this and other trucks from sinking in the mud up to their axles.
And then today, nearly eight weeks of mud later, the fleet of trucks came back and started dumping all the dirt back into the street!
A kind explanation would say that the workers just made a small mistake, removing thousands of cubic yards of dirt from a street and then replacing it. Anyone could have made the same mistake, right?

A less generous explanation is that the dirt was excavated and sold at a favorable price to some contractor--a friend of the government--who needed it, and then the dirt being delivered today was bought from another contractor--another friend of the government?--who wanted to make some money. The contractors get a little help from their friends and the poor people who live on the street get the shaft--and eight weeks of mud. And the poor people of Phnom Penh get stuck with the bill. Other explanations?
---
22 December 2005--The IMF and Cambodia

This week the International Monetary Fund will discuss dismissing the $83 million dollars Cambodia owes to the IMF after the funding agency decided that any country with an annual per capita income of less than $380 is eligible for the debt forgiveness. In 2004, Cambodia's income per person was $320. Also to be considered are the country's meeting its obligations to the IMF, and its economic management, poverty reduction strategies, and national budget.
---
19 December 2005--Selling Lakes is OK

Defending his administration's selling off of publicly owned lakes and ponds in the Phnom Penh area, Prime Minister Hun Sen said that it was a long-standing practice, and if he is criticized, his predecessors should be criticized also. The local Phnom Penh government has been selling police stations, and university and hospital buildings and other assets in addition to the lakes.
Those against the selling of these public properties question the secrecy surrounding the transactions and how government officials and private companies have ended up owning the land.
---
13 December 2005--Persistent Poverty

Recently a group of NGOs conducted a survey in forty rural villages to asses the level of poverty and any results from the government's 2003 Poverty Reduction Strategy. The results show continuing poverty, insufficient food, and widespread land conflict:
60% of those surveyed said they had more income than in 2003, but 60% still had incomes of less than $30 a month;
Income averaged out to $5 per person a month or 17¢ a day;
66% believed they were consuming more food than in 2003, but 45% said they did not have enough rice and vegetables;
Of the households that had greater income, only 11% attributed the increase to government activity;
55% said their land was in dispute (a major concern and factor in poverty);
The Ministry of Planning is readying a new Strategic Development Plan but it disingenuously tries to reduce the numbers of people living in poverty by lowering the poverty threshold to 50¢ a day instead of the $1 or $2 a day accepted as the international poverty line indicator.
Even using this self-serving statistic of 50¢ a day, the ministry estimates that about 46% of the remote rural population is living in poverty. Imagine what the percentage would be if they used the accepted norm of $1 day!
---
29 November 2005--Bird Flu and Cambodia

Vietnamese health officials this month complained that their 60,000 doses of Tamiflu were woefully inadequate for their national population of 78 million. In comparison, the Cambodian Ministry of Health has 100 doses of drug for the entire country. Each of the 24 provinces outside of Phnom Penh has been allocated 1 dose. The World Health Organization has 1,600 doses stockpiled in Cambodia and estimates that there are approximately 2,000 courses of Tamiflu in the country in case of an outbreak of the avian influenza.
---
3 November 2005--Political Instability #2

Various democracy leaders, officials of political parties, and some NGO people have expressed fears recently that their phones may be tapped. Given the current political climate, insiders in the security sector say their fears may be justified. The government claims that they do not have the technology but their statements are not reassuring to many. A spokesman for the Interior Ministry, Khieu Sopheak, declared that phone taps are illegal in Cambodia except in the most extreme cases of national security. He added, however, that phone taps on "terrorists" or people who seek to "destroy the interests of the nation" would be justified. That last phrase is reason enough for people to be afraid because that is what Prime Minister Hun Sen is accusing people of doing--undermining his government--if they dare to criticize him or his actions.
---
31 October 2005--Government Problems

It is hard to identify any aspect of government in Cambodia where there is real vision, efficient administration, transparency, and an ability and willingness to serve the people of Cambodia. Corruption, nepotism, and a lack of respect for people are endemic. Of course there are some good people in government, but I find them hard to identify. The civil service ranks are bloated with people who have little qualification for their jobs or who just don't have enough work.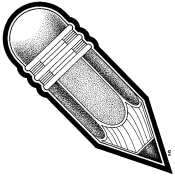 An example: recently the Deaf Development Program wanted to hire someone to help train our teachers. Recommended was a woman who is deputy director of a department in a Ministry. We interviewed her and she told us that she could start immediately but she could only work a half day for us. She said that she would have to go to her full-time ministry job at least in the morning or the afternoon!
That arrangement is quite common. There are more bureaucrats than there is work so they need something else to do. The salaries of these officials is ridiculously low and many of them work part of the day in another job to make enough to live on. That is perfectly acceptable with their bosses who might even prefer that they work a full day away from their government job. Then the boss would simply pocket their government salary! Poor Cambodia!
---
29 October 2005--Sanctions for Human Trafficking

Cambodia has a rather dismal recent record concerning human trafficking. Especially outrageous was the raid on a women's shelter to reclaim women and children who had been rescued from a hotel accused of trafficking. Some of the raiders were men in uniform, and the incident caused a great international outcry. Cambodia was already on the lowest tier of the US's anti-trafficking watchdog list, and because of the raid and similar lack of progress in combating trafficking, the country will stay at the bottom. Other sanctions were also imposed in October but they won't have much effect because they do not apply to humanitarian and trade assistance which is the bulk of US aid to Cambodia.
---
26 October 2005--Political Instability? #1

Increasingly people fear that Cambodia is becoming more and more politically unstable. Prime Minister Hun Sen has been speaking out strongly against those who would plot against his government, although no one is sure who the possible plotters would be. Some of his statements are almost bizarre, given the strength of his emotion and accusations and the lack of any evidence of anything actually happening. In an individual in a western society, one might wonder about mental balance, but in this case of a political strongman, his pronouncements seem indicative more of a sense of real threat to his rule. An excerpt from a nationwide two-hour speech last week: "I am not like Samdech Preah Norodom Sihanouk (the retired king). Samdech Preah Norodom Sihanouk let others stage a coup. Hun Sen will not. Do not gamble on trying this. You do it, you die. You are told in advance.... I have been patient for too long. This is the limit of my patience.... The armed forces are in my hands, no one can object."
Increasingly anyone who would criticize his regime is being hunted down, sued, and even thrown into jail. Several politicians and a member of the royal family have left the country as the prime minister has sought to deflect criticism of his settlement of long-standing border issues with Vietnam. Although the national assembly must approve the deal, they have been given no details and little is known about whether Cambodia has lost land to Vietnam, as critics fear, or not. The retired king dissolved a body that was working on border issues and has said he will live in exile outside the country. The new king must also sign the agreement, and the Prime Minister has threatened to dissolve the monarchy if he doesn't get cooperation.
---
20 October 2005--A case of mistaken identity

A Khmer woman who has lived in the United States recently took a driving course here to get her license. The instruction cost $65. She took the written test and passed and then took the driving test. When she went back that evening to find out if she had passed or not, she found out that she had. Because the examiner had thought she was a foreigner.
If a local person pursues a license, he or she must pay a $25 bribe to pass the written test and another $30 bribe for the driving test. When this friend went to collect her license, she was told by the clerk that she had not been required to pay the bribe because the examiner thought she was a foreigner who would go to the newspapers if faced with the extortion demand.
---
24 September 2005--UN Speech by Cambodian Prime Minister

At the recent U.N. meeting of the world's leaders for the 60th anniversary of the United Nations, Prime Minister Hun Sen spoke of spectacular growth in Cambodia's economy and averred that democracy has taken strong roots, human rights are fully protected, and Cambodia has made significant advances toward reaching its Millennium Development Goals, especially in education and combating AIDS. He also blasted donor countries for aid policies that benefit the giving countries first of all. An opposition politician, however, said it was disingenuous to blame donor countries for ineffective foreign aid. "The money doesn't reach the poor because of corruption," he said.
---
20 September 2005--Help for Friends? It's for the Government!

Prime Minister Hun Sen defended the government's often-criticized land management and development policies this past week, saying that the land swaps helped the government. That might be true if the government is defined as the ministers and officials who benefit from the deals in addition to the land developers. The Prime Minister spoke of a deal in 1996 which helped repair the royal palace. He didn't say much about the recent rash of suspect transactions that have seen police stations, medical facilities, a park, a lake, and other properties traded to developers for land in mostly out-of-the-way places. He did make rather judgmental attacks on his critics.
---
18 September 2005--The Hard Life of Cambodian Women

The United Nations two weeks ago addressed women's rights across the globe, speaking to issues still faced every day by Cambodian women. 40% of adult women in Cambodia are illiterate compared to 20% of the men. Of 140 reported rape cases, only 9 went to trial and 7 of those were settled with money. In government, 2 of 28 ministers are women and only 9 of 135 secretaries of state.
But at the same time a proposed law against domestic violence is stalled in the national legislature. Women's groups claim that it blames the women for their abuse. Some lawmakers say that it goes against Khmer culture and traditional roles of women and men. According to Ms. Mu Sochua, the former Minister of Women's Affairs: "Men and boys are favored. Women and girls eat after them. If they're sick, they're cared for after the boys or men. School is the same. Health is the same way. Infant mortality, access to contraceptives, access to a trained midwife--it has not improved at all in the past 5 to 10 years.... On top of that you have an increase in gender violence: Rape, sexual assault, domestic violence, human trafficking."
---
16 September 2005--Land Crisis

The United Nations' special rapporteur on housing, an officer of the UN's human rights group, spent thirteen days touring Cambodia, and at the end declared the issue of land as the nation's biggest crisis. He described the scale of land grabbing by the rich and powerful, the resulting dispossesion of poor people, and the violence used against them, as one of the worst examples of this that he has seen in his world-wide work. He described as particularly worrisome the lack of institutions in Cambodia dealing with land issues. In other post-conflict situations such as Afghanistan, one of the first bodies established is a land commission which monitors land dealings for irregularities and investigates independently of the state. In Cambodia, that last possibility is probably why there has been no attempts to build land-use institutions.
---
14 September 2005--Cambodian "Peace Corps"

Recent research found a 90% unemployment rate among university graduates in Cambodia. The research also established that volunteer work is often misunderstood and undervalued by Cambodian society. Typically volunteerism is associated with Buddhist religious obligations. Now, to afford training opportunities for volunteers and support their contribution to society, Youth Star Cambodia has been established. A former Peace Corps alumna is behind the project that will provide a year-long volunteer experience in three provinces, promoting a spirit of civic leadership and social entrepreneurship among youth aged 20 to 27. They will receive a month of training and then go to the provinces where they will live in small groups and work with local organizations in education, health, and economic projects. The volunteers will receive $40 per month plus a small sum to use in their work. At the end of the year, the volunteers will be offered job training.
---
13 September 2005--A Little More Help for Their Friends

In the latest government sell-off of public and government real estate, the police station in the town of Siem Reap has been sold to an unknown company. Although built only two years ago, reportedly at a high cost, it was traded for land outside the city and has already been demolished. The now destroyed police station was in the middle of the city, near the royal palace, on 7,100 square meters of land valued at an estimated $7.1 million. The new site for the relocated police station is 2.5 kms away, on the edge of the town, and although much bigger in size is valued at only $420,000. An official said that the unnamed new owner of the site plans to build apartments there.
---
1 September 2005--A Little Help for Their Friends

If you want it, it's for sale in Cambodia. A case of grenades, marijuana, an AK-47, a baby, a young boy, a young girl, a young woman or man--even part of the palace. Today's paper reports that an official of the Ministry of Land Mangemant was suddenly dismissed recently after a letter he wrote to two Khmer-language newspapers about the sale of a corner of the block containing the Royal Palace. Of course, government officials say his departure is not connected with his letter, but they won't give any other reason either.
It is incredible what has been sold by the government in the past year or so: three police stations in Phnom Penh, including a headquarters; the University's School of Fine Arts building; even a lake in Phnom Penh which will be drained. They have gone to developers who give the government land outside of Phnom Penh in exchange. The developers make a bundle; their government friends probably make a bundle; and the people get shafted. The health center for venereal diseases and dermatology has been traded and is being moved five kilometers outside of the city. The U.S. government got shafted on that one, in addition to the people who use the clinic. The U.S. paid for the renovation of the labs there! Now the Royal Palace compound is seeing one corner get whacked off for development. Nothing is sacred in Cambodia if there's money to be made.
---
4 June 2005--Cambodia's Royal Blogger


Most people today are familiar with "blogs," the Web logs that have become so popular and are really a new communications medium. It is estimated that there are about 10,000,000 bloggers worldwide recording regularly or sporadically their daily activities or political views or anything else they want to share with the world. Maybe uniquely among the world's royalty, former King Sihanouk of Cambodia is an active blogger at http://norodomsihanouk.info. Now retired and in Beijing for treatment of cancer, the 82-year old still maintains an active and vocal political presence in Cambodia through his opinions, historical documents, and exchanges with diplomats and politicians on his personal website where he writes in Khmer, French, or English. In recent months, his jibes at Cambodian politics and politicians have drawn sharp retorts, including responses from Prime Minister Hun Sen.
---
27 May 2005--Finding the tip of the iceberg

In 1999 a government Ministry of National Assembly-Senate Relations and Inspection was established to probe corruption in the Cambodia government. The ministry was to publish an annual report. Last week, six years after its inception, the ministry produced its first report, detailing nine cases of government corruption totalling $26.3 million. It had received 53 complaints and dealt with nine of them. Some high profile instances of corruption didn't make the report, however. No mention was made of a $900,000 rice fraud uncovered by the World Food Pprogram in 2004 or a $2 million irregularity in World Bank Funding for demobilizing the military or all the money lost to illegal logging.
At the meeting introducing the report, it was also announced that the Anti-Corruption Law will not be submitted to the Council of Ministers for approval this month as planned but instead will undergo further study until 2006. No need to rush these things.
---
25 May 2005--Slow Progress

The United Nations is apparently seeking a new coordinator for the Khmer Rouge tribunal process. This would be the third coordinator since 2002 when the coordinator at that time withdrew from negotiations about the tribunal alleging the Cambodian government's lack of will to produce a credible tribunal. His successor last year complained about a lack of communications with his Cambodian counterparts and worries about developed nations who want to reduce the tribunal's $50+ million budget. There is little clarity about recent activity aimed at selecting a new coordinator. No one seems to want to comment much about the process but applications were supposed to have been submitted by May 8th.
---
21 May 2005--Lots of workers, little work

On any given day, lots of government workers are absent from their desks in the various ministries. For example, the Ministry of Environment's Environmental Impact Assessment Department has 500 employees but only 50% to 60% of them show up because the pay is so low. Some of the absentees don't get paid or their boss takes their salary. Sometimes officials work in the morning and go to school in the afternoon or vice versa. Cambodia has a bloated and inefficiency bureaucracy, particularly because the government is always creating new jobs to support the patronage system.
---
14 May 2005--Impunity and Corruption #6

Ten days ago, the drunk, speeding 23-year old son of a senior Ministry of Defense official crashed his car into motorcyclists on the Japanese Bridge in Phnom Penh. One was killed on the spot, two were knocked into the river and drowned, and a fourth is still in critical condition. Of course no one has been charged. As of earlier this week, the driver's file had not yet been sent to court, and he was released from police custody after his father's representative paid $12,600 to the families of the three dead victims and $2,600 to the injured victim. The mother of a high school student who was killed said that she is not going to prosecute: "I am a poor woman, and I am afraid for my personal security."
---
8 May 2005--Save the Children's Mother's Day Report

Save the Children released their latest report on the welfare of mothers and children this past week, and Cambodia remains among the ten worst places in the world to be a mother or a child, even after decades of help and millions of dollars of international aid. Cambodia and Nepal are the only Asian countries at the bottom of the list. Cambodia ranked 100 out of 110 and Nepal is 103. Vietnam, Cambodia's neighbor to the east, ranked 33, and Thailand, on the west of Cambodia, ranked 38.
Some of the factors considered in the rankings were infant mortality, survival rates for women during childbirth, literacy rates for women, and access to clean water.
---
2 May 2005--Impunity and Corruption #5b

Yesterday I posted parts of the report of the UN's Special Representative on Human Rights in Cambodia. The report was given in Geneva last month. To be fair, here is part of the reply from the Cambodian ambassador to the UN:
"...This report does not consider Cambodia within the context of its historic tragedy which explains the complexity of the situation and the difficulties with which Cambodia has had to face in order to resolve following the years of troubles and total destruction. One can not ask a country that was almost totally destroyed by three decades of armed conflict, nor a people who suffered the worst humiliations under the genocidal Khmer Rouge regime, to realize the impossible from one day to the next.
It is true that difficulties persist and that the situation still remains precarious. That is why the Royal Government has affirmed its unfailing commitment to social and economic development, to a pluralistic and liberal democracy, to freedom of expression and the press, to the profound reform of the judicial system and public administration, and to reinforcing the state of law and respect for the rule of law."
The last sentence of the quotation above is the crux of the problem. There is a free press in Cambodia. There is little evidence of government commitment to any of the other values in that sentence.
---
1 May 2005--Impunity and Corruption #5a

The human rights situation in Cambodia is so bad that the UN Secretary General as appointed a Special Representative for Human Rights in Cambodia, Peter Leuprecht. In a report to the Human Rights Commission in Geneva on 19 April, Leuprecht said:
"...After a political deadlock that lasted almost a year, a new coalition government was established last July. The conditions under which this was done are, to say the least, doubtful from the constitutional and legal point of view and do not demonstrate a willingness of those in power to abide by the rule of law. Measures taken since against the opposition violate fundamental principles of pluralist democracy. There is also a virtual clampdown on freedom of peaceful assembly, and "public space" is steadily shrinking. What we are witnessing at present unfortunately does not demonstrate progress on the road to democracy, rule of law, and respect for human rights, but an increasingly autocratic from of government and growing concentration of power in the hands of the Prime Minister behind a shaky facade of democracy.
"...Impunity is a gangrene that undermines the fabric of Cambodian society. Although this phenomenon is well-documented, the Prime Minister and his government persist, in an ostrich-like way, to deny it and to say it does not exist in Cambodia, but in other countries such as Thailand. The truth is that mechanisms for accountability are not in place in Cambodia and, as a result, the rule of law remains elusive.
"Impunity fosters endemic corruption which remains a recurring obstacle in establishing the rule of law and in achieving economic and social development for all Cambodians and not for a small minority of politically or economically powerful people.
For the majority of Cambodians poverty has not been reduced. Most of the population is clustered around the poverty line...."
---
13 March 2005--Big Ego Stuck in a Small Place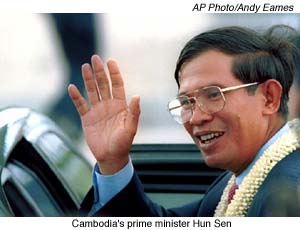 In January, in a national radio broadcast from a ceremony for the dedication of a school, Prime Minister Hun Sen warned of chaos for the country and the collapse of the government if he should die or resign. He seems to be following the psychology adopted by so many autocrats, identifying the state with themselves the longer they stay in power. "If I died today...[deputy prime ministers and ministers] will automatically be terminated from their posts. There will be chaos... It is not a funny issue." Now at the beginning of his third five-year term, Hun Sen is already one of the longest-serving heads of government in Southeast Asia. In addition he led the nation in the 1980s, before the Kingdom of Cambodia was established. But even with all that, he has offered the possibility of his serving two more terms after this one.
---
5 March 2005--Cambodian Holidays

Last year King Norodom Sihanouk resigned and his son Sihamoni, a ballet dancer who has lived most of his life in France, was appointed as the new king. All the international NGOs immediately began wondering what would happen to Cambodia's bizarre and unwieldy holiday setup. King Sihanouk's birthday was celebrated with three days off each year, and since he didn't die, we all assumed he would continue to be honored with a holiday(s). And of course the new king would have to be honored with days off.
A short time after King Sihamoni's coronation at the end of October the list of official holidays--25 of them, the most in the world!--came out, and the new king had no holiday for his birthday in May. The government said there would be no change but no one believed that, and this week a new list of holidays came out. King Sihanouk's celebration is reduced to one day, King Sihamoni gets three, and in order not to increase the holidays to more than 25 for 2005, International Children's Day and the celebration of the Paris Peace Accord were dropped.
The government says that all 25 holidays must be observed but no one does that except the government. All the NGOs allow their employees to choose 12-15 from the official list to celebrate. Now, though, because everyone always chose the old king's three days in October, the list has to be redone and the NGO staffs have to select a new list of holidays. It's a crazy system. To compare: France has 10 official public holidays per year; the USA, Canada, Britain, and several other countries have 11. It's no wonder that nothing gets done in this country.
---
2 March 2005--Impunity and Corruption #4b

A recent report exonerated the government and police from any involvement in a raid on a women's shelter which resulted in the taking away of 83 women and children who had been rescued from alleged trafficking in a local hotel. Now the NGO is calling for the removal and prosecution of any government officials involved with the human traffickers connected to the hotel raid and subsequent raid on the shelter. The NGO also asks the government to identify which officials are protecting the hotel. In reply to those claims, a government spokesman and Information Minister replied: "Anywhere you have some protection," adding that Cambodia should not be singled out for it.
The minister also went on to call for the removal of the president of the NGO. "We praise AFESIP [the NGO]. They're doing a good job, but why not change the [president]. He also suggested that the NGO's spending be audited!
---
27 February 2005--Garment Industry

The garment industry is by far Cambodia's largest source of exports and related income. Last year garments valued at $1.95 billion dollars were exported, a 24% increase over 2003. The garments accounted for 80% of all of Cambodia's exports. Making all those garments are 240,000 workers, 85% of them women who send home a portion of their income to their rural provinces where it is estimated they help support 1.5 million Cambodians.
The 30-year old Multi-Fiber Agreement which gave Cambodia preferred access to western markets ended in December, 2004, and the question is now whether Cambodia can compete with other cheap-labor countries like China. Some of those countries have an advantage because Cambodia must import all the material that is cut and sewn here while other countries often grow and produce their own textiles. Cambodia's big advantage right now, surprisingly, is a good labor relations reputation. International labor groups have established good working conditions in Cambodia's factories, and that is a real bonus in today's politically conscious marketplace sensitive to the abuse of workers. Several major companies have already indicated they will continue their garment contracts because of the positive labor climate here.
---
25 February 2005--Impunity and Corruption #4

On 7 December, after investigations by NGOs involved with human trafficking, the Interior Ministry's anti-trafficking police, accompanied by a court official, and NGO representatives, raided the Chai Hour II Hotel in Phnom Penh. 8 suspects were arrested and 83 women and children were rescued and taken to a safe house shelter run by the AFESIP NGO.
Then on 8 December, according to eye witnesses, about 30 men, some armed, who arrived in Land Cruisers and other expensive vehicles smashed the gate of the shelter and took the women away, some in the SUVs. The suspects were released on the order of a government official, and the charges of trafficking against the hotel were ignored. The US and European Union strongly condemned these actions and called for the government to rescue the sex workers.
Now a government report on the 8 December raid on the shelter finds that no officials or members of the armed forces were involved, and actually says that the women inside the shelter tore down the gate because they wanted to escape! "The situation [seemed] terrible, but when we investigated this problem, the result shows it was not bad," said the head of the investigating committee. The report goes on to claim that all the vehicles had left by the time the women and girls broke free, and that all the women denied they were sex workers and all claimed to be over 18.
This despite a bizarre event on 10 December when 50 women who said they were among the 83 in the shelter (Were they? No one knows.) were presented to reporters at the accused hotel and at least 20% of them appeared to be in their mid-teens. And as for official involvement in the 8 December raid, one witness said that one of the vehicles had a police license plate.
The AFESIP NGO criticized the committee and its report for ignoring the human trafficking charges against the hotel and the release of the 8 suspects arrested by the government's own anti-trafficking police, calling the report a cover-up.
---
20 February 2005--Imports and Exports

The chief imports into Cambodia are machinery and transportation equipment, petroleum and petroleum products, cotton fabric, synthetic fabrics, cotton yarn, and chemicals. The largest exporters to Cambodia are Australia, France, Hong Kong, Japan, Singapore, and Britain.
The main exports from Cambodia are rubber, rice, timber, pepper, paper, fish, and small manufactured goods. Most of these go to Hong Kong, Japan, Singapore, Thailand, Britain, and the United States.
Cambodia's deep-water port at Sihanoukville is being expanded and an industrial estate is being planned for Koh Kong on the coast to build up desperately needed commerce between Cambodia and its Southeast Asian neighbors.
---
19 February 2005--Impunity and Corruption #3

A rare public park in Phnom Penh--actually just a block of bare ground where kids played--disappeared last month as an obscure company fenced off the area in preparation for building a new headquarters for the Ministry of National Assembly and Senate Relations. Government officials praised the New Hope Co., Ltd. in ground-breaking ceremonies but the company is listed at a non-existent address, seems to have no working offices, and little else is known about it. Officials are tight-lipped about the terms of the contract for building the headquarters although maintaining that a proper bidding process took place. (We'll probably never know about that, will we?) Prime Minister Hun Sen is said to have approved the contract. Earlier an official at the Ministry said that the company would pay for the construction in exchange for a grant of half the land taken over.
---
7 February 2005--Everything is for sale

Everything is for sale in Cambodia: sex workers, babies, assault rifles, grenades, drugs, villagers' property (not always with their consent)--and now the police station. It was revealed recently that the Traffic Police headquarters was sold to a private firm a year ago but the government didn't bother to tell anyone. And now it is disclosed also that the Municipal Police headquarters--a different building--has been traded with another private company, again without any public knowledge or oversight. A local rights group noted that the public is inclined to fear that private individuals profit when state-owned property is secretly swapped with private firms or sold. And their fears are probably valid. It's almost a given that someone on the inside is making a profit when government departments are involved in deals like that. It's a win-win situation for the government and the private companies; the only loser is the general public.
---
27 January 2005--Impunity and Corruption Revisited

Last year I ran a series here about the impunity of top officials in Cambodia who break the law with no fear of being overtaken by justice. Here is another example of the way the law is regarded here:
Last year owners of only 3,000 of the 80,000 cars in the country paid the vehicle taxes. Now the customs department is implementing a crackdown. Those who have avoided paying taxes and are caught may have to pay up to 90% more than the original tax. However, some are skeptical that much will change because government officials are accused of using license plates from police, military, and official vehicles to get around payment. And of course the government doesn't tax its own vehicles! Those cruising around in all the Lexus and Land Rover 4WDs don't even pay for gas; the poor citizenry gets stuck with that bill.
---
26 January 2005--Grim Cambodia Statistics

Cambodia has the worst child mortality rate in Southeast Asia, according to a recent report from the United Nations Children's Fund which says that the number of deaths of those under five increased from 115 per 1000 children in 1990 to 140 per 1000 in 2003.
The reports says that:
45 percent of Cambodian children are malnourished
45 percent have not been immunized against measles
66 percent do not have access to safe water
86 percent lack adequate sanitation facilities
less than half the girls who enter primary school finish the sixth grade
UNCF cautions, though, that the statistics may not be accurate--they may be much worse--because they are based on visits to district hospitals and clinics, and only one third of the population has access to the medical system.
---